By. Brian Gautreau, Green Schools Coordinator, Louisiana Environmental Education Commission
Struggling to find the time to write your Green Ribbon School Award application packet? Don't worry; your students may be better at it than you anyway. If you need evidence of that, look no further than the students at Benjamin Franklin High School, who researched, wrote and edited their application to become a 2016 U.S. Department of Education Green Ribbon School. Let's take a look at some of the innovative practices that they discovered along the way.
First, a little history. Like much of New Orleans, there is a singular event that defines the history of Ben Franklin in modern times. Hurricane Katrina. The storm devastated the city and caused over $3 million in damage to the school. Through the tenacious dedication of the staff and community, the school was one of the first to reopen after the storm. Emerging from the storm as well was a focused Green Society that dedicated its work to building a school community that was sustainable, healthier and environmentally focused.
Community Partnerships
Connecting with community partners can be a great boost to the resources and expertise available to a school. Ben Franklin has been greatly assisted in their green endeavors by competing in the Louisiana Green Schools Challenge from the U.S. Green Building Council. During their first year they partnered with an electrical engineer to conduct an energy audit. The outcome of this audit was the creation of a Lighting Facilities Phasing Plan that was presented to and adopted by school officials that saved the school 35,317 kWh. Participation in the challenged linked Ben Franklin with local architects who were able to provide additional resources such as dual-flush toilets, each capable of saving 20,000 L of water/year and Elkay water fountains designed to refill water bottles, preventing over 44,000 bottles from being sent to the landfill.
Show me the Money
Even though green initiatives often save schools money over the long term, upfront costs can be an impediment for many facilities. Grants from organizations whose missions are aligned with one or more of the Pillars and Elements can be used to fill in the gap. Ben Franklin students tapped into Keep Louisiana Beautiful grant funds that enabled them to purchase buy generic ambien uk recycling bins for the school. With recycling efforts more streamlined, Ben Franklin was able to divert 336 yd3 of material from entering landfills in just one year.
Planting Seeds for the Future
How does a school instill a love of environment beyond the Green Society? One way that worked for Ben Franklin was Earth Love Week, a week-long recycling drive and celebration of all things "green." During Earth Love Week grades compete with one another in eco-friendly challenges to win bragging rights and a dessert banquet. Another innovation is "Lights Out Day," where teachers throughout the school pledge to turn out the lights to show how available sunlight could be used to reduce energy usage.
Learning through Experience
Educators are deeply concerned with the learning outcomes of their students. Although test scores certainly have their place, instances of students successfully applying subject matter outside of "classroom time" is an indicator that something truly meaningful has happened at school.
Students at Ben Franklin have integrated the lessons of environmental and sustainability education into the actions they take as community members. Students take on complex problems like food deserts and energy sustainability in their communities through volunteer work with organizations such as Grow Dat and Green Light New Orleans.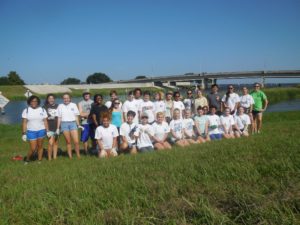 We also see evidence of student growth as our future leaders through Independent Research Projects funded by NOAA and the Coypu Foundation, collaboration with the U.S. Fish and Wildlife service to perform marsh restoration and extracurricular participation in numerous conferences, including sending representatives to the Student Climate and Conservation Congress.
Ending Thoughts
Schools make up a large component of a municipality's public buildings and it's where our kids spend about a third of their day. Where we learn matters. Getting your students engaged in environmental and sustainability leadership should be a goal for any school as you "go green." The ED-GRS application was an opportunity for the students at Ben Franklin to develop these skills while learning about school sustainability. It will be a learning process for sure, but it is one that will pay back the most dividends. Just ask Ben.
About
Brian Gautreau is Green Schools Coordinator at the Louisiana Environmental Education Commission. He works to educate, support and recognize green initiatives at schools throughout the state.