The Green Schools National Network (GSNN), as part of our newly launched Catalyst School District Program, piloted our 1st Executive Level Sustainability Leadership Summit for the K- 12 Education Sector on July 13-14, 2016 with Virginia Beach City Public Schools (VBCPS).  This Executive Level Sustainable Schools Leadership Summit was developed in partnership with Harvard University's Director for Executive Education in Sustainability Leadership, Leith Sharp.  Lead by Tim Cole, Director of Sustainability with the Virginia Beach City Public Schools and Ms. Sharp, the 2-day program brought together 50 leaders from all sectors of VBCPS.
At GSNN, we believe it is the responsibility of educators is to prepare students for their future – to be the co-creators of a sustainable future.  This leadership program, the dream of our Vice-President, Tim Cole, was the first of its kind in the nation.   The goals of the program were to:
Introduce a new sustainability leadership framework and lexicon, validated through Harvard's Executive Education for Sustainability Leadership Program.
Develop a new understanding in why and how to position sustainability as an innovation driver for the district, allowing good ideas to come from anywhere.
Define concrete next steps for advancing the three stated sustainability goals and for amplifying alignments with Compass to 2020 strategic objectives (VBCPS' new strategic framework, which was phased in during the 2015-2016 school year).
Aaron Spence, Superintendent of VBCPS, was impressed by both the dialogue and outcomes that resulted from participating in the summit.  VBCPS is already a recognized leader in sustainable school operations; however, this summit pushed both Mr. Spence and the other attendees to think beyond their current practices and consider how they could integrate sustainability more fully in the classroom.  According to Mr. Spence, "At VBCPS, we need to lead by example and model sustainable practices in and outside of the classroom.  At the same time, we need to give students the opportunity to apply these practices in their learning." 
GSNN is proud to take the lead in providing best-in-class executive education for sustainability leadership dedicated to core business innovation for sustainability (CBIS) for public schools across the country.  To drive this effort, GSNN will be using the CBIS content for our Executive Level Sustainability Leadership Programs.  The content is open-sourced and licensed under Creative Commons 4.0.  The program prepares leaders to position sustainability as a powerful driver of engagement, innovation, agility, and change-capability so that the triple bottom line of sustainability (economic, social, and environmental) really can become a reality across all sectors of a school district.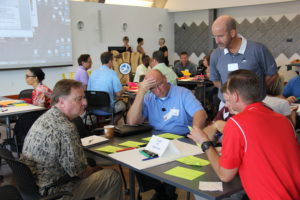 "This content has been developed in collaboration with thousands of people over the last several years. It provides us with a powerful and proven lexicon for unleashing new levels of innovation throughout our organizations. It's a must for anyone looking to make change easier," explains Leith Sharp, Director, Executive Education for Sustainability Leadership, Harvard's Center for Health and the Global Environment.  "We are thrilled to have GSNN as a partner who will champion this leadership model in the K-12 community. "
Our program design includes:
Experiential exercises and dynamic networking across departments within a school district.
Short lectures on management structures that allow leaders to keep pace with the sheer volume and depth of change that sustainability leadership requires.
Best practice case studies from businesses and school leaders from across the country.
Small group work and peer-to-peer interaction and thought partnership to enable reflection, insight, and discovery for sustainability initiatives to implement beyond the workshop.
"Creating communities of practice is important to ensure the transferability and scalability of best practices within the green schools movement," said Mr. Spence.  "GSNN's programming is creating a space where we can learn from each other and build a better future for our students."
If your school district is interested in developing a management team ready to address the triple bottom line of sustainability please contact Jennifer Seydel at jseydel@greenschoolsnationalnetwork.org.