By. Tim Brown and Leon Grant, Marietta City Schools (Georgia)
The Marietta City Schools (Georgia) Engineering Pipeline initiative includes a multi-year Haiti Container Building Project with program components currently at four Marietta City schools from elementary through high school levels. The initiative, focusing on sustainable technology and community learning experiences, impacted over four hundred students in 2016. The project includes a partnership with a Haitian family who has donated land for the students to design and create a sustainable community center benefiting the Haitian community. This year, the number of students impacted by this project should more than double due to enthusiasm and involvement with more district schools. This pipeline of engineering talent has been created to help provide productive and meaningful futures for the students and also meet the workforce needs of area industry.
The Haiti Container Building Project is an international, multi-year, collaborative project allowing students to be mentored by trained professionals, to research, design, and build sustainable technologies. The integrated STEM project involves vertical and horizontal collaboration. Vertical collaboration takes place among the local district's K-5 schools, middle grades, high school, post-secondary institutions (Kennesaw State, Georgia Tech, Ball State, and Louisiana Tech State), and industry levels as they plan and work together as integral partners on the project. Additionally, the Engineering Pipeline is expected to add 2-4 new schools this year within the Marietta City Schools (MCS) district. Horizontal collaboration is achieved by science, technology, engineering, arts, and mathematics (STEAM) disciplines working together to develop real world solutions for human needs.
The project has been a forward shift in K-12 engineering and integrated STEAM education. Pipeline teachers and mentors have presented research articles regarding project activities at local, national, and international education conferences as far away as Istanbul, Turkey. Students are deeply immersed in the design problem and move beyond conceptual models to develop working prototypes with multiple iterations. Students engaged in this project have a comprehensive exposure to sustainable technologies and an opportunity to be guided through the design process by professional partners in each discipline. Resources such as CAD, CNC laser and plasma equipment, and additive technologies (3D printers) are leveraged to benefit elementary, middle, and high school grades. Moreover, students and teachers gain deep exposure through field trips and additional training sessions.
This year's project focuses on the development of the Engineering and Architecture Research Laboratory for Sustainability (EARLS Lab).  Students from all three local district grade bands will engage in engineering projects related to the EARLS Lab. In a high school capstone engineering course students compete for funds and manage all aspects of the design process developing prototype systems for the EARLS Lab. The EARLS Lab, currently being built on a local high school campus through the support of industry partners, will serve as a sustainable technology laboratory for future years where all MCS students can conceive, design, prototype, and test future solutions.
Additionally, this project will provide opportunities for K-12 students to develop twenty-first century skills such as global awareness, environmental literacy, innovation, problem-solving, communication, presentation, collaboration, and other related skills. The local school board has authorized a memorandum of understanding with EARLS Lab project partners, which includes small, regional, and international firms. Additional partners are currently being pursued. The construction of the EARLS Lab began in early 2017.
Additional benefits of this project include:
Teacher Training (K-12)
The Engineering Design Cycle
Sustainable Technologies
Solidworks, Raspberry Pi, and Data Logging Equipment
Career Readiness Training for Students

Professionalism
Communication and presentation skills
Safety
Service-learning

Field Trip Opportunities

Plastic and aluminum recycling facility
Aquaponics farm
Solar and wind energy facility

Classroom Visits

Industry professionals
Industry educational display units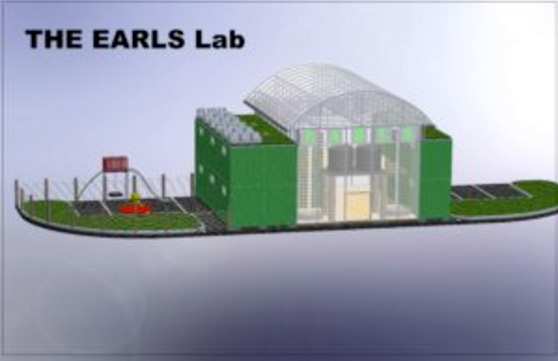 Innovation Rationale for Implementation
The Haiti Container Building Project and EARLS Lab serve as vehicles to develop a STEM Pipeline that reaches from elementary education to secondary education to tertiary education to industry. Comprehensive and integrative programs such as the EARLS Lab are vital for creating the systemic changes required to produce the next generation of STEAM professionals needed to keep America competitive. This program helps to position both students and the nation for success and is supported by STEM research.
Continued evidence provided by Thomasian (2011) supports the rationale for states having a STEM agenda. This includes statistics such as:
STEM job holders earn 11% higher wages, with the average annual wage from STEM jobs coming in at approximately $78,000 as of 2009 as compared to $43,000 for non-STEM jobs.
STEM jobs grew three times faster than non-STEM jobs in the past decade, and the expected growth for STEM jobs is projected to increase by 17% by 2018.
Our nation's workforce must be prepared to secure these jobs to remain globally competitive and economically strong with a viable STEM talent pool. This rationale almost mirrors the President's Council of Advisors on Science and Technology (PCAST) report (2010) rationale for why students should be prepared and inspired to pursue STEM learning experiences and careers.
According to the PCAST report, implementation of and performance in STEM education will impact whether the United States remains a leader and able to solve difficult challenges in areas such as energy, health, environmental protection, and national security (PCAST, 2010). The EARLS Lab project addresses energy, health, and environmental issues in a global context with opportunities for students to work collaboratively with STEM professionals.
The EARLS Lab Project reaches across K-12 boundaries in unique ways, which helps improve the local high school graduation rate, students' futures, and preparation of the future workforce in the following ways:
The project builds on a local graduation model where senior students serve as role models to inspire the junior cohort in a STEM context. High school students, serving as role models, inspire middle school students.  Likewise, middle school students inspire elementary school students in a STEM context while serving as role models.
Project-based learning experiences provide a natural context to show the importance of math and science in solving real problems. It also helps students to construct understanding and relationships in science, technology, engineering, and mathematics. This project further answers a common question asked by students, "How will I ever use this?"
By reaching students early and piquing their interest in engineering (developing systematic solutions to problems), students learn to value math and science as important tools. This encourages students to attempt more rigorous math and science courses, which improves the likelihood of on-time graduation and college readiness.
This project also aids in closing the achievement gap between Caucasian and underrepresented minorities by providing needed exposure and mentors. Many minority students lack exposure to engineering and personal contact with mentors from their background in STEM fields. This project provides a host of ethnically diverse mentors that can directly relate to the students involved.
The PCAST's assessment mirrored that of other commissioned reports indicating our nation lags behind in STEM education, resulting in the failure to educate all youth to be globally competitive in a high-tech economy. The resulting report cited American students' lagging performances on international assessments in the fields of mathematics and science, such as the TIMMS, PISA, and on the National Assessment of Educational Progress (NAEP). The PCAST conclusions suggest that low performance on these assessments indicate low performance in STEM subjects, which also indicates problems in post-secondary levels. This leads to a shortage of certain skilled worker sectors in the nation's workforce. Students do not seem to have an interest in and are not choosing to study the areas of science, technology, engineering, and mathematics in college. Their lack of participation is at alarmingly low rates as compared to foreign nationals' increased participation rates. In addition to the lack of interest and low participation rates, there is an achievement gap in STEM, especially in the underrepresented populations of African Americans, Hispanics, Native Americans, and women. Involvement with the Haiti Container Building Project at the elementary and middle school levels focuses on increasing all students' interest in STEM areas, as well as focusing on increasing the diversity of students preparing for STEM careers.
In regards to the Marietta project and in response to data provided by local industry professionals, students also improve their professional skills through their involvement with the international project. With the involvement of each student's professional mentor, students are required to have a business card, maintain a professional presence electronically through a professional networking site, and practice several different styles of communication and presentations. The effectiveness of the preparation is evident each time project students present and communicate with individuals and groups of industry professionals, educators, and community members.
In conclusion, the Marietta, Georgia community is addressing STEM education concerns expressed in the body of data and research by planning and implementing an effective multi-year project involving multiple levels of K-16 educators and institutions; local, regional, and international industry partners; and the community. This is igniting an Engineering Pipeline to both affect the next generation of STEM professionals and meet future workforce demands. The Haiti Container Building Project is making a exponential difference and should be replicated with similar effective STEM-based projects across our nation and world.
References
NGSS Lead States. 2013. Next Generation Science Standards: For States, By States. Washington, DC: The National Academies Press.
The President's Council of Advisors on Science and Technology (PCAST). (2010). Prepare and inspire: K-12 education in science, technology, engineering, and math (STEM) for America's future. Retreived from http://stelar.edc.org/sites/stelar.edc.org/files/pcast-stem-ed-final.pdf
Thomasian, J. (2011). Building a Science, Technology, Engineering, and Math Education Agenda: An Update of State Actions. Washington, D.C.: National Governors Association (NGA), Center for Best Practices. Retrieved from  https://www.nga.org/files/live/sites/NGA/files/pdf/1112STEMGUIDE.PDF
About the Authors
Leon Grant has been an advocate for CTAE since 1999. Leon, a mechanical engineer with over ten years of industry experience, has a passion for K-12 engineering education and project-based learning. For the past sixteen years he has taught pre-engineering in Paulding and Marietta City school systems. He has challenged his students with various levels of engineering projects that have encouraged them to compete and win at the local, regional, state, national, and international level. Under his leadership students have applied for patents, sold designs to major corporations, and started limited liability corporations.
Tim Brown has been involved in educating students for their careers since 1988. After serving as a business educator, athletic coach, and work-based learning coordinator, Tim began serving in an administrative capacity to create strong pipelines of students and future professionals. He helps students discover their aptitudes and refine their interests to gain training, professional credentials, and secondary and post-secondary training to meet the needs of our workforce and serve their communities locally, nationally, and internationally.