Susan Santone is an internationally recognized educator with over 20 years of experience in curriculum reform, educational policy, and sustainability. An instructor at the University of Michigan School of Education, Susan teaches graduate and undergraduate courses on education reform, multicultural education, and social justice. She is the author of Reframing the Curriculum: Design for Social Justice and Sustainability, as well as articles and book chapters on educating for sustainability and ecological economics. Through her nonprofit Creative Change Educational Solutions, Susan has led teacher education and curriculum reform initiatives with clients ranging from K-12 districts to universities to the United Nations.
What I Offer
Facilitator training that prepares school and university teams to lead professional development in their own settings. Training is based on the book Reframing the Curriculum.
Leadership development and strategic communication to advance understanding of sustainability and social justice.
Consultation for schools, universities, and other entities.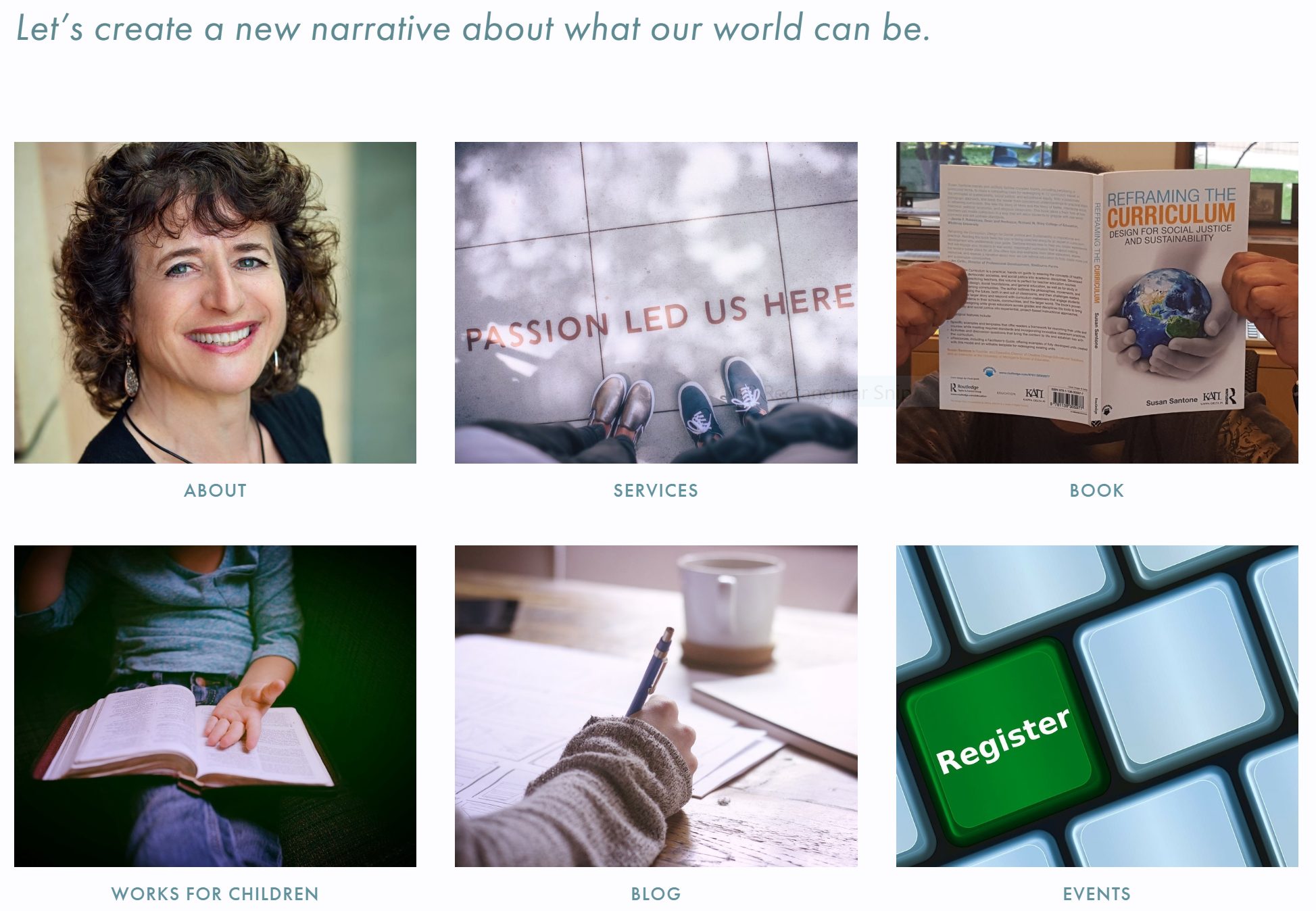 PD Offerings and Resources
Free Consultations for Leadership Teams
District leadership teams seeking guidance to integrate sustainability and social justice into their curriculum can request a free 30-minute phone consultation. So I better understand your needs, please complete this Curriculum Adaptation Assessment tool as a first step before requesting a consultation for your team. The assessment results will provide me with valuable information on your goals and progress, which we can build our call around. I look forward to hearing from you.
Free Facilitator Guide
This downloadable document provides activity ideas to teach for social justice and sustainability, with suggestions for structuring workshops, courses, or other facilitated settings. While designed to support the book Reframing the Curriculum: Design for Social Justice and Sustainability, the Facilitator Guide is a useful resource in its own right.
Free Online Course
Introduction to Sustainability
Learning about sustainability is easier than ever thanks to "Introduction to Sustainability," a free online course developed by Kappa Delta Pi in partnership with Creative Change Educational Solutions. The self-paced course introduces sustainability as a context for learning, highlights connections across grades and disciplines, and provides strategies for reframing curriculum to emphasize these connections. With activities, videos, discussions, off-line projects, and guided curriculum design, the course engages adult learners in an integrative and reflective learning experience that emphasizes practical applications. The course is based upon (and includes excerpts from) the book, Reframing the Curriculum: Design for Social Justice and Sustainability.
Additional Opportunities
Introduction to Social Justice
Introduction to Social Justice introduces the notion of social justice and guides teachers in the development of awareness and skills needed to reframe lessons and units to have a social justice lens. This micro-course is a follow up to Susan Santone's Intro to Sustainability Online Course. Cost: $49 for members and $74 for non-members.
Contact Susan Santone to learn more about professional development and facilitator training opportunities.