By. Dr. Jeremy Solin, Wisconsin Coordinator and National Program Manager of ThinkWater
I became an environmental educator because I believed education had the power to change people's behaviors.  I've been an educator now for nearly 20 years.  During those years I've worked with every age in nearly every setting.  If you were to ask me what the theme was for my teaching, I would have said "thinking – encouraging people of all ages to think critically about our relationship with the rest of the world."
I always had a bit of uneasiness, though, when I asked students to think.  I knew what I was asking them to do was the equivalent of that well-known comic in which a mathematician is working on a series of equations on the blackboard, and before the solution it indicates "and then a miracle occurs."  Thinking was just some miracle, something magical that happened when you thought, and I really had no idea what it was, how it happened, or more importantly, how thinking could be taught.
Then I found ThinkWater.  ThinkWater is a national movement of educators, students, managers, stewards, scientists, and citizens who think and care deeply about water. They know that deeper learning, understanding, and caring about water (or any topic) requires more than new information, it requires systems thinking.
Systems thinking is a discipline based on four simple rules—making distinctions and recognizing systems, relationships, and perspectives (DSRP).  These are the simple rules of how we build knowledge from information (it's the "magical" process that happens as we think).  You can learn more about DSRP in this short blog, or watch this 12-minute video.  We can develop our own skills by using DSRP and we can teach it to others.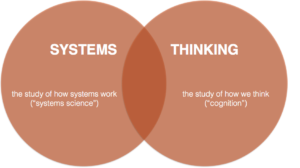 (graphic about relating systems science and cognition. source: ThinkWater image.)
I now work with ThinkWater, and get to provide training and support for those interested in integrating systems thinking into their curriculum and programs.  One of our partners over the past couple years is Arizona Project WET, which integrated systems thinking into their Water Investigations Program.  They taught their teachers DSRP, restructured their curriculum using systems thinking, and teachers used DSRP to help students learn about water.  Early research suggests the students increased both their knowledge of water and their thinking skills.
ThinkWater has generated a host of resources including online trainings, concepts and paradigms, instructional materials, software, and a community forum for water thinkers.  You can find these resources and more at www.thinkwater.us.
On December 6, there is an exciting opportunity to learn more about systems thinking and how systems thinking is being applied to various projects in policy, water, and education at the Cornell Systems Thinking Symposium.  The Symposium will include presentations about the Arizona Project WET effort, ThinkWater, and the 2016 USDA ThinkWater Fellows program in which water researchers received training to apply systems thinking to their work. The Symposium will be broadcast live online.  You can learn more and register at: http://www.cornellsysthink.com/.
I encourage you to dive into learning and applying systems thinking in your programs and organizations.  If you want to explore partnerships or need help with anything, please let me know.
Dr. Jeremy Solin is the Wisconsin Coordinator and National Program Manager of ThinkWater, a national campaign supported by USDA to help people of all backgrounds and ages think and care deeply about water.  He's worked in the environmental and sustainability education fields for the past 20 years in local, state-wide, and national programs across the country. 
Contact information: Jeremy.solin@ces.uwex.edu, 715.340.0376