By. Cyndy Merse, GSNN Content Writer
California has a long history of embracing environmental and outdoor education in its schools, from its Education and the Environment Initiative to its Children's Outdoor Bill of Rights. While there has been much progress, disparities in student access to environmental education still exist. The good news is the vast majority of Californians want environmental education in K-12 schools. However, according to a recent survey of California school principals, only 13% of K-12 schools in California have integrated environmental education into their curriculum to a meaningful degree. This issue is near and dear to the heart of State Superintendent of Public Instruction, Tom Torlakson. Inspired by his background as a science teacher and his love for the environment, Superintendent Torlakson led the charge that resulted in California's Blueprint for Environmental Literacy.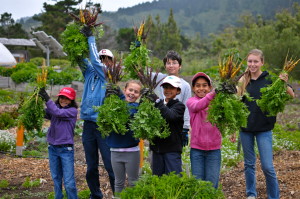 Coming Together for Environmental Literacy
In 2011, the Schools of the Future Task Force, established by Superintendent Torlakson, recommended that California adopt an environmental literacy plan to help organize and coordinate the state's environmental education efforts. The task force recognized that all California students should have access to environmental literacy in their schools and that environmentally literate students are more civic-minded. According to Superintendent Torlakson, "Students need to learn about the environment so they can make informed choices and help to maintain our clean water and air, and preserve our scenic resources." An environmental literacy plan would benefit educators as well. A plan would make it much easier for formal and non-formal educators to align their efforts and would enable them to reach more children through programs outside of school, such as at zoos, aquariums, nature centers, and museums.
In 2014, Superintendent Torlakson convened the Environmental Literacy Task Force to develop the state's Blueprint for Environmental Literacy. The task force consisted of 47 members from a cross section of environmental education advocates, including:
Ten Strands
The California Outdoors Schools Association
Green Schools Initiative
California Environmental Education Foundation
Green Schoolyards America
San Francisco State University
The State Education and Environment Roundtable
Seventh Generation Advisors
Inverness Associates
The Los Angeles Unified School District, as well as several other teachers and districts
Representatives from state and national parks, zoos, farms, and aquariums
The task force's co-chairs, Elizabeth C. Babcock of the California Academy of Sciences, and Craig Strang of the Lawrence Hall of Science, University of California, Berkeley had been advocates for increasing environmental literacy in California for many years, and both had worked closely with the California Department of Education through their roles in science education.
An Ambitious Plan
Developing the Blueprint was not an easy task given the diversity of schools and communities found in California, and the challenges educators and school leaders face concerning funding, instructional time, school facilities, student achievement, and cultural relevance and competence, among others. However, everyone on the task force was united in their passion for environmental literacy and determined to work together to see the Blueprint come to fruition.
One way the task force was able to collaborate more effectively was by breaking into workgroups. Each group was assigned a particular theme related to the Blueprint and was responsible for recording all of the members' ideas, discussing them, and distilling them into a summary to share with the larger task force. The task force also where to buy generic ambien online formed cross-cutting workgroups on issues of diversity and inclusion to help ensure that all of the thematic workgroups addressed these important issues. A key focus throughout the task force's work and in the final Blueprint was the need to prioritize resources and efforts to expand the reach of environmental literacy to underserved schools and students.
A difficult issue to address in the Blueprint was the assessment of student environmental literacy, and whether environmental and outdoor education should be a mandated requirement. This was a critical question given environmental and outdoor education are often viewed as just "one more thing" to do by schools and school districts already facing pressure to improve academic achievement and score high on standardized tests. To address this issue, the task force recommended that environmental literacy be fully integrated across all academic subjects as a means of meeting state and national standards. Additional recommendations included:
Inserting environmental education concepts into questions that are asked on standardized tests;
Embedding existing frameworks and professional development opportunities into the current curriculum;
Teaching academic subjects using the school buildings and grounds as hands-on teaching tools; and
Fostering green and healthy schools, schoolyards, and outdoor classrooms that promote sustainability and outdoor learning.
A Successful Launch
The final California Blueprint for Environmental Literacy was released on September 15, 2015. The Blueprint contains 58 recommendations that have been grouped into six overarching strategies, including:
Integrate Environmental Literacy into Existing and Future Education Initiatives
Strengthen Partnership and Collaboration Amongst Key Stakeholders
Mobilize the Public and Leverage the State Superintendent of Public Instruction's Influence
Implement Select Changes to Relevant State Law and Policy
Ensure Implementation through Capacity Building and Continuous Improvement
Develop a Sustainable Funding Strategy
Superintendent Torlakson noted at the launch "Now is the moment to elevate environmental literacy as an essential element of a 21st century education in California, and to establish the leadership, collaboration, strategic partnerships, and necessary funding to ensure environmental literacy for all California students." As illustrated by Superintendent Torlakson and the strategies above, partnership and collaboration play a major role in implementing the Blueprint and reaching educators and students across California. Specifically, the Blueprint encourages increasing the capacity of the California Regional Environmental Education Community (CREEC) Network to catalyze collaboration at the regional and state levels, and to increase educator access to instructional materials and professional learning resources.
Moving Forward
Work has already begun to implement several of the recommendations in the Blueprint. The Department of Education is forming a Steering Committee to put the Blueprint into action and has already integrated the Environmental Principles and Concepts in the Next Generation Science Standards and history/social science frameworks. The Department is also working to identify and secure additional funding to assist with implementation and supporting environmental literacy. Although it is early, it looks like California is off to a great start.
References
Interview with Deborah Moore, Executive Director, Green Schools Initiative
Interview with Pam Slater, Lupita Cortez Alcalá, and Grace Mittleman, California Department of Education
A Blueprint for Environmental Literacy: Educating Every California Student In, About, and For the Environment. A Report by State Superintendent of Public Instruction Tom Torlakson's Environmental Literacy Task Force – 2015. http://www.cde.ca.gov/pd/ca/sc/environliteracyblueprint.asp#TaskForceIntro
"California's Blueprint for Environmental Literacy." Green Schools Initiative. September 15, 2015 (www.greenschools.net/article.php?id=523)