By. Nathan Graf
San Antonio Independent School District (SAISD), located in San Antonio, Texas, operates around 145 daily school bus routes that serve almost 50,000 students. The diesel exhaust emitted by school buses that travel these routes each day is problematic for both SAISD students and Bexar County residents. Approximately 90% of SAISD students are economically disadvantaged (i.e., eligible for either free or reduced-price lunch due to household income at or below poverty level), which is over three-times higher than the average published by the Center for Public Policy Priorities. The United States Census Bureau lists Bexar County as among the top fifty counties in Texas with individuals lacking health insurance, and the American Journal of Epidemiology cites the county as surpassing the state average in cases of asthma. With these factors in mind, we at SAISD understand that our transportation choices have a significant impact on our students and the surrounding community.
In July 2017, SAISD made a commitment to replace future diesel bus purchases with propane buses. Our district chose to go with propane over alternatives like compressed natural gas and electricity because it's less expensive to implement and doesn't require a significant amount of facility upgrades. By replacing our older model diesel bus fleet (acquired prior to 2009) with propane buses, SAISD would be doing its part to eliminate diesel emissions and reduce the harmful particulate matter and allergens that can aggravate lung and breathing conditions like asthma and bronchitis. For our community, this means better health and fewer visits to the doctor. For our students, it means the potential for fewer absences and more time spent learning. We named our project to green our school bus fleet "Clean, Green Yellow School Bus Machines."
Grant funding played a significant role in getting Clean, Green Yellow School Bus Machines off the ground. Without grant monies, it would have been a challenge to fund our propane school buses. Writing these grants was a first for our district and the Transportation Department worked closely with our Grants Department on each application. Each grant we received built off the success of the previous grant award. Since the summer of 2017, we have applied for four grants and received them all.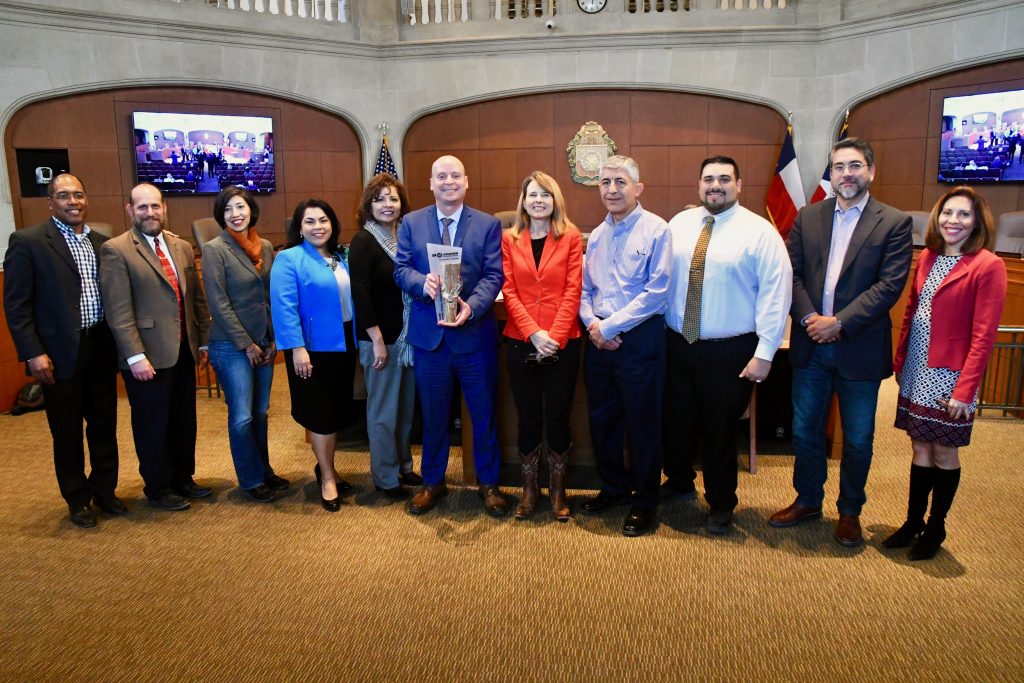 Two important partners supported SAISD as we kicked off our efforts to green our school bus fleet. The first partner was VIA Metropolitan Transit, which provides mass public transportation to residents of Bexar County and San Antonio. VIA was recognized in 2016 by the Texas Transit Association as Outstanding Metro Transit Authority of the Year and has received grants from the U.S. Environmental Protection Agency (EPA) for bus greening efforts. VIA agreed to serve as a mentor to SAISD as we began the process of greening our fleet and allowed us to use their propane fueling stations (along with the City of San Antonio's) until ours were built. The second partner was Northside Independent School District (NISD). NISD is a neighboring school district whose fleet is comprised of 55% propane school buses. NISD has been recognized by the U.S. Department of Energy's Office of Energy and Efficiency and Renewable Energy with a Clean Cities National Partner Award. NISD also agreed to serve as a mentor to SAISD for the duration of the district's transition to a propane-fueled fleet.
Since SAISD's commitment in July 2017 to replace future diesel bus purchases with propane, we have acquired 43 propane school buses, which accounts for almost 30% of daily school bus routes. We were able to supplement the purchase of so many propane school buses during this short period of time through grant assistance from three organizations. EPA was the first organization to award SAISD with a $286,487 grant. We were one of two school districts in the entire nation to receive this award. The second organization was the Texas Commission on Environmental Quality (TCEQ). TCEQ provided us with two grant awards – one in the amount of $255,000 and a second in the amount of $1,017,824. The third organization to provide us with a grant award was the Texas Volkswagen Environmental Mitigation Trust settlement (awarded through TCEQ). This award was in the amount of $723,200 and SAISD was the first school district in Bexar County to receive funds from this settlement. These grant awards were essential in our efforts to green the fleet and purchase propane school buses.
The transition to a propane-fueled school bus fleet comes with a number of benefits. These benefits include reduced fueling and maintenance costs – for example, oil changes for propane buses can be made every 10,000 miles versus 6,000 miles for diesel – as well as reduced toxins in the air, a big plus for students with asthma and other breathing conditions. Our bus drivers absolutely love the new propane school buses. The engine is much quieter on a propane bus and the bus drivers can hear and carry on conversations with students.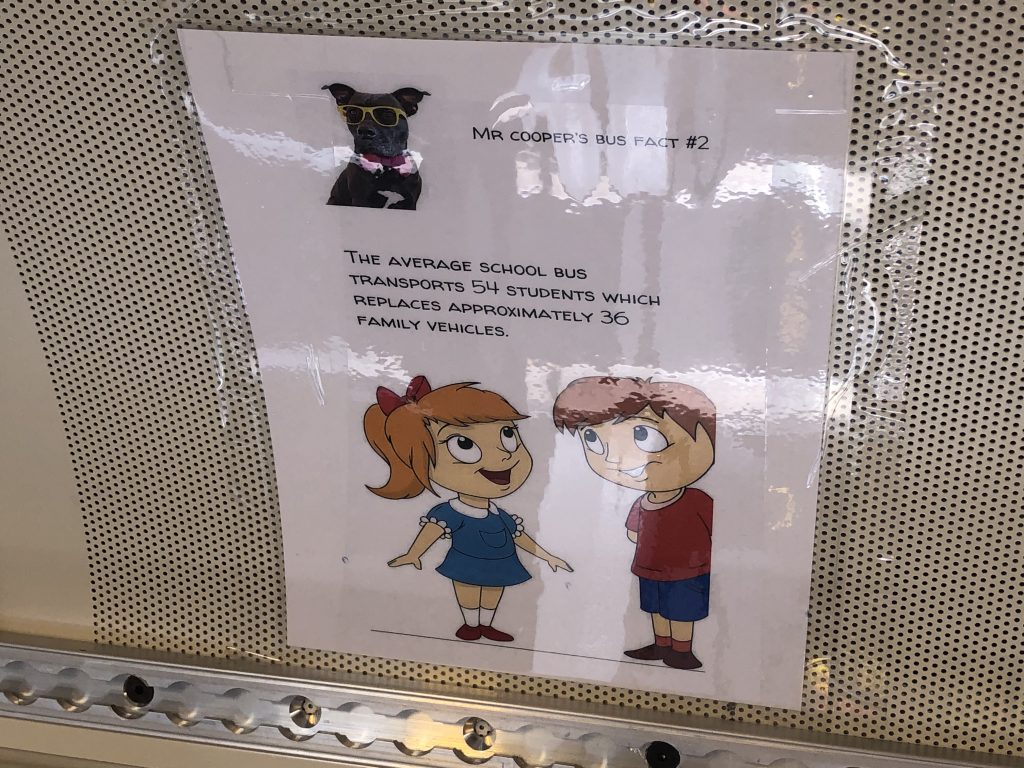 An important part of Clean, Green Yellow School Bus Machines is to involve students. To that end, signs are posted on each of our propane school buses to educate students on the benefits of switching to propane-fueled buses. The signs are fun and creative and engage students in learning how to lower diesel emissions. For example, one sign presents the reduction in pollution emitted by propane buses in the form of a math problem with the answer at the bottom of the sign. Signs are updated quarterly to show students the cost savings that result from using propane, reductions in pollutants emitted, and how shorter bus idling times for the entire school bus fleet save money and reduce pollution levels.
Although SAISD's Clean, Green Yellow School Bus Machines program is only three-years-old, our district is already garnering recognition for the strides we've made. In February 2019, SAISD was recognized by the City of San Antonio Office of Sustainability with a SA Tomorrow Sustainability Award in the sustainable program category, the first time that a school district received this award. And in May 2019, SAISD was recognized by the Propane Educational Research Council for "Innovative Leadership" in the school district propane school bus program. 
It's been a true team effort to green our fleet with propane school buses in such a short amount of time, and we are having so much fun educating our students along the way about this program.
Author Bio
Nathan Graf is Senior Executive Director of Transportation and Vehicle Maintenance for San Antonio Independent School District. Mr. Graf earned a master's degree in business administration from The University of Texas at Austin. He has served over 12 years in managing school bus transportation services for K-12 school districts. His work has been recognized by organizations such as The Council of the Great City Schools, The 100 Best Fleets in the Americas, the Propane Education and Research Council, District Administration Magazine, Telly Awards, School Transportation News, School Bus Fleet Magazine, and the City of San Antonio.