By. Margaux Mennesson, Marketing and Communications Manager for the Safe Routes to School National Partnership
A healthy school is the heart of a healthy community, and community policies play a large role in supporting schools' efforts to increase healthy habits and promote active transportation. The city of Pryor Creek, Oklahoma, where more than 16 percent of the population is Cherokee Indian, has worked closely with the Cherokee Nation to address childhood obesity. Pryor is celebrating a recent win after passing a Complete Streets ordinance to support Safe Routes to School and ensure that community members can safely walk, bicycle, and be active on the streets.
Background of the Safe Routes to School Movement
There is growing awareness nationwide about the benefits of physical activity for kids — including better overall fitness and mental and emotional well-being – as well as the risks of physical inactivity, such as higher rates of chronic disease and obesity.
As the stats bear out, kids today have become less active, less independent, and less healthy. In 1969, nearly 50 percent of all children in the United States (and nearly 90 percent of those within a mile of school) walked or bicycled to school. Today, that number has plummeted to fewer than 15 percent. During the morning commute, driving to school represents 10-14 percent of traffic on the road.
Concerned by the long-term health and traffic consequences of this trend, the Safe Routes to School movement emerged as a strategy to create safe, convenient, and fun opportunities for children to bicycle and walk to and from school. The goal is to reverse the decline in children walking and bicycling to school, increase kids' safety, and reverse the alarming nationwide trend toward childhood obesity and inactivity. Safe Routes to School programs are proven to increase walking and biking and decrease injuries, as well as reduce congestion and improve air quality near schools.
In 2005, Congress approved funding for implementation of Safe Routes to School programs in all 50 states and the District of Columbia. Though there have been policy shifts, Safe Routes to School is still eligible for funding under the 2012 federal transportation bill, MAP-21. Communities use funds to construct new bicycle lanes, pathways, and sidewalks, and launch Safe Routes to School education, promotion, and enforcement campaigns in elementary and middle schools.
At the local level, Safe Routes to School practitioners run education and encouragement programs with families and schools and push for strong municipal and district policies to support safe walking and bicycling.  The most successful Safe Routes to School programs incorporate the Six E's: evaluation, education, encouragement, engineering, enforcement, and equity. At the regional and state level, Safe Routes to School practitioners work to find new funding and ensure proper spending of existing funding for Safe Routes to School.  And at the federal level, the National Partnership and its allies maintain a steady voice for policy and funding support in Washington and provide a source of expert help, ideas, and resources for leaders at all levels.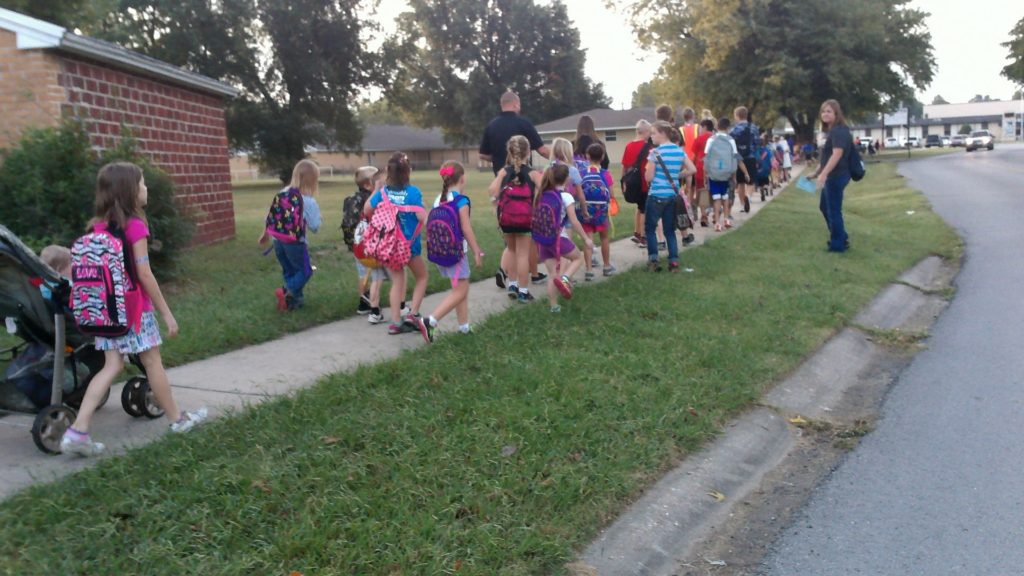 The Role of Complete Streets in Safe Routes to School
Beyond the Six E's of Safe Routes to School, a community's broader transportation policies have a great impact on whether kids and adults can safely use active transportation to get to school, go to work, and meet their daily needs. Complete Streets policies are gaining ground in towns, cities, and states across the country as a way to make the entire community more walkable and bikeable.
Each year local jurisdictions throughout the United States spend hundreds of billions of dollars to build new roads and highways and to reconstruct and resurface existing facilities. This investment provides an opportunity to design and implement "Complete Streets" which serve the needs of all transportation users including pedestrians, bicyclists, people with disabilities, transit riders, and automobile users. A seamless network of Complete Streets including on-street walking and bicycling facilities, trails, and transit should connect schools, homes, shopping, employment centers, recreation areas, and other destinations.
Complete Streets policies require that every time a street is built or renovated, it is made complete by providing safe facilities for all transportation users – pedestrians, bicyclists, the disabled, transit users, and motorists. This is an important strategy for Safe Routes to School, as children are our most vulnerable roadway users, and roads leading to schools are regularly built and reconstructed.
Complete Streets policies can be inserted into general plan documents, regional transportation plans, or funding mechanisms such as bonds or transportation sales taxes. They can be legislated through state or local laws, or through resolutions by governing bodies. Alternatively, policies can be internally adopted by public works departments or state departments of transportation.
Passing a Complete Streets Policy in Pryor Creek, Oklahoma
As part of our technical assistance program, the National Partnership works with local communities to help them build support for and pass Complete Streets policies that improve health and safety for residents. The National Partnership recently worked with the City of Pryor Creek, Oklahoma, which became the first city in the state to approve a Complete Streets ordinance with the unanimous approval of Ordinance No. 2016-01.
The National Partnership worked closely with Doug Moore, who works in the Community Development Department for the City of Pryor Creek. Under the Cherokee Nation and Doug's leadership, the City was a strong advocate for bicycling and walking and had engaged in Safe Routes to School programming and youth engagement activities such as walking school buses. The City felt that a Complete Streets ordinance would be an added component to a healthier community.
The overall goals for the campaign were as follows:
To improve walk- and bike-ability throughout the community by enhancing or creating connections between neighborhoods, schools, parks, commercial areas, and employment centers in hopes of creating an alternate "active" transportation system.
To improve safety and awareness of safety for pedestrians and bikers. Students and parents will not walk or bike if they do not feel safe, and families should understand the truth about the risks and what they can do to help to protect themselves.
To create enjoyable experiences. Enjoy the ride!
Improve community health. The rates of childhood and adult obesity have grown to epidemic proportions. Pryor hopes to fight this epidemic by providing convenient, safe, and enjoyable alternatives.
Increase awareness. Pryor wants community members to know about and to understand what impacts their daily choices have on their lives and the lives of their children, not just today, but also in the future.
During monthly calls with the Pryor team, we reviewed the current Complete Streets policy and provided recommendations for strengthening it into a policy to be adopted by the City Council, providing sample Complete Streets ordinances from across the country to help guide Pryor's efforts.  National Partnership staff helped strategize ways to incorporate business owners into the Complete Streets discourse and provided talking points for a presentation that the Pryor Area Chamber of Commerce requested. Pryor continued to work to get additional buy-in and support for a complete streets policy. Ultimately, the city used language based on ChangeLab Solution's model Complete Streets ordinance to draft a policy that would fit the needs of Pryor. Stakeholders also worked to ensure that the ordinance had support from the mayor, city officials, and local businesses which led to the unanimously adopted by the City Council in 2016.
"Pryor is really moving now!" said Doug Moore after the ordinance was passed.
The Cherokee Nation and City of Pryor Creek have passed multiple initiatives and ordinances to improve the health and well being of their community members. Pryor has been recognized as the Most Innovative City for advancing initiatives such as a Leader in Me program in Pryor Public Schools and planned country bike trails. The Character Education Partnership has recognized Pryor Public Schools' Walking Wednesday program as a Promising Practice in Character Education.
For more information, visit saferoutespartnership.org. 
About the Author
Margaux Mennesson serves as Marketing and Communications Manager for the Safe Routes to School National Partnership, overseeing communications, marketing, and media activities for the organization. She manages online marketing and social media, and produces and designs content for web and print publications. She also assists with managing marketing and communications for the Fire Up Your Feet program. Prior to joining the National Partnership, Margaux served as communications director at the Bicycle Transportation Alliance in Portland, Oregon.
Photo courtesy of Doug Moore