By. Candi Fulcher
Each morning students wake up, prepare themselves for the day, and pack up all that they are to come to school. Everywhere they go, students bring along what defines them – their culture, identity, community, and family. As educators, it's important we remember this when working with students to develop their skills. At Common Ground High School in New Haven, Connecticut, we encourage our students to learn from their experiences. We want our students to use their voices, cultivate their skills, and always show up as their authentic selves. 
"Culturally responsive teaching is defined as using the cultural characteristics, experiences, and perspectives of ethnically diverse students as conduits for teaching them more effectively. It is based on the assumption that when academic knowledge and skills are situated within the lived experiences and frames of reference of students, they are more personally meaningful, have higher interest appeal, and are learned more easily and thoroughly" (Gay, 2002).
Responsive Relationships
An important entry to culturally responsive teaching is making space for students. Students must feel valued and trusted in this space. Three years ago, Common Ground teachers worked together to define a set of foundational building blocks for teaching and learning: Rigor, Relevance, Responsive Relationships, and Real Roles and Rights. While Common Ground's commitment to justice and inclusiveness shows up throughout these building blocks, it's particularly strong in the Responsive Relationships building block. These are the elements we defined as critical in our approach to responsive relationships:
Know each other well, support one another, and hold each other accountable.
Work to produce a healthy, whole, just school community and environment and take a restorative approach to building and sustaining that environment.
Treat each other as whole human beings, growing in multiple domains, whose basic needs are met.
Individualize learning – root it in an individual's needs, strengths, and passions and use principles of universal design.
Incorporate and recognize students' lived experiences, cultures, and identities, including race, gender, sexuality, and home places.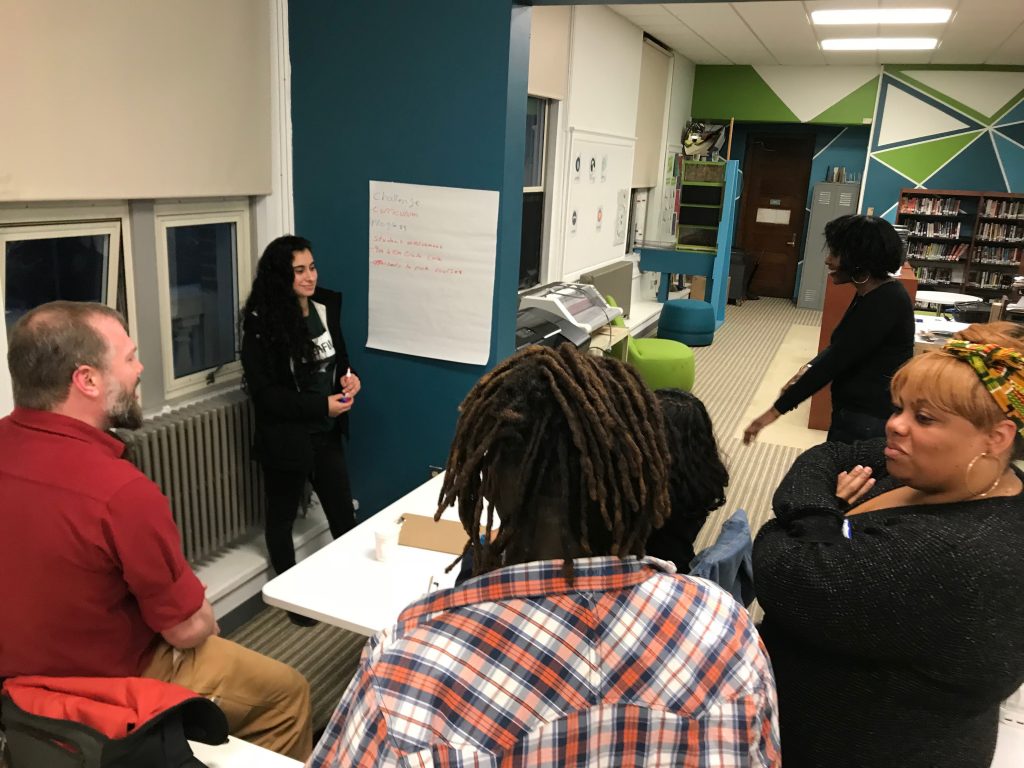 How do we build responsive relationships? One critical piece is empowering students to shape their education. When creating a space of value and trust, students play an important role in what is taught and how it's taught at Common Ground. Our students know what works and how to engage their classmates. They participate in designing, teaching, and evaluating content-based courses, internships, and other school-wide experiences and develop materials that can be used to create systems of accountability for their peers, both in the classroom and throughout the school.
Students as Designers
As designers, students are tasked with the responsibility of helping teachers identify the best ways to approach material that will engage and encourage their peers. Each year, a variety of students take part in creating new courses and improving the overall student experience. It's during these conversations that we take stock of what students need to better develop their skills and connect to their interests. I have seen firsthand how students are empowered by this opportunity and thrive in experiences they helped develop. As part of our Senior Environmental Justice Capstone course, students must identify an environmental or social justice topic and develop a plan to address the issue. In the wake of the COVID-19 pandemic, our seniors rallied together to change their projects due to restrictions put on in-person gatherings. They designed thoughtful virtual experiences with their peers to reflect and support each other through the transition from high school, managing stress and increasing awareness around resources and support related to the pandemic and mental health.
Students as Educators
When students step into the role of educator, they become true conduits of their lived experiences. They're applying what they've learned through the lens of their identity: how does this connect to me, how can I find a way to connect this to my peers? Whether serving as a Teaching Assistant, presenting during our Presentations of Learning and Leadership, leading a paid work crew as a part of our Green Jobs Corps, or facilitating an afterschool program, our students use their expertise to inspire others. Students who wouldn't normally speak up in class find a way to share who they are and educate others about things that would otherwise be foreign.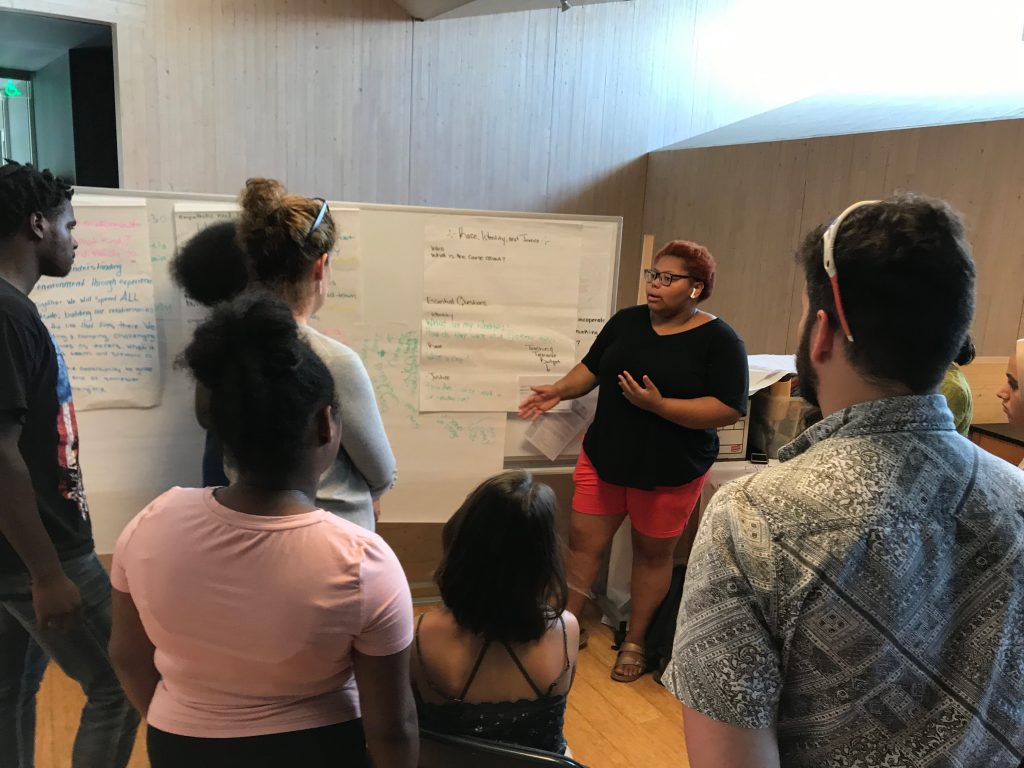 The most inspiring moments happen during our Senior Defenses. It's during these defenses when students' lived experiences are used as evidence to support who they've become while at Common Ground and how they'll use lessons learned to encourage and motivate themselves on their paths post-high school. This process starts for our students in ninth-grade, where they begin to capture leadership experiences in their e-portfolios. Over the next four years, students reflect on experiences that showcase their achievements, as well as those that posed challenges for them. In their senior year, they present about all they've overcome and start to see themselves as the leaders we always knew they could be.
Students as Evaluators
Students are important in the evaluation process; they've been immersed in a course or experience and, with reflection, can often see what teachers cannot. How can an experience be improved, be more engaging, and speak to students who may not be interested? At Common Ground, students are looked to for feedback and they're often given the opportunity to develop tools to evaluate systems. Allowing students to be evaluators doesn't stop at courses – it extends to school-wide policies and programs, where they often help to identify ways to be more inclusive of the community-at-large.
In my role, I manage our bi-annual Presentations of Learning and Leadership. Twice a year, students put together presentations on various topics to share with students and staff. This is a school-wide event and it can be challenging sometimes to get students to sign-up to present. Over the last two years, I've been working with a small group of student interns each semester to rebrand and ignite more interest in the conference. The work of my interns – polling the student body, leveraging the talents and interests of their classmates, and using their peers' desire to learn about new opportunities – has made the Presentations of Learning and Leadership much more successful. During our last full session, we had 90% attendance, 28 unique presentations, 15 presentations based on out-of-school experiences, and an Apprenticeship Fair.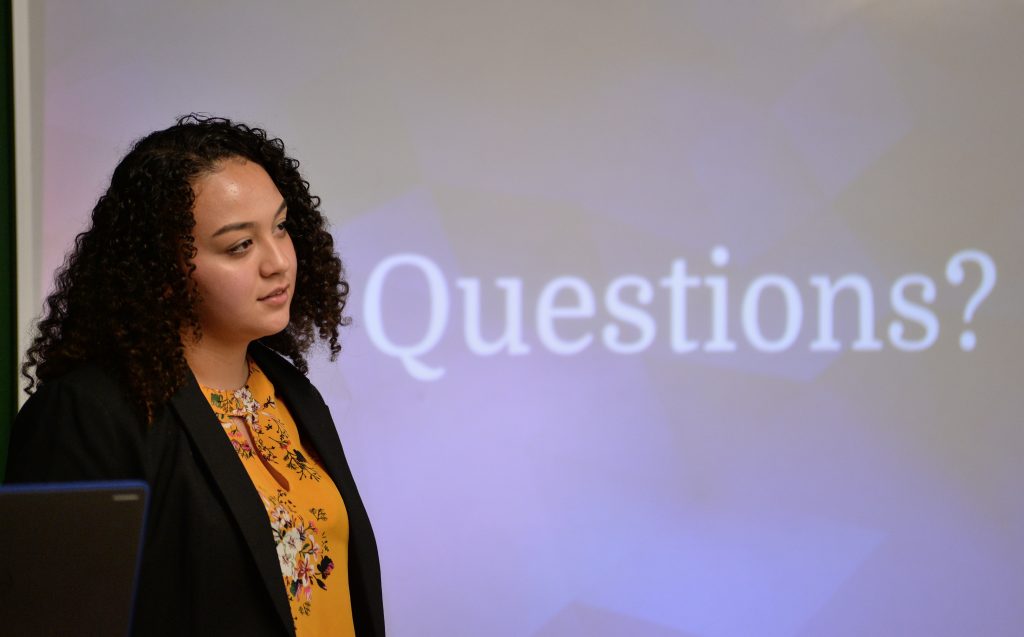 As an educator, I value the opportunity to make space for my students and feel it's important for them to be actively engaged in their education. However, when using the lens of cultural responsiveness, the responsibility is not just that of the student but also the educator. We have to ensure that we're doing our best to develop lesson plans and execute content that reflects the experiences and identities of our students.
As the 2019 – 2020 school year came to an end, issues of racism were being amplified due to the increasing number of police brutality cases happening across the nation. Me and my fellow educators at Common Ground found ourselves reflecting on how we could support our students and what more we could do. It was at this moment we felt it was important to reach out to students. We held a town hall meeting where students and staff shared, listened, and supported each other. During this meeting, students shared their desire to learn more. They wanted more opportunities to learn about liberation and how people and communities have succeeded in the face of systems of oppression.
Reflecting on Cultural Responsiveness in Practice
This summer, Common Ground took some time to reflect on what we as educators are doing for students and what areas we may need to develop as it relates to cultural responsiveness. While we cannot be experts in the numerous intersections of our students' lives, it's important we make an effort to use the lens of cultural responsiveness to engage them in our classrooms. Making a conscious effort to create meaningful experiences for our students is a continuous process as we develop as educators. We must invest the same time in honoring our students' cultural identities as we do in our content areas. Here are some of the reflection questions we considered:
How are you building authentic relationships where you and your students share your own experiences and backgrounds, similar and divergent?
How are you helping students build relationships with community members, educators, elders, etc., who share their backgrounds and experiences?
How do your courses help students develop a sense of place and connect to nature and the environment in ways that affirm their identity?
Do students learn about models of resistance, liberation, and empowerment every time they encounter systems of oppression?

How do students learn how people resisted and created change, and the strategies they used?

Do they have an opportunity to take action and try out these strategies?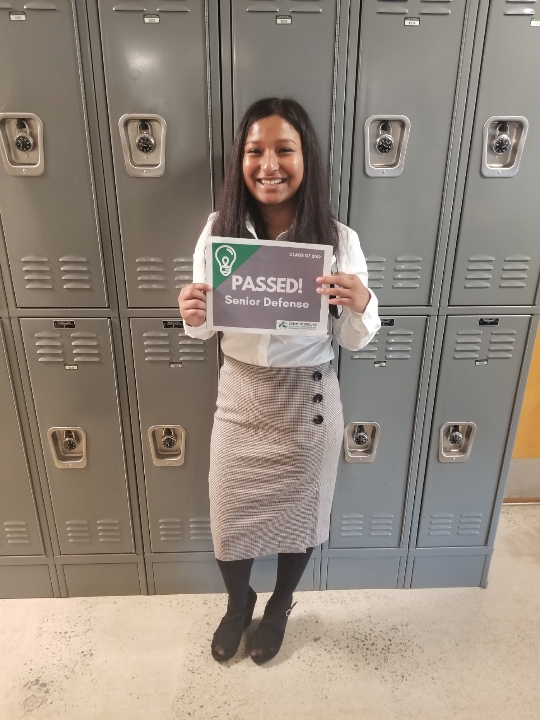 Cultural responsiveness has been a driving force in my work since entering the field of education. As I watch my students develop each day, I'm reminded of my experience as a student and how I wanted so much to see myself in what the teacher taught or find someone who shared something with me in a story. For much of my education I had to find those connections on my own. Why is this important to me? How does it connect to my life, or future? Whenever I find a student unengaged or uninspired, I have those same questions. How does what we're doing connect to who you are or who you want to be? It's when students see the connection that they participate in a meaningful way.
References
Gay, G. (2002). Preparing for culturally responsive teaching. Journal of Teacher Education, 53(2), 106–116. doi:10.1177/0022487102053002003
Author Bio
Candi Fulcher is the Manager of Environmental Leadership and co-teaches the Senior Environmental Justice Capstone at Common Ground High School in New Haven, Connecticut. She has dedicated herself to the field of education, especially to the social and academic development of urban students. As a committed member of the Common Ground High School staff, Candi roots for all the students and acts based on the belief that they all can grow, thrive, and become leaders. While working hard to build strong relationships with colleagues and students, she also helps students build their understanding of justice, equity, and their capacity to be leaders.