By. Adam White, Atlas Workshops
To build a more sustainable planet we need new perspectives. We need to reframe the global challenges of climate change, consumption, and waste, and develop ideas that can change the way the world functions. Design thinking is an incredible tool that anyone can use to generate creative, contextual solutions and identify opportunities to bring about change. For students, learning to think like a designer can hone important critical thinking skills and build ethical frameworks for systemic change. As schools carve out more space for project-based learning, hands-on making, and a variety of design thinking courses and programs, students have more opportunities to develop these important skills.
With a background in global design research, we saw an opportunity to use travel to help schools and students develop design thinking skills in the field. We launched Atlas Workshops to craft travel programs that teach students to be creative and curious global problem solvers.
Since our launch, we have guided students through a range of trips that use a design thinking process to gain insight and spark new ideas about sustainability issues. We have worked with schools on a range of topics, from evaluating sustainable transport systems in Scandinavia or energy usage in Iceland, to examining waste and sanitation in India or wildlife conservation in Australia. Along the way, we have found that design thinking approaches can strengthen the passion and processes necessary to overcome key challenges of sustainability.
A Short Introduction to Design Thinking (and its Pitfalls)
Design thinking has been a growing buzzword at schools for most of the last decade. The actual approach and process goes back much further. The first designers were artists and makers who used design to create better, often human-centered products. Human-centered design is a field that is interrelated with design thinking – it's the practice of designing things with the users' needs (humans) specifically in mind.
IDEO, a well-known design firm, is generally credited with creating the term "design thinking." For them, it was a transition from human-centered to systems-thinking design, and they used the term "to describe the elements of the practice we found most learnable and teachable—empathy, optimism, iteration, creative confidence, experimentation, and an embrace of ambiguity and failure."
The evolution and proliferation of this approach has given designers the tools necessary to, as Harvard Business Review describes, transition from artistic fields to product development, and now into complex systems and problem solving.
Prior to launching Atlas Workshops, I started a small design firm that worked on social impact and enterprise projects around the world. We primarily focused our work in East Africa and India, where we would partner with local experts and communities to unravel questions about the challenge on hand. For example, we have used design thinking processes for the last eight years to improve pollution and accessibility in Nairobi, Kenya by mapping the city's public systems.
Schools and students have experienced the impact and fun of design thinking. It allows anyone to see the world differently and think about creative ways to solve pressing issues. From full-on makerspaces to classes and workshops, we have seen how many schools are using design thinking in traditional and non-traditional situations to inspire students.
Taking the Design Thinking Process into the Field
At the center of design thinking is a process. While more experienced designers will often cycle through the process more quickly or skip steps and apply tools as necessary, beginners can benefit from following a structured design thinking process.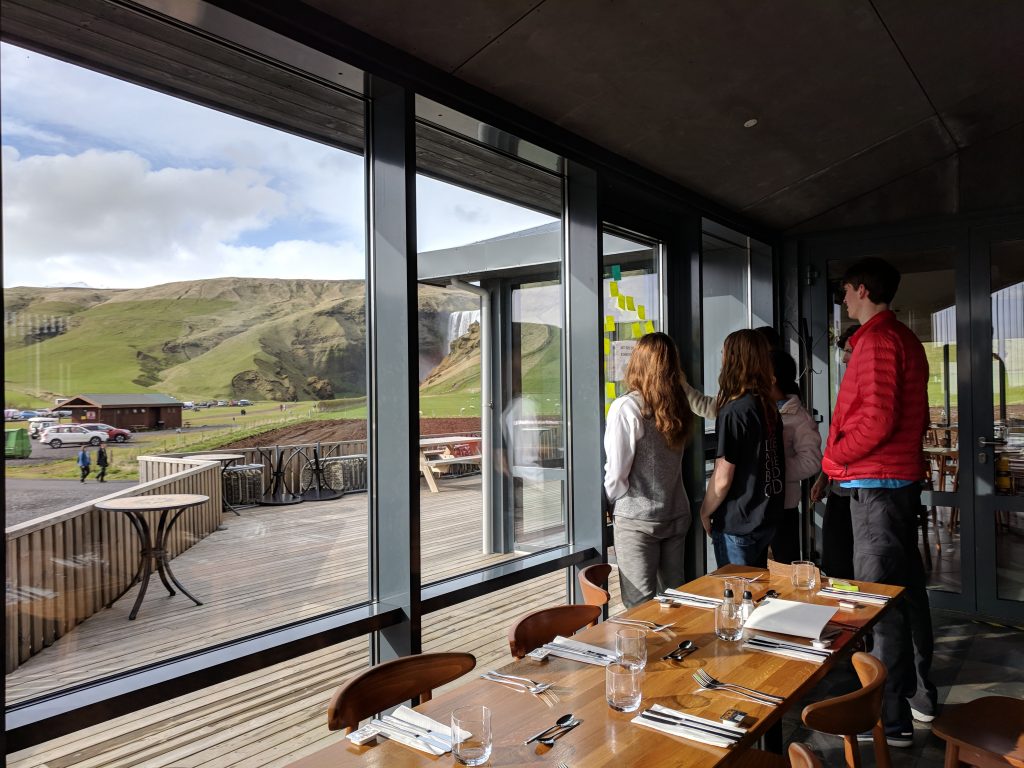 Different organizations call them by different names, yet the design thinking process is generally the same. It includes five to six steps that are circular in nature – the process is ongoing because a good designer is always learning and improving from the previous iteration. The steps usually fall into one of three phases: a research phase, an analysis phase, and an implementation phase. The d.school at Stanford (which offers a range of PD opportunities for educators and online resources) coined the most common process that is now familiar at many schools:
Empathize (a.k.a. Discovery, Research, or Understand): This is the earliest step in the process where we work to understand the issue and the stakeholders. Calling it Empathize reminds designers to keep the community and users in mind.
Define (Analysis or Insight): We take our research and break it down into specific insights about the issue and reframe the challenges at hand. The helpful insights are usually the little observations and digestible learnings from the research phase that make you go "ah-ha!" This Define stage also incorporates analysis and connections that lead to creative insights.
Ideate (Brainstorm or Project Ideas): In this step, we are working to take all our insights and analysis and turn them into specific ideas. At first, these ideas are as crazy and diverse as possible. Through the process, we use the insights to combine and select the ideas that are most likely to have impact.
Prototype: For this step, we test whether the specifics of the ideas will work by making some element of our design. This step is often where hardware might come in, or where you discover that your original hypothesis about how something would work just isn't possible.
Test (Implementation): In this step, the designer deploys the idea into the world but does so to learn from it. The process isn't finished; this is just the first iteration.
Share: This last step (which is sometimes left off) is when the idea is shared with the original community it was built for.
We have seen schools follow the design process in a number of situations and often focus on a few steps or parts of the process more than others. On a travel program we do the same. We find that the first two to three steps are most applicable as the field is ideal for research and inspiration, and on shorter trips students might not have time to implement until they're back on campus.
Discover, Insight, and Ideation: A Recent Program in Iceland
Last year, in partnership with Montclair Kimberley Academy in New Jersey, Atlas Workshops set off with a group of students on a week-long program in Iceland. While Iceland has become an incredibly popular destination for schools to learn about sustainability, we took a unique approach by structuring the program as a design thinking challenge. We framed the trip around key, but open-ended questions: Can Iceland's clean energy system translate back home? And if so, what would that look like?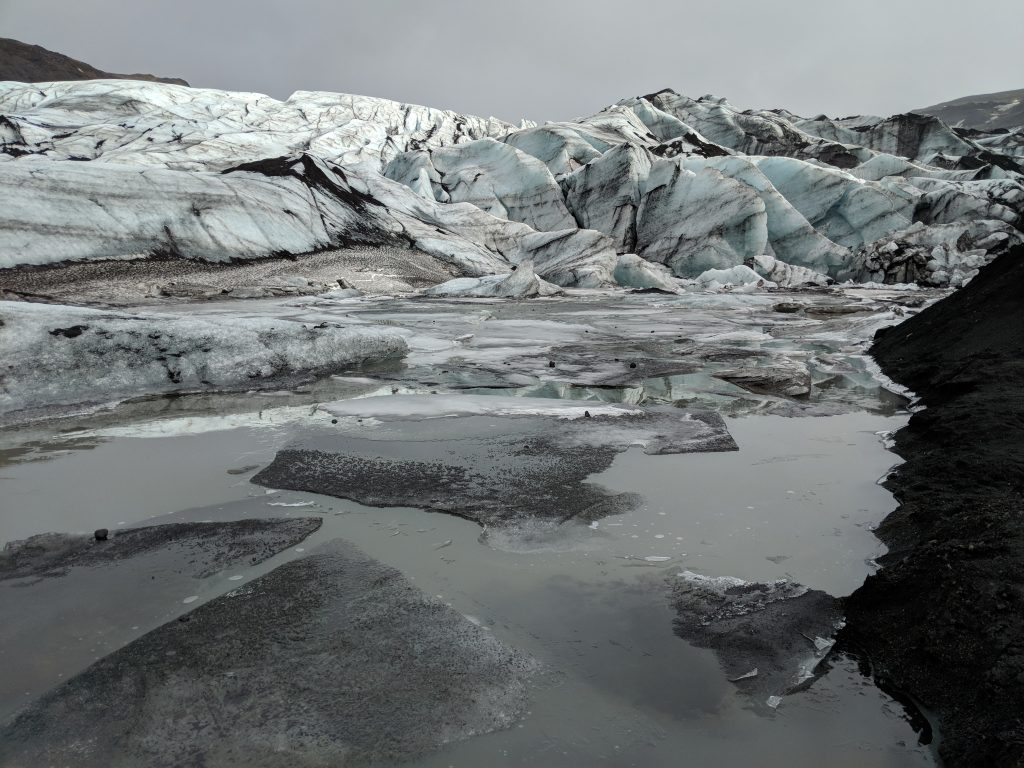 The program followed the first three steps of the design process. Because travel also involves some unpredictability, the phases bounced around a bit, but this authentically captures the real-world experience of a designer at times, too.
Discovery: The group began their trip visiting power plants, nonprofits, and key geological sites. Students posed questions to local guides and collected their observations and ideas on notecards. For example, students questioned whether Icelanders waste more energy because it is renewable, how systems are designed to plug into natural advantages, and the irony of how much Icelanders drive compared to other European countries.
Insight: We then set up our workspace at an eco-lodge (within view of a nearby waterfall, to stay grounded in our surroundings). The group spent the morning sorting and reframing their notecards to transform one-off observations about Iceland into deeper thematic connections. For example, students began to theorize that Icelandic people have been deeply tied to their environment because of the harshness of the landscape, and that has led to natural, sustainable lifestyles. This is also where students translated observations about overtourism into insights about the future of Iceland with and without visitors.
Ideation: After a few more days of meetings and site visits, we came together again to continue our process. Because the trip was short, we ended near the ideation phase, and students would have a bit of time back at school to continue fleshing out their ideas. We reviewed the notecards and insights again to look for patterns before students had a massive, expansive brainstorm to generate ideas about sustainability in Iceland and back home. Students began developing plans for different projects, including an awareness campaign that takes advantage of local geology and existing human-nature connections. Ultimately, students came home from Iceland with their own ideas to test in the future.
Cort Bosc, Director of Global Experiences at Montclair Kimberley, shared:
"Integrating design thinking into our global travel program flips the script on the previous way we thought about travel. Instead of students being empty vessels filled with new ideas about culture, language, etc., they are actors who are empowered to create solutions, reflect on how what they see might help at home, and gain valuable skills in empathy, design, problem-solving, and the like. The Clean Energy Futures experience in Iceland was interesting because of the variety of students it attracted, each coming into the experience with a different lens and desired learning outcome. For many, this was an opportunity to get a first-hand look at the power of the Earth in line with their evolving interests in conservation of the natural world. For others, they were challenged by the unique engineering obstacles and opportunities of building a geothermal energy system that could power the entire island. And for yet another group, whose focus has never been in STEM, Iceland posed an interesting look into the cultural and political dynamics around sustainability in a place that has always had access to affordable clean energy."
A similar program with a New Hampshire school involved travel to Copenhagen and Sweden. These students had an even more specific challenge: "How can we make American cities more bike-friendly?" We spent the first few days exploring cycle-friendly cities first-hand and meeting with bike-related NGOs, community groups, and businesses. Students then began to work on their own bike-promotion plans to bring back and test at home. For example, students came up with new systems to more quickly create bike lanes or safer bike locks. They took research and insights from home, combined with inspiration from the trip, and put it all together to create new solutions that many continued to build on after returning to school.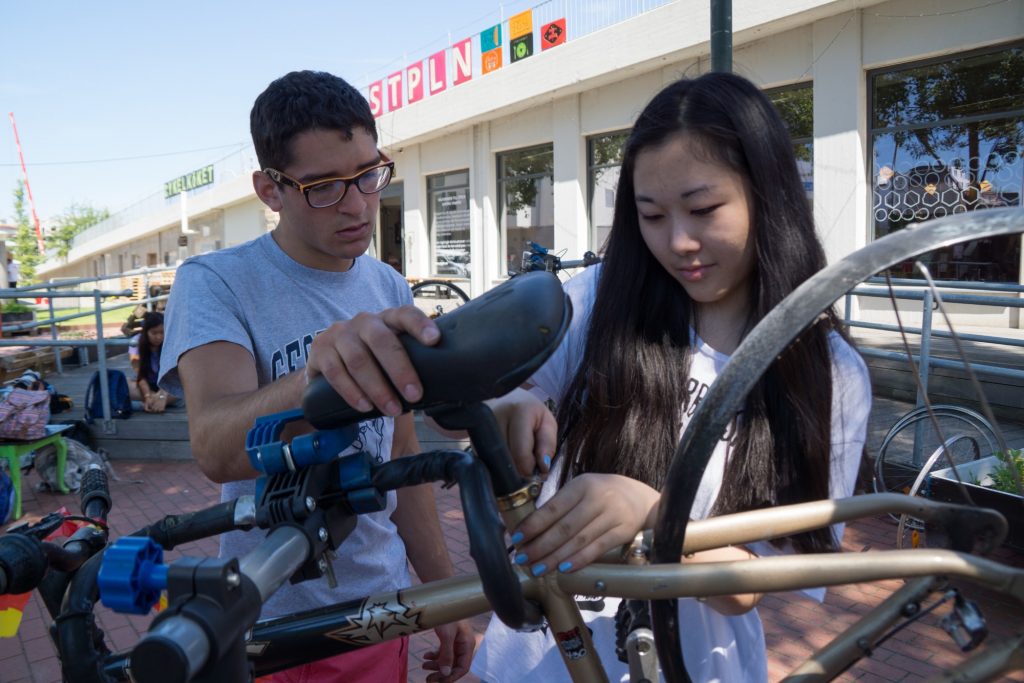 Across these programs one of the biggest takeaways for us has been that adding the design thinking process to a trip doesn't just lead to new ideas or skills but can actually set the tone of the entire program. While the stops you might visit in Iceland remain the same on many trips, having this design thinking lens and project focus added more meat and more curiosity to each visit. The power plant tour isn't just a tour with a guide, but an important and unique moment to gain insight. The design thinking approach transformed an otherwise interesting, one-time experience into something profound, with a lasting impact for our students' future.
Challenges to Bringing Design Thinking On (and Off) Campus
Of course, with any new approach, there are some challenges. There are issues of finding the physical spaces that encourage the right type of thinking and finding large enough blocks of time in the curriculum for students to engage in their projects. Mini-mesters and off-campus travel are great ways to overcome some of these physical limitations.
On a deeper level there is also the challenge of finding the right teachers who have the necessary skills to introduce these processes and the "creative confidence" that makes a designer successful. A good design teacher needs to be just as comfortable with failure as the students and should expect a bumpy road until they have a good number of projects under their belt.
As green schools look for new ways to encourage their students to think about sustainability, design thinking can be an incredible tool, with a range of resources and strategies, to utilize. Schools should keep this tool in their arsenal, and especially consider how design thinking can make travel more meaningful for students.
Author Bio
Adam White is the founder of Atlas Workshops, a design- and project-based educational travel company. Prior to starting Atlas Workshops, Adam founded and ran a global design firm called Groupshot and worked on issues of social impact and sustainability around the world. His design projects have been written about in Wired Magazine, Citylab, The Guardian, and Sustania for his work in sustainable mobility. He has a master's degree from the London School of Economics in City Design and a bachelor's degree in International Topics in Engineering from Tufts University.