By. Joel Tolman
A person can get a little overwhelmed just listening to all the ways Mrs. Montreal Johnson-Godley has been involved at Common Ground High School this fall. She attended a new family night with two of her children who transferred to Common Ground this year. She was a guest teacher in Common Ground's tenth-grade interdisciplinary core, describing her work as a community leader working for housing justice. She made multiple phone calls to each of Common Ground's 224 families – inviting them to testify in support of Common Ground's charter renewal, come for the ninth-grade Family Food Night, or volunteer at the annual Winterfest celebration. She met with teachers and staff to hear an update on one of her kids' individualized educational plans. As a resident of West Rock, the neighborhood right next door to Common Ground, she took part in a lunch with other neighborhood stakeholders that focused on improving safety and pedestrian access in the neighborhood. She met with Common Ground's post-high school planning manager to work on the FAFSA and applications for her son, who is a senior. When we were down staff in the cafeteria, she came in and served lunch for a couple of days. For six weeks, she picked up a bag of fresh vegetables from Common Ground's urban farm. The list goes on and on…
Montreal is exceptional – and not because of the number of ways she's shown up to support her kids and Common Ground this fall. When Montreal picks up the phone to call another parent, or sits down with students, or walks through the school office, she brings so much love into each of these interactions:
"I think it's imperative that a parent, not just any old person, is making these contacts. Families have been in the struggle for a very long time, and they are so grateful to talk with someone who knows where they are coming from. When you are calling people on a regular basis, they begin to treat you as a person. After being in their classroom, students give me a hug in the hallway. When you get a person, and you build that rapport with them, it starts to build a family. You have to understand where people come from…We are family, we are friends…It's not about what you say to people, it's how you say it. I grew up to love."
As Common Ground's parent liaison – paid to support family engagement a full day each week – Montreal has stepped into a unique leadership role. At the same time, her experience speaks to the way in which we are trying to welcome families into our school community. Liz Cox, Common Ground's school director, describes what Common Ground is striving for:
"Family engagement isn't just an evening workshop. It isn't back to school night. We think about, how do we engage every family, making multiple meaningful connections over the course of the year?"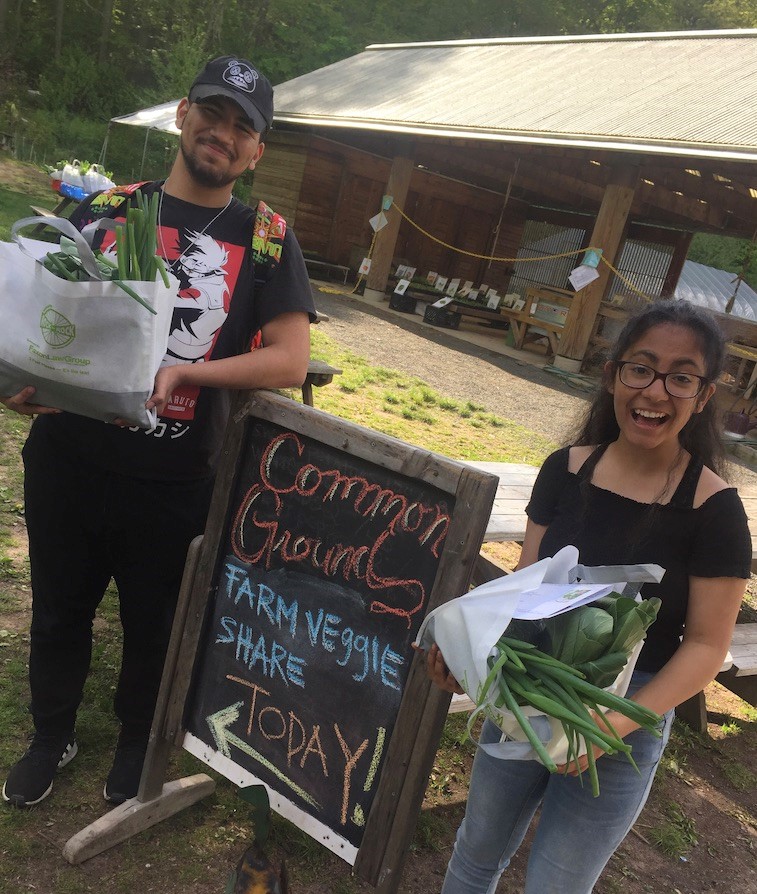 Some of these touch points will sound familiar to any educator or family member of a high school student. Families show up in force for mid-term conferences. They get calls when their students need to come in to make up work at Saturday Academy. They bake cookies for bake sales. They show up to parent leadership team meetings on Saturday mornings.
Other ways that families are showing up, though, are a little out of the ordinary. Some forms of family engagement are very much connected to Common Ground's environmental mission. Many are a result of our unique status as a high school inside of a community environmental organization, which also operates an urban farm and community environmental education center. Here are a few examples that stand out.
Families Deserve Good Food
Montreal's family is one of thirty who, for six weeks at the peak of growing season, left their visit to Common Ground with a bag full of fresh produce from our urban farm. The produce – a mix of veggies and eggs from our flock of chickens – was worth $20 or more. Families paid on a sliding scale, based on what they could afford.
Providing families with fresh, local food is just part of the goal. Disha Patel, Common Ground's Food Justice Education Coordinator and one of the staff responsible for Common Ground's farm share program, describes what else families and Common Ground staff exchange:
"Something that's been really cool…We send out weekly newsletters, with the farm shares and by email. There's a foodway story, sharing the origin story of the ingredients, along with some recipes. I've had families getting excited about a crop that's new to them, letting me know how they used it. It's a beautiful love letter exchange that we've been writing to each other – letting me know that their child is much more interested in spending time in the kitchen, for instance. Most of the families that we're engaging with come from an agricultural background already. The difference is that now we live in an urban area, where we are disconnected. A radish, or kale, may not be something that they're familiar with but it's something they're curious about. We are trying to provide an opportunity, or a place, to return to something they know about. As much as we are able to provide something to them, this is so much more than a one-way communication."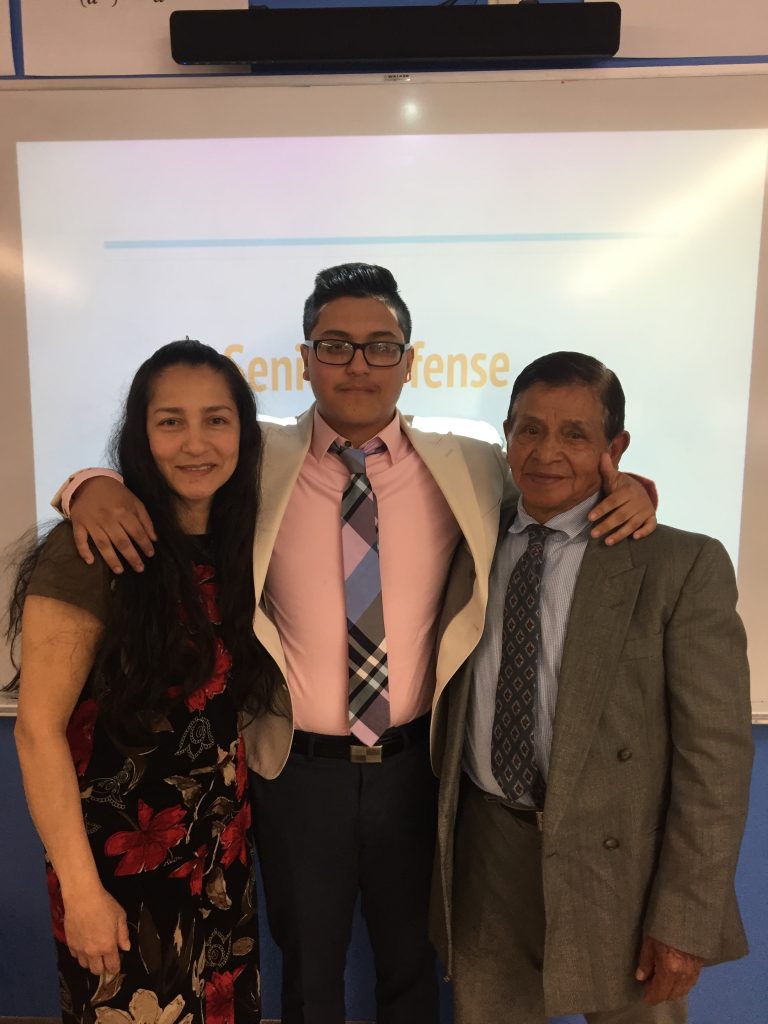 Families are a Powerful, Authentic Audience for Student Work
Disha has noticed that families of our ninth-graders are particularly eager to engage in the farm share – a result, she thinks, of the opportunities these families and their students have to connect with the farm in their first fall at Common Ground. The first unit of study in Common Ground's interdisciplinary ninth-grade core is called "Feeding Ourselves" and uses our farm as its extended classroom. The unit culminates in a big Family Food Night, where students share what they've been learning. In one room, students share their mathematical analysis of what Common Ground's farm should grow based on flavor, productivity, nutritional value, and cultural relevance. In another, students connect their families to electrodes and combusted sugar, bringing their study of metabolism to life. Families learn from their students' research about the cultural origins of different vegetable varieties and judge debates on the sugar tax. And, of course, they sit down to dinner together.  
Family Food Night is one of a number of opportunities that families have to witness and celebrate their kids' growth as powerful learners and leaders. Students, families, and staff celebrate their cultures and countries of origin at our annual Multicultural Night. Our tenth-graders put on a film screening and art show last spring, sharing artwork depicting the impacts of climate change. Also during tenth-grade, mid-term conferences turn into an opportunity for students to present their in-progress leadership portfolios to their families. Two years later, families beam and cry as their students do a final, 30-minute defense of their leadership portfolio, sharing their growth over four years of high school.
Families Are Experts
Families don't just show up as audience members. They deserve a place at the front of the classroom and in leading our school. Montreal isn't the only parent who guest taught Common Ground courses. Griselle McFadden came into her son Antonio's classroom to talk about her work at the New Haven Housing Authority as part of a unit on housing justice, as did Jeff Carter, an alumni parent who's worked extensively with Habitat for Humanity. These guest teachers are often compensated for their time, because we know their contributions have real value and that their time is precious. Other parents and parents of alumni have sat down with teachers, students, and community partners to plan new courses and units of study. There's a space reserved for a parent on our board of directors. And, there are lots of parents who work here. Along with Montreal, Ricky Dawson – the dad of one of our tenth-graders – is a positive, consistent adult presence on campus and one of the coaches for our basketball team. Rosanah Anoh, whose son graduated last year, teaches French. Iris Jimenez, parent of two alumni and a future Common Ground student, is the first face visitors see when they come by Common Ground's front office.
Parents and Students are Whole People
What's shared above reflects a bigger principle: Our students' family members are whole, growing human beings, with their own needs and aspirations. One advantage that we have in meeting families' needs is that Common Ground is more than just a school. Because our environmental education center runs summer camps and after-school programs for kids in grades K-8, families can look to Common Ground for child care for siblings of high school students – and children who grow up in these programs can come to Common Ground as high school students. Many students contribute to family income by working in these programs and on our urban farm, through our Green Jobs Corps. Our parent leadership team partners with our farm and environmental center staff to organize our annual seedling sale and wreath-making festival, drawing thousands of members of the broader community to our campus.
A bunch of our staff share responsibility for making sure families are welcomed and involved. Guidance teachers, who stick with a group of about 15 students for all four years of high school, build strong relationships with their guidance students' families. Sharyn Lopez, who runs our out-of-school programs, organizes many of the big workshops and events for families: Multicultural Night, awards nights, and more. Brian Kelahan connects with students initially when they are considering whether Common Ground is the right school, and then loops back when these students are getting ready to apply for colleges. Monique Frasier and Miriam Sheffield, from our student support team, are in constant communication with families as well – making referrals to community organizations and addressing behaviors that are getting in the way of learning. And there's Carla Lia, an administrative assistant and after-school programmer, who puts out our monthly parent newsletter and works with partners to organize our big annual fundraisers. Carla partners a lot with Victor Rios, who is in constant communication with families as part of his work to support student attendance and success: 
"Victor knows basically every student's parents. It's much more personal. The ties that he makes with parents go beyond academics and that, for a parent, can make a big difference. He and other staff do home visits. He discusses the whole student, rather than just their academics or their grades."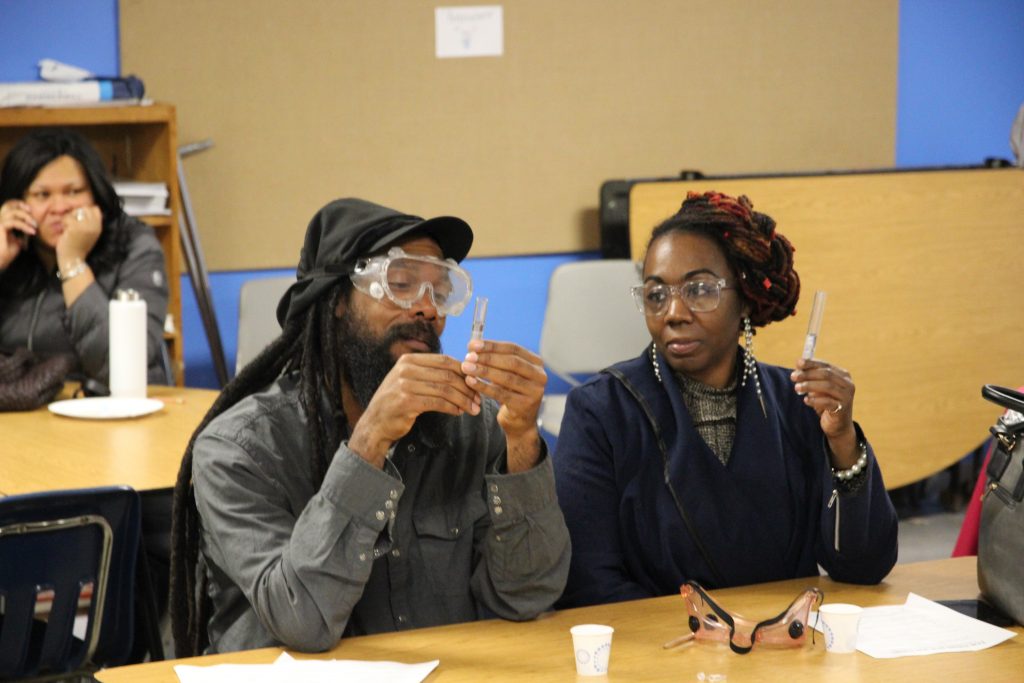 However many people are caring and working at family engagement, we need to say: We are always working and struggling to get it right! Building real, authentic relationships with families is hard at Common Ground, as it is at every school. We are eager to learn from other green schools that are doing this work, as well.
Author Bio
Joel Tolman is Director of Impact and Engagement at Common Ground — a high school, urban farm, and environmental education center in New Haven, Connecticut. Joel came to Common Ground as a classroom teacher in 2003 after five years of work on national school change and youth leadership development initiatives. In Joel's classes, students explored and documented New Haven's neighborhoods, monitored urban air quality, created bilingual oral histories of community elders, secured start-up funding for small social ventures, and presented policy proposals to state legislators. Since moving out of the classroom in 2008, Joel has helped lead Common Ground's work to build partnerships, connect with like-minded schools and organizations around the country, build authentic community relationships, and deepen environmental learning and leadership opportunities for students. You can reach Joel at jtolman@commongroundct.org.