By. Ansley Eichhorn
"We are scholars, we are stewards, we are volunteers, we are Ivy."
This is the motto at Ivy Academy, an environmentally themed grade 6-12 public charter school located in Soddy-Daisy, Tennessee, just outside of Chattanooga. A 2013 U.S. Department of Education Green Ribbon School Award winner, Ivy Academy uses authentic project-based learning to educate students holistically and provide them with the real-world skills they need to become successful and able decision-makers for the future of our environment. Combining experiential learning with formal education might seem like a challenge, but this rural charter school in East Tennessee has come up with an educational approach that goes beyond the parameters of state standards and above the growing call to educate students about conserving natural resources.
Ivy's campus and outdoor education approach are designed around a partnership with a protected land trust, the North Chickamauga Creek Conservancy. The school's proximity to the local watershed allows Ivy to use its schoolyard for authentic place-based education through a range of outdoor learning spaces and classrooms along the banks of the North Chickamauga Creek. A geographical escarpment of the Cumberland Plateau, and connecting to Cumberland Trail State Park, the North Chickamauga Creek Conservancy runs through the school's campus. The partnership between Ivy and the state protected land creates a unique opportunity for students to observe a biome that no one else has direct access to work in. This includes acting as citizen scientists, collecting and analyzing data about the natural resources that surround their campus.
All grade levels participate in data collection and analysis at Ivy. Currently, students collect regular data on stream ecology, water quality, salamander populations, lichen, native and migratory birds, pollinators, leaf phenology, and phenophases of the North Chick Gorge's flora and fauna. Collecting long-term data on these populations gives insight into changes in numbers, pollution tolerance, and migration. Ivy staff are trained in best practices for data collection through hands-on workshops run through the national park system at The Great Smoky Mountains Institute at Tremont. They report data that students collect on local, national, and global scales, including Ivy specific databases, local governing agencies, and through programs like iNaturalist, the Cornell Lab of Ornithology, and the National Phenology Network. Data collected in the field is also readily available for instructors in other academic disciplines to use, ensuring fieldwork experiences are truly interdisciplinary. Most importantly, students know where the data they are working with comes from.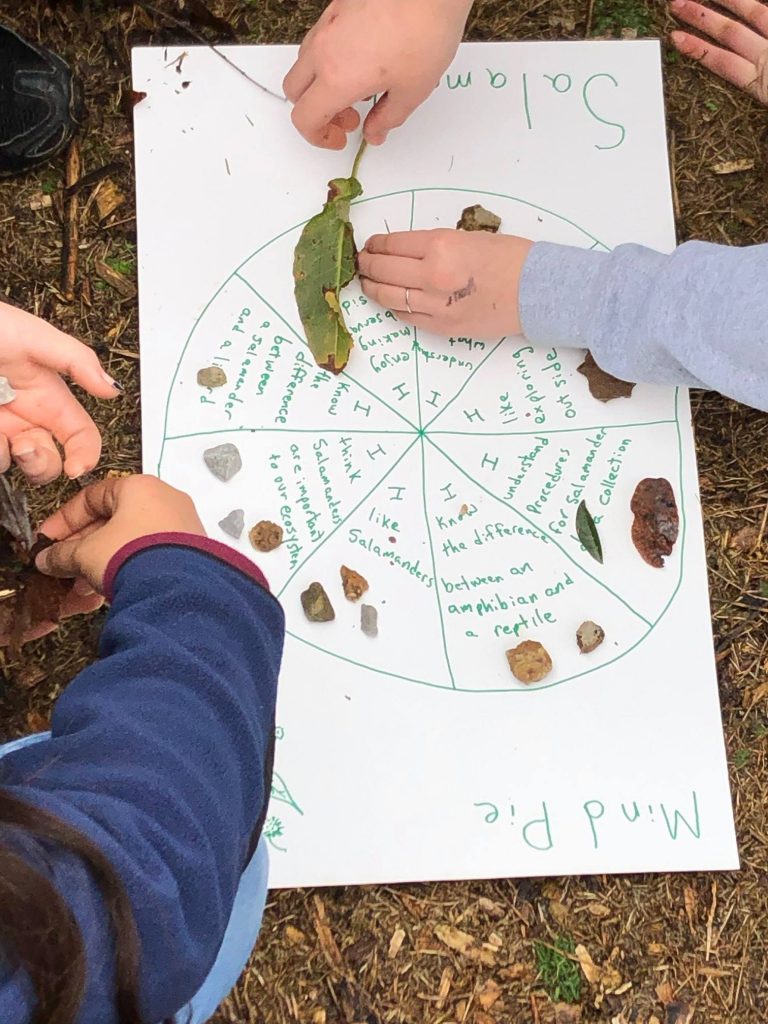 Fieldwork comes in many forms at Ivy. For example, middle school students have the opportunity to attend a day of service, science, and history at a local park. This interdisciplinary, place-based field study is designed to incorporate science, stewardship, and history lessons into a trip to a recreation area inside Ivy Academy's learning community. Students go on a history hike led by the Soddy Daisy Historical Society and City of Soddy Daisy leadership and participate in a litter clean-up. On the hike, students learn about the area's inhabitants from the Mississippian Era to the coal mining days in East Tennessee. For the science component, students collect biotic and abiotic water quality data for the City of Soddy Daisy and learn about invasive plant species from Tennessee State Park Rangers.
Another example of how Ivy weaves fieldwork across subject areas can be found in the phenology mural in the school's common room. Students pick a species they observe in the field or on the trail, conduct research about it, and paint it on the mural in a timeline that maps out the seasons and documents the phenophases in the Conservancy. It's a great way for students to connect with the land and invest in the native species living in their outdoor classrooms. Teachers and staff believe this practice adds an element of ownership to the students' learning space and gives them more incentive to protect the lands and waters where those species live. Even that little bit of research can open the door to conservation for students and pave a path toward a lifelong commitment to environmental stewardship.
Ivy Academy is able to offer myriad fieldwork opportunities to its students because of the community partners that support the school. Ivy understands that it expects a lot from its faculty by asking them to prepare academically rigorous lessons that incorporate outdoor and environmental learning. To help with this process, the school relies on community partners and experts to contribute to the school's approach. Inviting experts from the community to attend classes and participate in programs adds value to the students' education. They are able to form relationships with community members who hold jobs and help with programs they might want to work in someday. This model adds to the tangibility of course content and benefits all parties involved. Ivy currently partners with local nonprofits centered around conservation and education, higher learning institutions, and state and federal entities.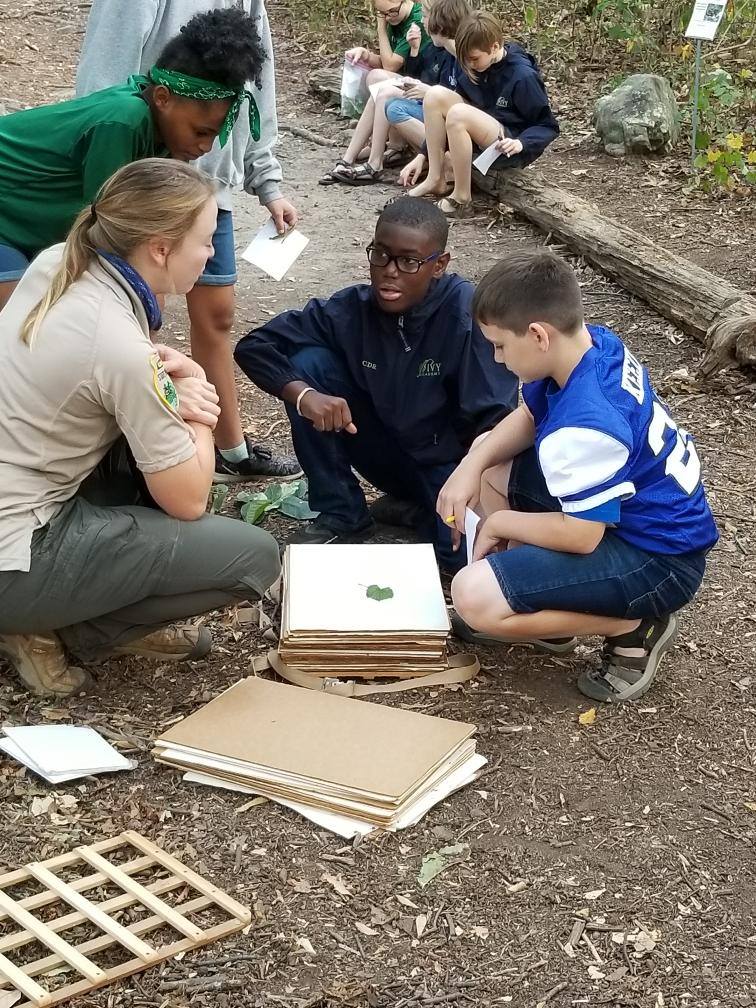 One partnership that Ivy is particularly proud of is its formal partnership with Tennessee State Parks. In addition to experiential advice and countless resources, this partnership provides AmeriCorps Vista funding for three "rangers in residence" who work on Ivy's campus. The rangers help develop and implement programs (including data collection efforts), work directly with students, share their experiential skills, and fine tune their formal education tool sets. The partnership goes both ways: the rangers provide expertise in the environmental field and Ivy teachers serve as mentors for the rangers in the classroom. Relates Anna Schilling, Ivy Academy Resident Ranger with Cumberland Trail State Park, "I love that Ivy Academy focuses on environmental education and stewardship. I find it extremely encouraging that these students are being taught to respect the environment and are fostering a greater appreciation for our natural world. The students here understand the terms 'native' and 'invasive' – terms I did not learn until college! Ivy Academy is on the frontier of environmental education in Tennessee and I am grateful to be a part of it."
Daily environmental experiences, like those had at Ivy Academy, allow students to make larger connections about the world and grow to be future decision-makers on environmental policies. However, Ivy understands that not all schools have their own watershed adjacent to campus. That's why Ivy aims to share its resources with the community. Currently, Ivy is partnering with local elementary schools and sharing its citizen science and outdoor education programming with those who don't have the same outdoor learning opportunities afforded to Ivy students. In addition, Ivy works to create opportunities for citizen science and conservation and hosts a free professional development workshop for area teachers to learn the school's approach to incorporating outdoor learning into indoor classrooms.
Author Bio
Ansley Eichhorn is Director of Environmental Programming at Ivy Academy, Tennessee's first environmental charter school. She serves on the boards of the Tennessee Environmental Education Association and the North Chickamauga Creek Conservancy. A long-time activist at heart, Ansley is a champion for environmental education and believes every student deserves to have educational experiences in the outdoors.