Green Schools National Network (GSNN) is pleased to announce the addition of two new members to our Board of Directors, Lennie Scott-Webber and Michelle Carpenter. Lennie and Michelle's expertise in educational space design and marketing, respectively, will add valuable perspectives to our Board and push GSNN to think more creatively as we grow and expand our reach through our Catalyst Network and publications.
Read on to learn more about Lennie and Michelle, their interest in the green schools movement, and what they look forward to most as GSNN Board Members.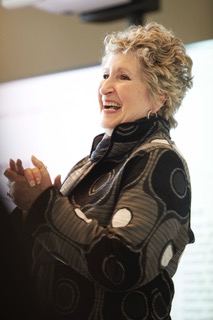 Lennie Scott-Webber is a long-time advocate for the design of educational places to support student's active engagement in their learning. She is the founding Director of Education Environments for Steelcase Education and served as a tenured full-professor and chair of two design schools (Ryerson University in Canada and Radford University the U.S.). Currently, Lennie is Owner/Principal of her own consulting firm, INSYNC: Education Research + Design.
Talk about your current projects.
I am working on a few things right now. First, I am developing new survey instruments for grades 6-12 that look at engagement and the impact of design. Secondly, I am conducting ethnographic research on an early learning facility. Finally, I am acting as a "Knowledge Leader" for a major architectural firm focused on educational practice.
What got you interested in the green schools movement and working with GSNN? What motivates you to engage in this work?
I am passionate about seeing students be successful in their lives. That's what really motivates me. I think the green schools movement is critical for transforming education and have been advocating this need for many years, from Kindergarten to higher ed. Green Schools National Network has a community of like-minded people who are working toward this same end.
How do you hope to contribute to GSNN's mission as a member of its Board of Directors?
I plan to bring my global expertise from my background as an educator, researcher, networker, and designer of educational places to bear on the Network and its direction forward.
What are you most excited about in your new role as a GSNN Board Member?
Digging in and finding out about the nitty-gritty of this organization, what it believes its most important contributions will be, and can be, and how I might help to bring those to fruition.
What's one thing people don't know about you?
I like to sail and have a passion for travel.
Michelle E. Carpenter is director for education and government segments at Shaw Contract, a global flooring manufacturer. In her work, Michelle takes on creative challenges to research, design, and innovate flooring solutions that transform education and government environments around the globe. As a lifelong learner, Michelle continuously seeks to understand how physical space impacts people and process to better serve her clients within the education and government sectors.
Talk about your current projects.
I lead Shaw Contract's efforts to best support our education clients. Due to our size and influence, Shaw Contract has the opportunity and responsibility to make positive impacts on a large scale by making the right choices and delivering the right products, in meaningful ways. Shaw Contract continually questions, challenges, and pushes for smarter impacts for humans and the planet. Our work goes beyond flooring. Our team is tasked with looking for creative and impactful ways to leverage our knowledge and resources in a way that truly benefits the end-user, students and teachers, who learn and teach within the environments we create.
To accomplish these goals, we're exploring new partnerships in and outside of typical commercial interiors to learn more about how physical space impacts the learning experience. We're also experimenting with incorporating recycled materials in our product pipeline, such as using ocean-bound plastic bottles in resilient flooring. If more individuals and large companies challenged themselves the way we do at Shaw Contract, collectively we could have a tremendously positive impact on our communities, and the world around us.
What got you interested in the green schools movement and working with GSNN? What motivates you to engage in this work?
Growing up in a small rural town in Michigan, recycling wasn't something we knew, except for returning pop cans for our $0.10 return (typically spent on a movie ticket). Throughout my elementary and high school years, there weren't recycling bins, we didn't have farmers markets, and we didn't ride our bicycles to school. Once I got to university, recycling and sustainable practices became more commonplace, thanks to many of my peers who came from more sustainability oriented upbringings. I began to see the small impacts people can make in their everyday life and connected those to larger impacts, such as using a reusable water bottle long-term to save 167 single-use plastic water bottles. Many people feel they can't make a difference, when it's in fact quite the contrary.
What are you most excited about in your new role as a GSNN Board Member?
I am most excited to learn from this community of like-minded people about their impact on people and the planet and to leverage those learnings to give back to the community through personal and professional initiatives. There is always more to learn from those around us, especially about topics that are not yet ingrained in our collective school culture, such as sustainability. This is a wonderful opportunity to combine the strengths of GSNN and Shaw Contract to continue making a positive impact on the learning landscape.
What's one thing people don't know about you?
My personal mantra is to "leave everything a little better than you found it." This can be something as small as picking up trash on the sidewalk or giving someone a compliment to raise their mood. In a world that can be filled with negativity and complacency, I feel this mentality can inspire others to be mindful citizens and care a little more about the people and places around them. Small things can have a big impact.