Plants and students can be a great pair if you encourage the relationship to grow. Today, school districts nationwide and in Mexico and Aruba are helping pupils of all ages discover a new connection with food that's helping change lives for the better – thanks, in part, to Growums®.
Dedicated to teaching students and their families the vital importance of fresh natural food, proper nutrition and the benefits of leading a healthy lifestyle, Growums is a family-owned company that empowers students by showing them how cool, fun and easy it is to discover nutritious foods that they can grow and enjoy at home. It all starts with the Growums unique line of themed garden-starting kits that encourage healthy eating by providing an "edu-taining," step-by-step way for students to grow their own herbs and vegetables.
Each kit has everything needed to start a complete garden, whether it's in the ground or in a container: four types of seeds, seed-starting pellets, plant tags and a plastic watering-tray that makes starting a garden as easy as pouring water. Six types of garden themes are available – Herb, Pizza, Ratatouille, Salad, Stir-Fry and Taco (with more on the way) – and each stars its own colorful Growums cast. The Ratatouille Garden, for example, mixes it up with Belle Peppa, The Great Zucchini, Eggbert the eggplant and Tomas the tomato, while the Herb Garden sings in flavorful tune with Frank Cilantro, Elvis Parsley, Regan O. and Baby Basil!
What makes Growums different from other garden products, however (besides the lighthearted character support), is what happens after you bring home a Growums Garden Kit. Growums reaches young, computer-savvy future gardeners through today's most popular line of communication: the Internet.
Every Growums kit comes with a special code inside that unlocks a virtual growing world at www.Growums.com. Students and their teachers or families can go online and register their kits for free, using that secret code. From there, the fun-loving Growums characters come to life in a series of short, animated step-by-step videos written and approved by horticulture professionals, showing students how to start, plant and properly care for their gardens as they grow. Students learn each stage of the growing process online as their real-life plants grow outside. Topics cover seed germination, transplanting, plant care, harvesting and composting (and more). Reminder e-mails let parents and teachers know when it's time for students to come back to Growums.com to watch their next set of growing videos, so they don't miss a lesson. Free online games and funny, fact-filled Growums character bios found at www.Growums.com further help keep students of all ages engaged both in the classroom and at home. The site even has downloadable coloring pages for younger sprouts.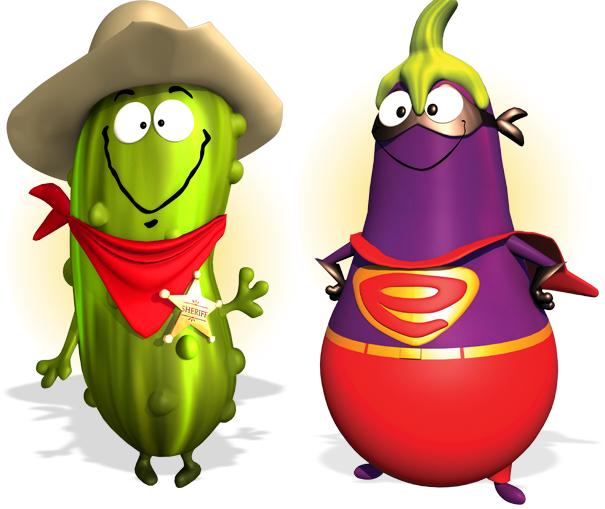 But students aren't the only ones who benefit from the Growums program! The company offers several opportunities for school districts and individual schools to raise money and grow as well, including:
Fundraising opportunities
Classroom/District-discounted garden kits
Single-seed kits
Growums School Pals – a cross-cultural growing experience
Come visit Booth 211 at the 2015 GSNN Conference to learn more and see why the USA, Mexico and Aruba are now making Growums part of their healthy school teams. As a special GSNN Conference bonus, all Growums Garden Kits will be $5 at the booth – that's half off!
Of course, the Growums Family likes to have fun outside of the garden, too! So while you're at this year's GSNN Conference, kick up your "garden roots" and join Duke the Cuke and Captain Eggplant at the Growums-sponsored DJ booth in the main hall on March 5 and 6! Watch or join the action as our Growums characters get down to featured dances at 12 and 1:30.
March 5th: Turn on the energy at noon with the Electric Slide, then fall in love at 1:30 with the Cupid Shuffle!
March 6th: Get a move on at noon with Stephen Ritz's Green Bronx Machine and the Brussel Hustle, then check out our mystery dance at 1:30! (All dances will be filmed.)
If you or your students (of any age) would like to partake in a dance (especially the Brussel Hustle), or if you or a high schooler would like to wear a Growums costume, contact Christina Sweet at (813) 777-0722 or e-mail cmsweet.growums@gmail.com. We'd love to have you be a part of this exciting event!
Together Growums and school districts everywhere have an amazing opportunity to show students how fun and rewarding growing their own healthy food can be – and help them all become healthier for it!
Growums®: A product of Preferred Commerce, Inc.
3260 Fair Lane Farms Rd., Ste. 1
Wellington, FL 33414
For additional information, contact:
Christina Sweet cmsweet.growums@gmail.com
Cell: 813-777-0772 • Office: 561-752-2250 • Fax: 888-908-7088