Most people are aware that throwing away bottles, cans, and grocery bags has a negative impact on the environment. We also know that we should use less paper, turn off the lights, shut off the water, and drive less. The reason is that natural resources are finite and should be consumed with care.
But what about the things you wear? Did you know, though, that clothes and shoes have a large impact on the Earth, especially with respect to climate change? It's true!
Here's what you should know about textiles and climate change.
Running the machinery to grow the fiber and manufacture the cloth burns fuel, lots of it, which releases CO2 into the atmosphere. And when that T-shirt you bought for a few bucks finally gets a little too frayed or those sneakers too worn, they often end up buried in a landfill. Rotting underground, those clothes will emit harmful gasses into the environment. In fact, every pound of clothing contributes about 3-4 pounds of CO2 and other greenhouses gasses into the atmosphere. There are many other impacts too; for example, it takes 700 gallons of water to make one t-shirt. Just one.
A simple way to combat textile's impact on the Earth is to recycle instead of throwing out clothing. Recycling textiles decreases the amount of waste in landfills, reduces our collective carbon footprint, converts waste into useful products, and provides buy cheap ambien online jobs for many people, both here and around the world.
Planet Aid is committed to getting people to recycle unwanted textiles. The clothes and shoes we have collected has saved about 300-400 million pounds of CO2 from entering the atmosphere each year, which is the equivalent of taking 26,000-35,000 cars off the road.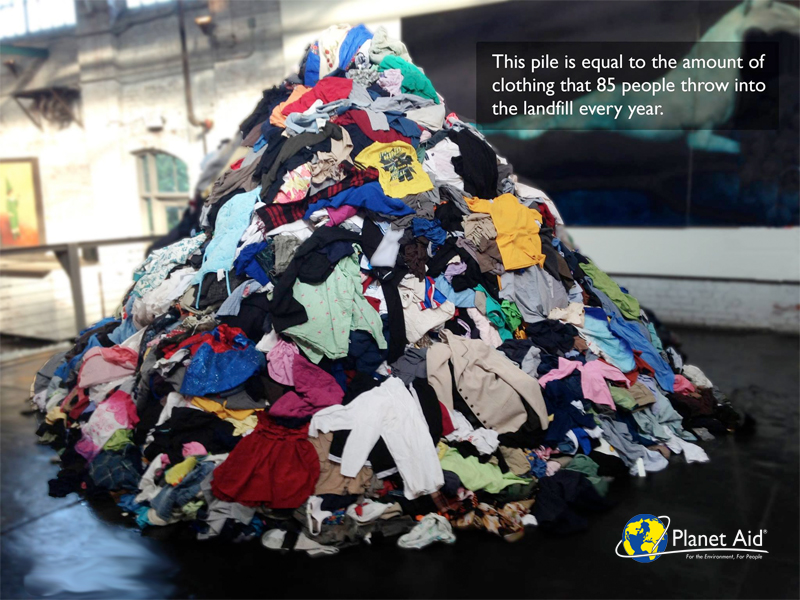 But we can do more, and must do more. About 85% of unwanted clothing is still being thrown in the trash by consumers, which amounts to about 68 pounds per person, per year. Why? Most people don't know that their unwanted clothing has value. However, even if torn or stained, clothing can be recycled and repurposed. For example, that old T-shirt can be shredded and turned into building insulation or wiping rags, and those holey sneakers can be ground up and made into a rubbery playground surface. What about items that are in good shape? They are most often shipped to developing countries, where there is incessant demand for inexpensive clothing.
So join us in rallying for the planet and keep clothing out of the trash! Find a Planet Aid yellow bin today.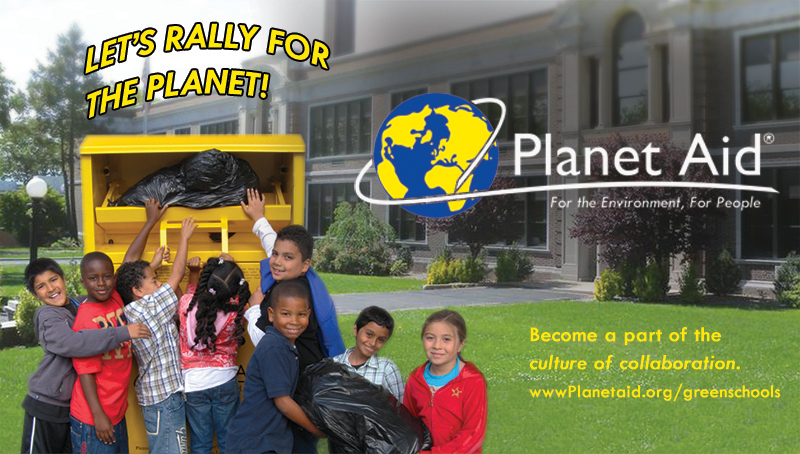 Planet Aid is a proud sponsor of Green Schools. Contact us to discuss a student service project and visit us at the Green Schools conference at booth 301. You can also email Adrienne Currin at acurrin@planetaid.org to get more information today.