By. Katie Shenk, EL Education
Turning on Curiosity Motors
We all know children who become "obsessed" with sharks, rockets, butterflies, or dinosaurs. Their interests push them into books that seem too long, too hard, or more complex than they would choose if their own curiosity weren't driving them like a motor. When students get into this zone, they really dig in, even when the going gets tough. They read and read and can talk about their topic for hours. In other words, these children are reading—and getting better at reading—because they are sucked in by the content they are reading about. Literacy curriculum that builds on students' natural curiosity to teach students reading through compelling content is highly engaging for students and, often, inspiring for teachers. When the content is about rain forests or bees or water access, learning to read also has the benefit of inspiring students to be environmental changemakers who can use their words and actions to make the world a better place.
Too often school isn't the place where students' interests are nurtured. Texts are disconnected or treated shallowly, and topics may shift from week to week. In EL Education Schools (and in our open source K-5 English Language Arts Curriculum), we walk students into the content with the intention of turning on their curiosity motors. We build curiosity through high-interest topics, texts, and collaborative tasks, and we find that once students are hooked, they engage much more deeply in the content and key literacy standards of reading, writing, speaking, and listening.
We use a simple framework — The Four T's: Topic, Task, Target, and Text — to design a literacy curriculum that gives all students access to challenging content and engaging learning experiences. Many of the topics help students explore the natural environment and human's role in sustaining a healthy Earth. But even if you don't use our curriculum in your classroom, you can design your own literacy unit using this same framework.
The Four T's: A Framework for Designing Curriculum
The Four T's framework is anchored by the question "How can we best combine topics, task, targets, and texts to engage students with worthy content in a way that supports them to learn about the world, master standards, become literate thinkers, and create work that matters (and often contributes to creating a more sustainable and equitable world). Here's a snapshot of each of the T's:
Topic: The topic is the glue to the unit of study. It is the "what" students are learning about, a deep exploration of a specific and complex topic. Although students may be able to meet standards without an engaging topic, a compelling, relevant topic helps them develop their literacy skills more deeply as they engage with increasingly complex text. 
Task: The culminating task gives students the opportunity to read for and write with specific textual evidence and to meaningfully apply standards (targets). The best tasks give students the opportunity to address an authentic need and audience related to the topic. The task is always scaffolded and leads to high-quality work.
Targets: In the context of our curriculum the "targets" refer to the English language arts standards (ELA) that are turned into long-term learning targets. However, it's also possible to integrate relevant science and social studies standards into the design process.
Text: The text (usually a book, but sometimes an article or other type of document) is the main vehicle through which the topic is taught. Text must be chosen judiciously to ensure that it will help students build their understanding of the world and present opportunities for students to master specific content and literacy standards. 
The Four T's are highly interrelated, and when purposefully packaged together create powerful learning experiences for students. This framework is useful at any grade level, but in this article we'll highlight an example from a second-grade unit of study.
Protecting Pollinators
Let's take a closer look at a second-grade module on pollinators that elegantly weaves the Four T's to create rigorous, meaningful, and joyful learning for young learners who are curious and concerned about butterflies. Here's a bird's eye view of the design:
Topic: Providing for Pollinators Students deepen their literacy skills and build citizenship. Specifically, students explore the module guiding questions: "Why should people help pollinators to survive?" and "How can I take action to help pollinators?"
Task: Wildflower Seed Packet Students take action to help butterflies by creating a wildflower seed packet filled with wildflower seeds. The seeds can be planted, which will help to provide butterflies with nectar and a habitat. The front of the wildflower seed packet includes a title and a detailed, colorful pencil drawing of a butterfly. The back of the wildflower seed packet includes instructions for how to plant the wildflower seeds, as well as a typed opinion piece explaining why people should help butterflies.
Targets I can write an opinion piece about why people should protect butterflies. (CCSS ELA W.2.1, W.2.2, W.2.5, W.2.6, W.2.7, W.2.8) I can describe actions people can take to help butterflies, based on information from A Place for Butterflies. (CCSS ELA SL.2.1, SL.2.1a, SL.2.1c, RI.2.1)
Texts A Place for Bats by Melissa Stewart
A Place for Butterflies by Melissa Stewart
A Closer Look at the Four T's
In this particular module, we selected pollinators as the topic for multiple reasons:
Pollinators are everywhere and since we're a national curriculum, we aim to build our curriculum around topics that anyone can access.
Young children thrive in the natural world and are inherently curious about what they see around them.
Pollinators are fascinating and important to our world. Pollinators also need our help. Young children love to do important jobs, so let's give them an opportunity to contribute to their communities in an age-appropriate, meaningful way.
There are abundant texts about the topic (we'll share more about the two anchor texts in this module later on).
The topic is also aligned to common science standards within this grade band.
We have heard time and again from teachers around the country that one of the greatest gifts our curriculum gives them is a collection of rich, compelling, and worthy texts. And, as they learn to teach these texts in new ways, they learn more about what makes a text high-quality, and what makes it worth their time to teach and their students' time to read, analyze, and draw meaning from. One teacher told us that the texts in the curriculum were a "gift that just keeps giving." It's no accident that we chose two texts by Melissa Stewart to anchor this unit of study. Her texts are compelling and beautifully crafted. Stewart recently recounted the origin of A Place for Butterflies:
"While writing an article for the Massachusetts Audubon Society, I learned that the Harris' Checkerspot butterfly was nearly extinct in Massachusetts because its habitat was being altered. The only remaining Harris' Checkerspot population lived in a field beneath some high tension power lines. Each spring, the electric company mowed the field, so workers could access the power lines if repairs were needed. Unfortunately, Harris' Checkerspot eggs and caterpillars were destroyed in the process. Luckily, Mass Audubon convinced the electric company to mow in the fall, when winged adults could fly out of harm's way. Thanks to this policy change, the Harris' Checkerspot population is now growing…I wanted to bring this story of caring and cooperation to kids, but I knew it wasn't enough for an entire book. So, I started looking for other examples of people protecting butterflies and their habitats. Eventually, I collected thirty, which was more than enough to write A Place for Butterflies. Because the book was popular with readers and won the Green Earth Book Award, my editor asked me to write a similar book about another group of animals. I chose birds. When that book also sold well, the publisher decided to create a whole series. Today, there are six books in all."[1]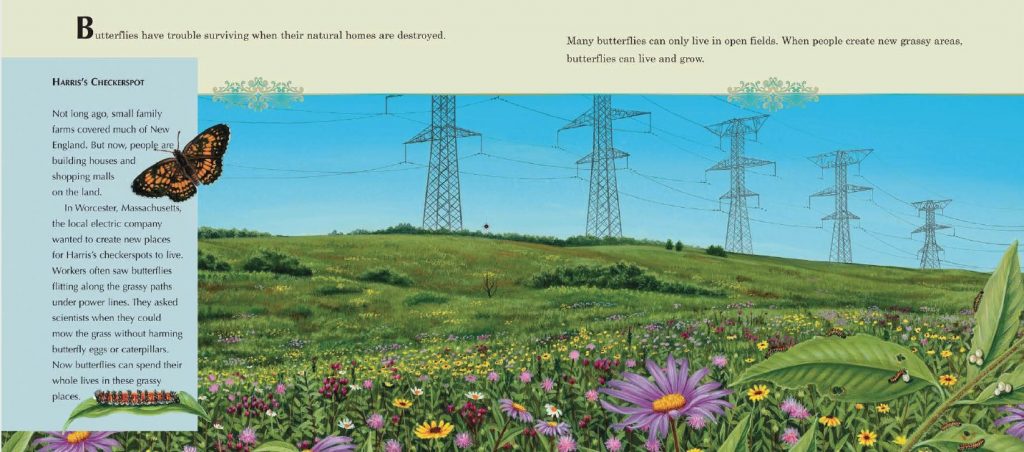 Moana Johnson, Grades 1 – 2 Loop Teacher at Explorer Academy in Huntington, West Virginia, told us: "This book was very engaging for the students and instilled a sense of environmental justice through the text which focused on protecting pollinators and the habitats in which they live. We have found Stewart's books to be an authentic and accessible way to engage young students in taking ownership and responsibility for their surrounding environments. They can be agents of change simply through a conversation. All these small changes we hope will inspire them to continue to advocate and protect the special environment in our community and instill a sense of responsibility for the more global environmental challenges facing this and future generations."
We knew that students would be building important content knowledge that they would want to share with the world, and the second-grade CCSS ELA standards include opinion writing, so those targets anchored students' literacy work. We also included multiple opportunities for students to engage in collaborative conversations about how to protect pollinators.
For the culminating task, we invited students to show what they learned through both writing and visual arts in a meaningful and useful way. "The students' passion was evident in their individual writing, allowing their voice to come through as environmentally conscious citizens," asserts Johnson. Explorer Academy students, like many others, took their learning one step further and actually planted pollinator-friendly gardens at their school and within their local community.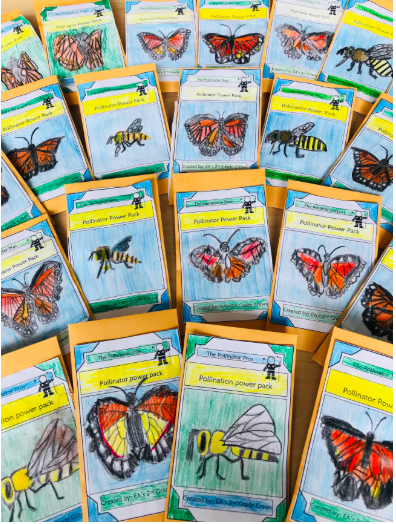 Bringing It All Together
As you consider how to transfer the Four T's to design a content-based literacy curricula in your own context, we encourage you to consider the following prompts:
Identify the compelling content that students will learn about, aligned to priority content standards. Is the topic central, enduring, and relevant?
With the topic and content standards in mind, strategically bundle them with literacy standards to create a cohesive standards roadmap for the unit of study.
Plan the literacy-rich performance task that is based on the knowledge students build and consider an authentic audience and real-world need whenever possible (take a look at the projects on our Models of Excellence website for inspiration).
Carefully select "worthy" anchor texts that are aligned to content and literacy outcomes. Attend to diversity and inclusion and texts that offer multiple perspectives.
Although designing a Four T's unit of study is not easy work, the benefits are clear. When reading and writing rev students' curiosity motors, they gain a deep understanding of the world and engage in rich learning experiences that result in high-quality products for audiences beyond the classroom. The Four T's framework is a powerful addition to any teacher's curriculum planning toolbox.
Author Bio
Katie Shenk is a Lead Curriculum Designer for EL Education. Before joining EL's Curriculum Design Team, she worked as a coach in EL Education schools in the Denver area and also taught second- and third-grade (and loved learning about the miraculous world of insects alongside her young students!)
---
[1] Quote adapted from Shenk, K. (2019, April 23). Curriculum Q&A Blog, Question 40. EL Education. Retrieved from: https://eleducation.org/news/curriculum-q-a-blog-question-40 and Shenk, K. (2019, April 30). Curriculum Q&A Blog, Question 40, Part 2. EL Education. Retrieved from: https://eleducation.org/news/curriculum-q-a-blog-question-40-part-2