By. Caitlyn Scales, Allison Fowle, and Megan Kittridge
What is One Stone?
One Stone launched in 2008 as a nonprofit supporting after school experiential service opportunities for high school students (grades 9-12) seeking deep involvement in sustainable outcomes to improve the greater Boise, Idaho community. Co-founders Teresa and Joel Poppen sought ways for students to gain real-world problem-solving experience by focusing on human-centered solutions for a variety of nonprofits and businesses. Founding students wanted this experience to be an opportunity where they had a real voice; where their ability and passion were seen and respected; and where they could engage as equals in the real world. From this, One Stone committed to having a Board of Directors with representation from at least two-thirds high school students.
In its eleventh year, One Stone continues to be a place driven by the mission making students better leaders and the world a better place and the vision to forge an army of good for good in the world. Mindsets such as Yes, And; Fail Forward; Embrace Ambiguity; Iterate, Iterate; and Practice Empathy are not only established in the culture of learning and doing at One Stone, but are on display as visual reminders throughout the building to enhance that culture. From the inception of its first experiential service platform, Project Good, to offering an innovative high school experience as of 2016, One Stone continues to disrupt the status quo as a trailblazer for new paradigms in learning.
Design thinking is a foundational piece of One Stone's work. The high school platform was born from a 24-hour think challenge hosted by students with hundreds of community members seeking to answer the question: How might we rethink education for the 21st century? As an education nonprofit housing four platforms for high school engagement – at no cost to participants – One Stone continues to iterate and improve upon its engagement with design thinking. In both after school and in-school programming, design thinking is one of the ways students put their personal wayfinding into action as they build passions into purpose for their future. Opal Almerico, a Year 2 student (One Stone's high school junior equivalent), explains: "Using design thinking to address an issue you are passionate about – with all the empathy, understanding, and ideating – can help you make a difference in the world with your proposed solution. The process helps me be more thoughtful about what I want to do when I explore my passions and start to think about what I want to contribute to the world as I gain more experience." A member of the team highlighted later in this article, Opal is passionate about many things, including sustainable living, and is able to explore these passions as part of her personal pathway at One Stone. The current iteration of her vision board is below, based on her personal Why Statement: "living in the present to improve the future."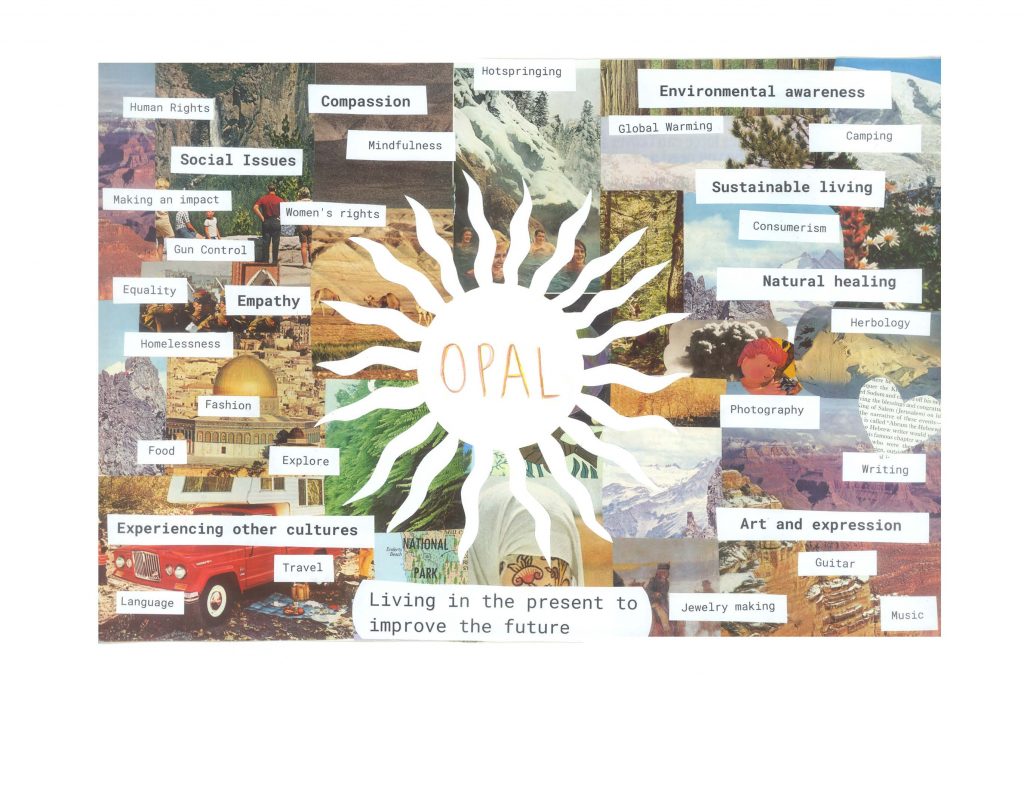 Integrating the human-centered design process into projects creates unique challenges. In Design Lab, the high school program's core project-based experience, students work in small groups to tackle a real-world issue in the community with a partner organization and use human-centered design to prototype, test, and implement a solution. Design Lab is informed by equal student voice and feedback drives iteration of the framework for the Design Lab experience each term. No Design Lab term ever looks exactly the same. This article dives into the experience of a Design Lab team from the Spring 2019 term who focused on solving for sustainability by working with Boise Co-op to reduce the use of single-use packaging for their products.
Defining the Problem
One Stone student Liam Neupert had a problem. He loved Boise Co-op's vegan chocolate peanut butter bars, but didn't love the non-recyclable clamshell plastic they came in. As a climate activist who strives to live a zero waste lifestyle, he had gotten used to saying goodbye to things that once gave him pleasure – like shopping for brand new clothes and eating an omnivorous diet. However, he was having a particularly tough time moving on from his favorite dessert. This seemingly small issue gave rise to a 12-week Design Lab in which One Stone students partnered with Boise Co-op to reduce the use of single-use packaging in their downtown store.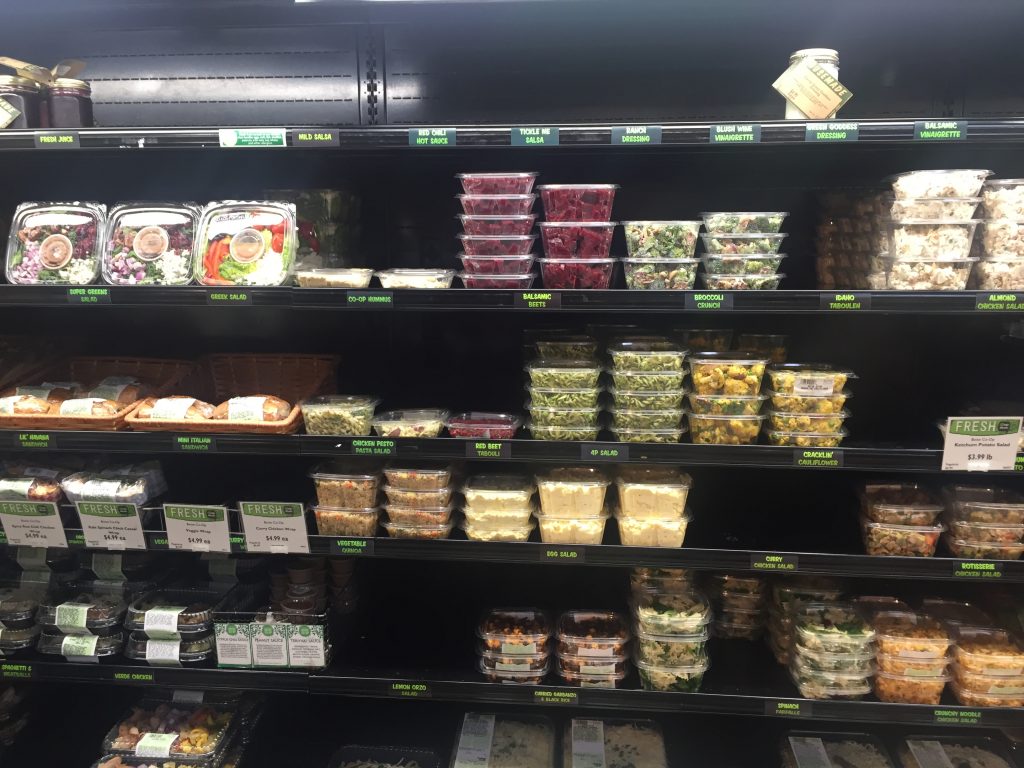 Empathy and Understanding
The One Stone student team started by broadening their definition of the problem: single-use packaging, though easy, efficient, and cheap, is detrimental to the environment. From there, they dove into the research and empathy stage of the design thinking process. In addition to observing different grocery stores in the area to see how customers used packaging, the team also interviewed Boise Co-op shoppers about their shopping habits. Through their empathy work, the team realized that most shoppers are aware of single-use packaging's impact but could use some support in changing their habits. Armed with scholarly research, observations, and insights from interviews, the team approached Boise Co-op to ask if they could collaborate on a solution with them. It's important to note that the students approached Boise Co-op, not their coaches. In fact, One Stone staff members didn't attend any of the team's meetings with Boise Co-op, which helped students to establish themselves as leaders of their project.
Prototype and Test
After coming up with hundreds of ideas, the One Stone students zeroed in on some of their favorites: a sustainability workshop for customers, a Zero Waste Essential Kit containing things like reusable silverware and a metal straw, text alerts to remind shoppers to bring reusable bags, and an updated, user-friendly system for the use of recycled packaging in the store's bulk section. The team knew that one-off educational events are hard to market and that they probably wouldn't have a satisfying turnout. They also realized that making a product to help reduce waste was a little ironic and that reminding people to bring reusable bags was kind of boring.
They decided to tackle Boise Co-op's bulk section, which was set up in a way that made it tedious for shoppers to bring their own reusable containers. Customers had to wait in a checkout line to have a cashier tare their containers before they could start shopping. This led the majority of shoppers to use the plastic bags provided in the bulk aisle instead. To redesign the system, the students had to empathize not only with customers, but also with Boise Co-op staff. After a long process of iteration, they pitched their solution: the Re-Coop System.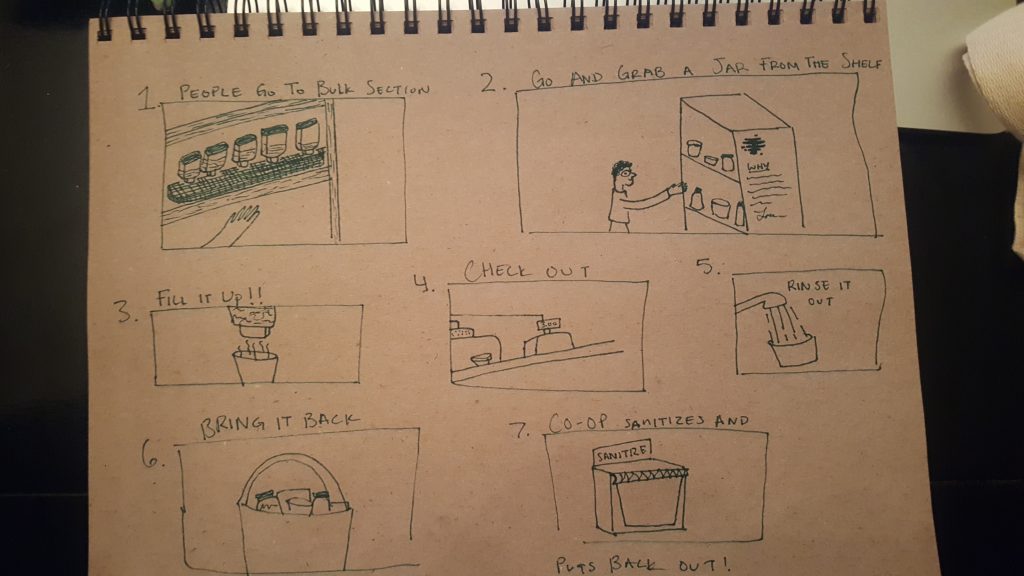 Customers can bring in old jars, Tupperware, or nearly any container with a lid and place them in the drop-off bin. Boise Co-op staff then sanitize, sort, and tare the containers and place them on a student-built display shelf in the bulk aisle. Customers can grab any container, fill it up, and check out. After getting the green light from Boise Co-op, the team used One Stone's makerspace to design and build a custom shelf to fit Boise Co-op's aesthetic and space. Most of the students had never used the makerspace to build something before, so this project created an organic opportunity to learn a new skill set.
Throughout the process, students took pride in their relationship with Boise Co-op and in the work that they each contributed to a project that was meaningful to them. Opal reflected, "Once we got to the point where we could assemble the shelf it was so cool to see what I helped make with my own two hands!"
Failing Forward
The mindset of Failing Forward at One Stone is, as mentioned earlier, a part of its culture of learning. Students are encouraged to fail fast and learn from failure as a growth opportunity. Through failure – the act of trying new ideas to discover outcomes – students and coaches at One Stone are able to develop new ideas. This process, for those of you who have ever embraced it, is tough. It requires trust, vulnerability, teamwork, collaboration, and empathy. It means that when met with a challenge or failure an individual or a team must seek feedback to inform new approaches or pathways. One Stone's high school students learn early to be agile participants by building a toolkit for life.
The student team encountered challenges throughout the Re-Coop System's design process. Early on, the team pitched the idea they ended up using but were concerned it wasn't "innovative" enough. It seemed so simple in concept, yet they wanted evidence to show why the system may not already be used in stores and what the barriers are to implementation. As the team explored other options, they also spent time coordinating empathy interviews with the many end users of the proposed system: customers, managers, employees, people using and re-using the containers, cleaners, etc. Learning skills like time management, scheduling, and professional email and call techniques are part of the learning that occurs through Design Lab – not from a point of direct instruction, but from a point of passion and purpose.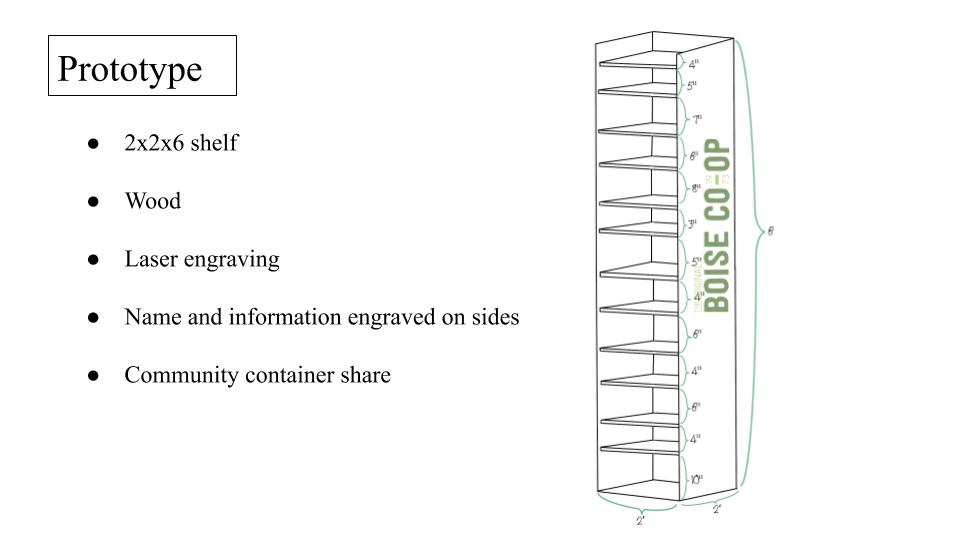 Ultimately, this group of students created a system that worked and met the needs for all end users by listening to input and redesigning their idea through multiple iterations. The Re-Coop System will be implemented at Boise Co-op's downtown location in the coming months and One Stone students will be able to manage and check-in on the system's effectiveness to adjust and meet Boise Co-op's needs over time. In the process of design thinking, there is no clear end. Even when a solution like this is created there is still work to be done to understand the impact it has on the end user and how it might continue to evolve over time. Implementing the Re-Coop System is just one piece of the puzzle needed to solve Liam's greater question of how to reduce single-use packaging.
At One Stone, we believe in the power of students and we learn alongside them as we explore challenges in our community and the world at-large. Design thinking is one of the strongest components of One Stone's culture and learning that engages students in owning their pathways and discovering their passions. For all learning communities and organizations that embrace, or are looking to embrace, the use of design thinking, we are here to cheer you on. In a world made-up of billions of humans, human-centered design work is imperative to our ability to innovate for our future together.
Author Bios
Caitlyn Scales is a Chicago native who has worked in education for 10+ years. She taught high school English and ELL in at-risk areas, nationally and internationally. She is also a coach for teachers and has served as an instructor for undergraduate and graduate students at Washington State University and Boise State University. At One Stone, Caitlyn is dedicated to strategy and development to make One Stone a sustainable, innovative, no-cost opportunity for students and families. She received her B.S. and M.S. from Indiana University, and her Ph.D. in Cultural Studies and Social Thought in Education from Washington State University.
Allison Fowle is an interdisciplinary thinker and learner. As a graduate student, she lived and worked at the University of Idaho's Taylor Wilderness Research Station, located deep within the Frank Church – River of No Return Wilderness. Prior to joining One Stone, Allison worked as a field instructor and program director for environmental education programs across the country, including Bird Conservancy of the Rockies and the McCall Outdoor Science School. She has a B.A. in English from Colby College and an M.S. in Natural Resources from the University of Idaho.
A Boise native, Megan Kittridge has over 10 years of experience working with kids. She has served as counselor and program director at Paradise Point Camp, as student mentor at the Lummi Nation Reservation School, and as lead student mentor through the Compass 2 Campus program. After graduating from Western Washington University with a B.A. in outdoor education, Megan worked at Pioneer Meadows Montessori School and Hays Shelter Home (a program of the Idaho Youth Ranch), where she served as Youth Specialist and Recreation Specialist. She joined One Stone in 2015. Megan recently completed her M.P.A. with an emphasis in nonprofit management through the University of Colorado – Denver.