By. Nick Dornak
The Texas IH-35 corridor between Austin and San Antonio is one of the fastest growing regions in the United States. Many quaint, small towns that once dotted the area's landscape – well-known for the Balcones Escarpment, an eye-catching geologic feature that separates the Hill Country in the west from the Blackland Prairie to the east – have been transformed by rapid urban expansion and a population boom. This unprecedented period of growth has stimulated local economies and upended neighborhoods. Just to the west lies the Wimberley Valley and the communities of Wimberley and Woodcreek. An old downtown, the pristine Blanco River, and the iconic Jacob's Well Spring still set the stage for a one-of-a-kind Texas Hill Country destination. 
That's not to say the Wimberley Valley has escaped the changes and challenges of Texas' latest boomtime. Population numbers have been sharply increasing. Families who desire a slightly more rural setting to raise their children have flocked to the area from all over. Growth over the last two decades and the population numbers to be realized over the next have placed a particular strain on the valley's infrastructure and limited water resources. More people means more houses, more schools, more taps, and more toilets. Here lies the challenge.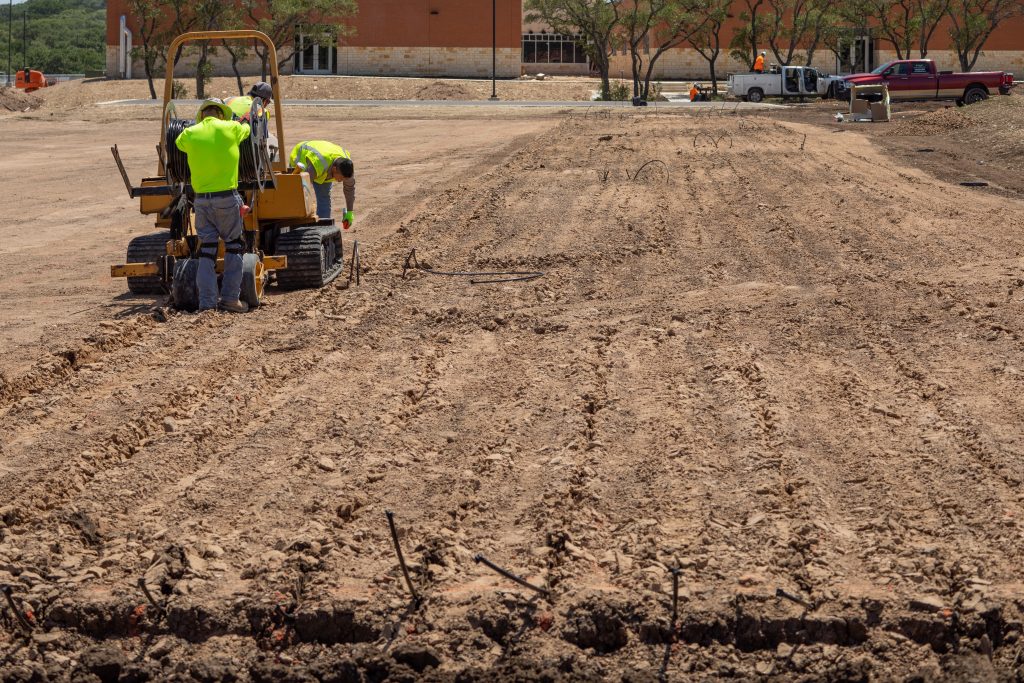 The water supply infrastructure throughout Wimberley Valley and much of the Texas Hill Country is intricately tied to the region's available groundwater, with only minimal regulations on how that resource may be developed and extracted. The stunning hills and valleys, karst topography, fractured limestone, sink holes, caves, and springs formed over the millennia have sculpted an area of unmatched beauty and ecological diversity; however, it's a delicate balance. The crystal clear waters that emerge from Jacob's Well Spring at the headwaters of the "wet" Cypress Creek, which flows gently through Woodcreek to Blue Hole Park and on to Wimberley's picturesque downtown, are completely dependent on sufficient water in the Trinity Aquifer from which the spring emerges. As more homes are built in the area and more groundwater is withdrawn, the spring flows from Jacob's Well Spring approach zero on a regular basis. On the flipside, the aquifer itself is dependent on precipitation and infiltration of surface water for recharge. Climate change, periods of extended draught, and increases in impervious cover like roads, driveways, parking lots, and rooftops threaten the quantity and quality of available groundwater. When Jacob's Well Spring ceased flowing in 2000, the threat to Wimberley's economic and cultural future fueled dramatic efforts by local stakeholders to ensure a clean, clear, and flowing Cypress Creek. The Cypress Creek Watershed Protection Plan was established to provide outreach, education, demonstration, and implementation of best practices for smarter growth and more sustainable, resilient natural resources.
So where does this all fit in with green schools?
Blue Hole Primary School, which serves the communities of Wimberley, Woodcreek, and western Hays County, became the first One Water school in Texas when it cautiously opened its doors for classes in the midst of a worldwide pandemic in August 2020. One Water is a water planning and management approach that rethinks how water moves through and is used in a community. It brings stakeholders like developers, community leaders, urban planners, water managers, and engineers together with the goal of utilizing water as thoughtfully and efficiently as possible.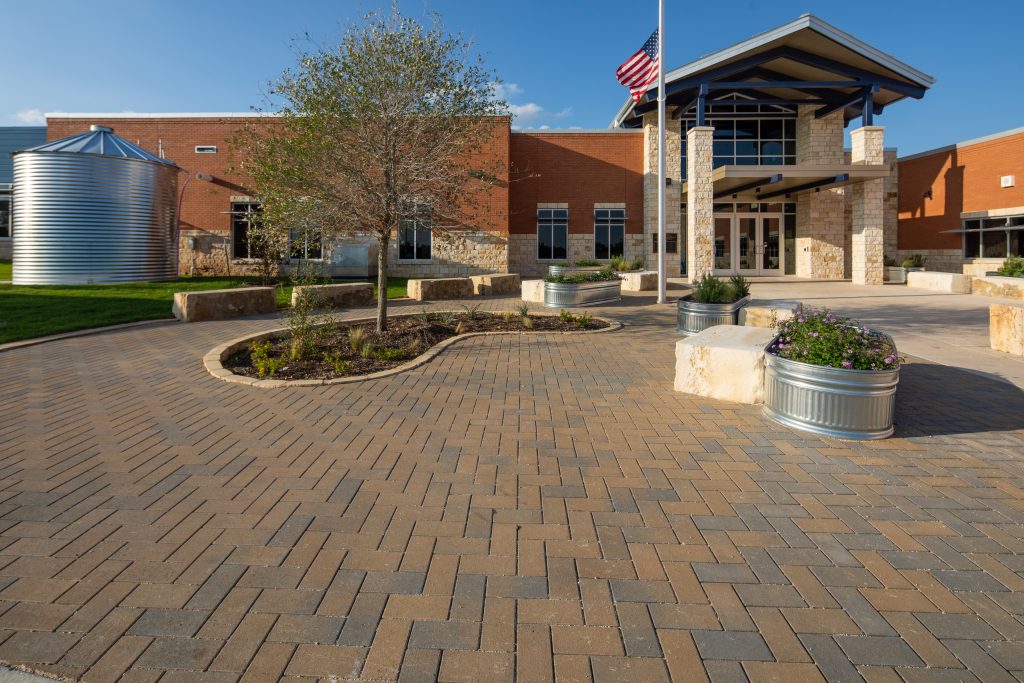 As coordinator of the Cypress Creek Watershed Protection Plan, I had a feeling that the time was right for something big when the Wimberley Independent School District (WISD) approved a major bond package to purchase almost 150 acres in the heart of the watershed. A new primary school and future site development were on the docket when our team – consisting of David Baker, Executive Director of the Wimberley Valley Watershed Association; Joe Day, long-time colleague and water guru; and myself, representing The Meadows Center for Water and the Environment – engaged in a series of conversations with the district. The One Water concept for the school quickly emerged, and with early support from WISD superintendent, Dwain York, and eventual buy-in from the general contractor and the architecture and engineering teams, a Memorandum of Understanding to embed our One Water Team with the design and construction crew was ratified by the WISD Board of Trustees in June 2019.  Construction started shortly afterward in July. The school's One Water design acknowledges the importance of protecting Wimberley's sensitive water resources by managing all water as a single resource that is sustainable and reusable. Further, in capturing this innovative conservation technology through grassroots community efforts in an educational setting like a new school, the students, teachers, staff, parents, and local community are afforded a front row seat to an environmental education like no other. 
 "I have to admit that I was skeptical at the beginning, but the more we met, the more the engineers got together and the plan starting coming together, it became very obvious that this was doable. It was the responsible thing for WISD to do." – Dwain York, WISD Superintendent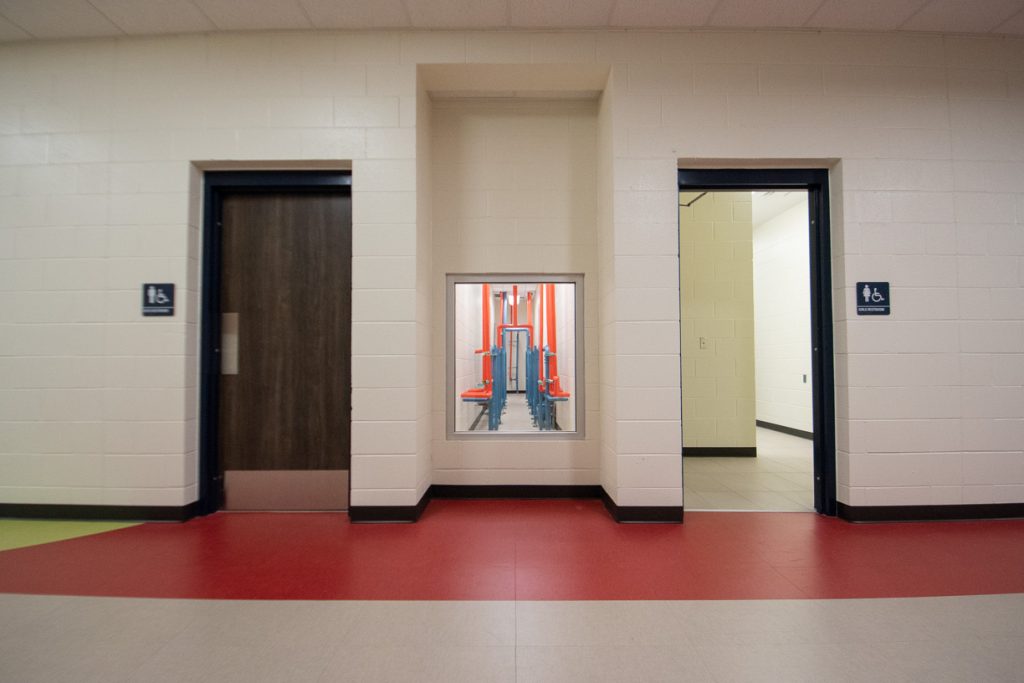 Blue Hole Primary School accommodates over 700 students and utilizes a variety of One Water strategies to reduce groundwater usage from the Trinity Aquifer by 90%, compared to traditional construction standards, thereby protecting the groundwater source that supplies crystal clear spring flows to Jacob's Well Spring, Blue Hole, and Cypress Creek. It incorporates best practices such as a 200,000 gallon rainwater and AC condensate collection system to flush toilets, irrigate landscaping, and establish school gardens. Rather than building massive infrastructure to connect the school to a centralized sewer system that would carry wastewater away for treatment and "disposal," an energy-efficient, modular on-site treatment and reuse system was constructed using packed-bed gravel filters to treat and beneficially reuse gray/black water produced by the school for the establishment and maintenance of new athletic fields. Additional green stormwater infrastructure includes permeable pavers, xeriscape, vegetated swales, and rain gardens, all of which highlight a 21st century approach to managing nonpoint source pollution from new developments.
Blue Hole Primary School also includes a number of architectural features that provide an immersive, educational experience for students, staff, and visitors. Some of these features include clear pipes that show rain water flowing into the system, exposed plumbing that shows rain water and condensate being delivered to restrooms, and highly visible educational signage. Electronic metering of the system will support a web-based platform for researchers and STEM education, which is still in development. The Meadows Center plans to engage with WISD students to bring the conservation tools that Blue Hole Primary School exhibits into the classroom and laboratory. Imagine a junior high student learning about condensation for the first time and having that reinforced by monitoring, in real-time, 1,000 gallons per day of condensation that's produced by the school's HVAC system, or a high school biology teacher giving a lesson on plant taxonomy while leading their students on a walk across campus with dozens of native plants identified for their water-saving features.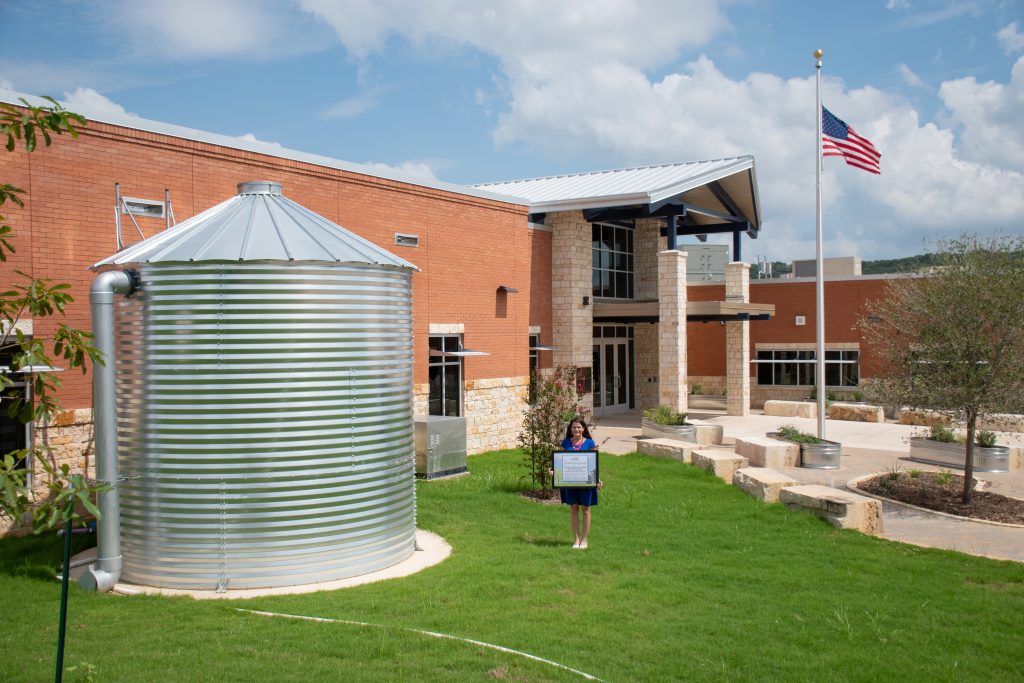 Many aspects of the new Blue Hole Primary School will benefit the environment, over the short and long term. However, the school and its One Water approach promise to have an equally important economic impact for WISD. The district projects it will save nearly $800,000 over the next 30 years in utilities costs as a result of less water being used to operate the school. The money saved could support additional staff while keeping WISD less dependent on outside water and energy resources.
As Texas' first One Water school, Blue Hole Primary School will serve as a model for communities throughout the Texas Hill Country and a teaching tool for WISD students about the value of water conservation. The region faces enormous water challenges over the next 100 years and beyond; however, Blue Hole Primary School is an important reminder that it's possible to balance the challenges of growth with continued stewardship of our precious water resources.
Author Bio
Nick Dornak is Director of Watershed Services at The Meadows Center for Water and the Environment at Texas State University in San Marcos, Texas. With 20 years of experience in watershed planning, research, and stakeholder engagement, Nick operates at the nexus of science and policy to inform decisions and advance best practices for protecting water resources. Nick received a B.S. in Agricultural Development/Animal Science from Texas A&M University and an M.S. in Rangeland Ecology and Watershed Management from the University of Wyoming. He lives with his wife, Carrie; three children, Aiden, Emery, and Townes Edward; and a variety of other critters on the banks of the Blanco River in Wimberley, Texas.