By. Adrienne Wiggins
I don't think anyone would disagree with the statement, "Families want what is best for their children." Why then, do some schools continue to have family engagement problems when research consistently shows the benefits of family engagement in students' academic success? Unfortunately, the schools that seem to struggle the most with family engagement are low socioeconomic schools, where you can argue that parental involvement is even more crucial for success.
Several years ago, I started working at Empire Elementary School in Carson City, Nevada, the highest poverty school in the district. Empire Elementary is 100% free lunch and has a high percentage of English Language Learners. What I have learned in my time here is that parents do want what is best for their children, but often lack the understanding or awareness of how to help. Our parents face many barriers that often restrict their involvement. Some of these barriers include knowledge, language, time, money, child care, and even parent's own negative school memories. When thinking about family engagement, we need to consider all these things. Just as important, we need to create a system that involves the whole community if we want our students to be successful not only during their time with us, but as they grow and move on to their next chapter.
At Empire Elementary, we have worked hard over the years to increase family engagement and build lasting partnerships with our families. Our staff has been especially focused on making families feel welcome with a safe and non-judgmental approach. This takes time to build and starts when families take their first steps through the school doors. Upon entering, they are greeted by name and engage in conversation with our office staff. If you come by our school at lunchtime, you will struggle to find a parking spot as parents rush in to share this moment with their children. It may seem small, but it was the first step in building trusting relationships with our students' families.
A few years ago, Empire Elementary's Parent Liaison and I conducted a need's assessment survey with our parents. We wanted to know what support they needed as well as when and how often they were willing to attend events. We found that parents felt a disconnect between home and school. There have been many instructional shifts in recent years with the adoption of the Common Core Standards and Next Generation Science Standards. Students are learning through a more conceptual approach than many parents experienced in their own education. This different instructional approach left parents baffled, frustrated, and unsure of how to help their children. We needed to help our families so they could support learning at home. We started by offering Family Nights each quarter that were grade level specific to help them understand these shifts and build their own conceptual knowledge. Parent responses to these nights were positive and they wanted more.
"It was important to understand how my son is being taught at school. It will help me help him with his homework."
"I thought it was a blast."
"Keep it coming!"
Recently, Empire Elementary has been working to become a STEM (Science, Technology, Engineering, and Math) school. We know family engagement is important now more than ever. Our families need to be involved in the learning process to build a greater understanding of the type of learning that is occurring during the school day. With this, our school wanted to offer several opportunities for families to engage in activities that would help bridge the home-to-school connections. Food, activities, and supplies can often be expensive and limiting factors when planning family events. There are many grant opportunities out there to help fund and support family engagement. I applied for and thankfully received a grant from the Carson City Rotary Club to help see this plan to fruition.
Our teachers decided to start this movement by focusing on a central theme each quarter. For example, our second quarter theme was physical science. Everything we did was to build an understanding of the physical science standards. Families were engaged in creating circuits, mixing solutions, learning about magnetism, and exploring the connection between sound and vibrations. This was an important part in helping our families build knowledge of the concepts and see the learning trajectory across the grade levels. Monthly newsletters go home (in English and Spanish) to keep families up to date on learning that occurs during the school day.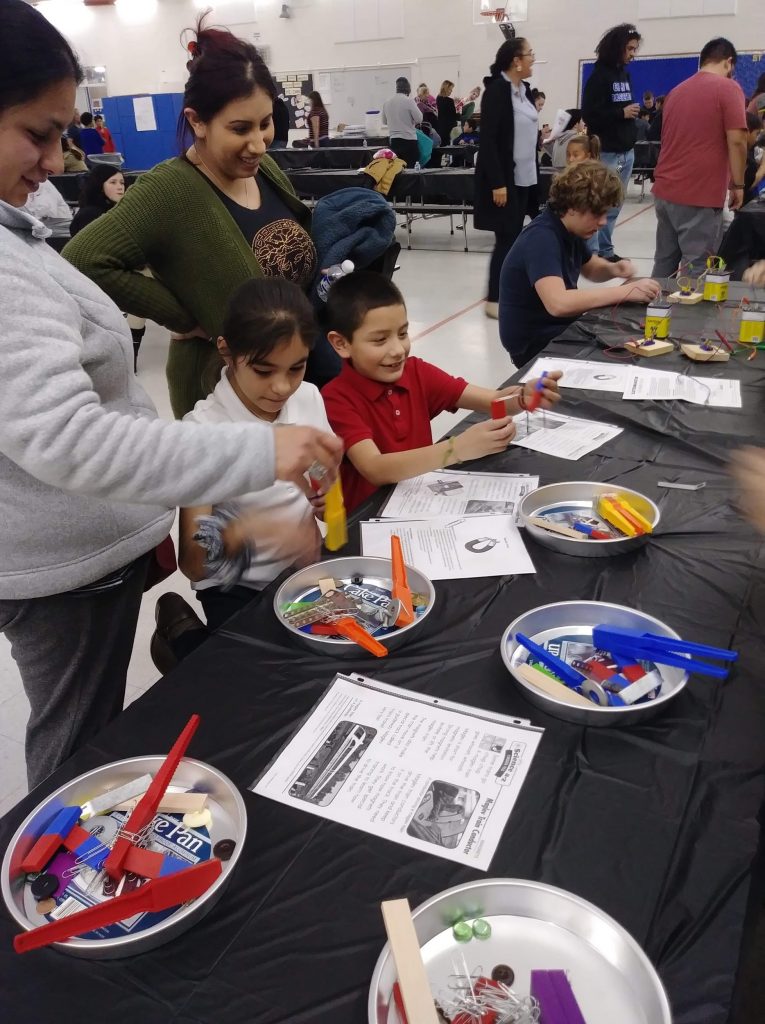 As we planned our Family Nights to celebrate students' work and showcase their projects, we wanted to make sure we had activities that would engage all ages, including young children. Past Family Nights have included stations where young children could make slime or play music with fruits and vegetables using Makey-Makey kits as they learned what materials were conductive. It's intended to be a night of fun and learning for the whole family. To make the evening even more special, dinner is provided free of charge. It's a small gesture that helps raise attendance and gives families one less thing to worry about.
Ensuring families can access information at Family Night is important for encouraging and sustaining their engagement. Therefore, we always make translation services available. I have been very fortunate to work with such supporting individuals. At Empire Elementary, our Parent Liaison and several English as Second Language staff members assist during these extended events. However, I have learned that the more stations we offer, the more thinly stretched we are for these services. For this reason, we reached out to our high school and enlisted their help in finding volunteers. We've had great support from Honor Society and NJROTC students. In fact, many of our former students show up and offer their support to families. These students help run stations, greet families, and facilitate communication with their bilingual abilities.
One of the most important parts of our system is helping families to see the connections between learning that happens at school and the world beyond our classroom doors. To assist, we have reached out to community businesses, many of whom are willing to volunteer their services. For example, NV Energy brought an incredible display for families to interact with as they spoke about energy in the home. Our public library has offered to bring virtual reality headsets to an upcoming Family Night so families can use this technology to step into space for our third quarter theme of Earth and Space Science. We've had different types of engineers come and talk about their jobs. Public Works, Waste Management, Fish and Wildlife, and the University of Nevada, Reno are just a few of the community organizations willing to help with educational outreach. By engaging in community outreach, we bring all parts of the system together.
Empire Elementary teachers and staff want to generate excitement and exposure for STEM at school and in the community by allowing students, teachers, families, and community members to explore STEM together in a fun and educational way. The best part of these events is the excitement the students feel as they participate in the activities with their families. After our last event a teacher stated, "My kids can't stop talking about last night!"
By providing these opportunities, Empire Elementary is able to educate and empower families while providing them with the knowledge and tools necessary to support learning at home. These efforts have helped our students grow in all academic areas – we almost doubled our science proficiency scores! According to the SBAC Science Assessment, our students went from 17% proficient in the 2017 – 2018 school year to 33% proficient in the 2018 – 2019 school year.
Family engagement will always be a work in progress. At Empire Elementary, we are committed to overcoming barriers as we work to involve families in every step of their child's education.
Author Bio
Adrienne Wiggins is a STEM Coach at Empire Elementary School, a Title I School in Carson City, Nevada. Adrienne earned a Bachelor of Science in Elementary Education from the University of Nevada, Reno and a Master of Education: STEAM (Science, Technology, Engineering, Arts, and Mathematics) from the University of San Diego. She has earned various awards over the years, including the Rotary Club Teacher Award, National Dream Team Teacher, Light of Education Award, and Empire's Teacher of the Year. She has been in education for almost 20 years and taught various grade levels from first through eighth. This is her sixth year in a coaching position.