By. Skylar Primm
If there's one thing I've learned in nine years of teaching at High Marq Environmental Charter School in Montello, Wisconsin, it's this: It takes a community to build a sustainable school. A handful of teachers can certainly try to do it all, but they'll rapidly become disillusioned and burnt out, like an overburdened ecosystem. At High Marq, we rely a great deal on student leadership and commitment to the school. Even so, we wouldn't be successful without reaching out for help from our students' families. Whether through service on our governance council or contributions through our parent group, Friends of High Marq, the diverse partnerships we've built with families are key to our ongoing progress.
One area of meaningful partnership comes alongside our three annual Presentation Nights, evening events that offer students a chance to showcase their learning to a public audience of school staff, family, and community members. These days are long ones, starting with a normal school day at 8:00am and ending after 8:00pm. During the event, students usually speak about their work for several hours in a science fair-style setting, in addition to giving short on-stage presentations. Hydration and proper nutrition (plus a little caffeination, for me at least) are keys to making it through.
A Little History
In the early years of the school, students were on their own when it came to finding food between the end of the school day and the start of Presentation Night. Typically, this meant running over to KwikTrip or Dollar General for something quick, cheap, and easy, but probably not too nutritious. Moreover, students visited these stores in ones, twos, or threes, splitting up our community just before a major event. Neither of these factors ruined the evening or created a negative environment, but they didn't contribute to sustaining a positive one, either.
After a few years, our parent support group stepped in to fill the gap. The families decided to offer a meal for students and staff during that interstitial time after school. These meals have varied based on parent availability and student interest, with recent events featuring mains such as pizza, chili, or tacos (all with vegetarian and non-vegetarian options), along with sides like a simple salad or chips and salsa.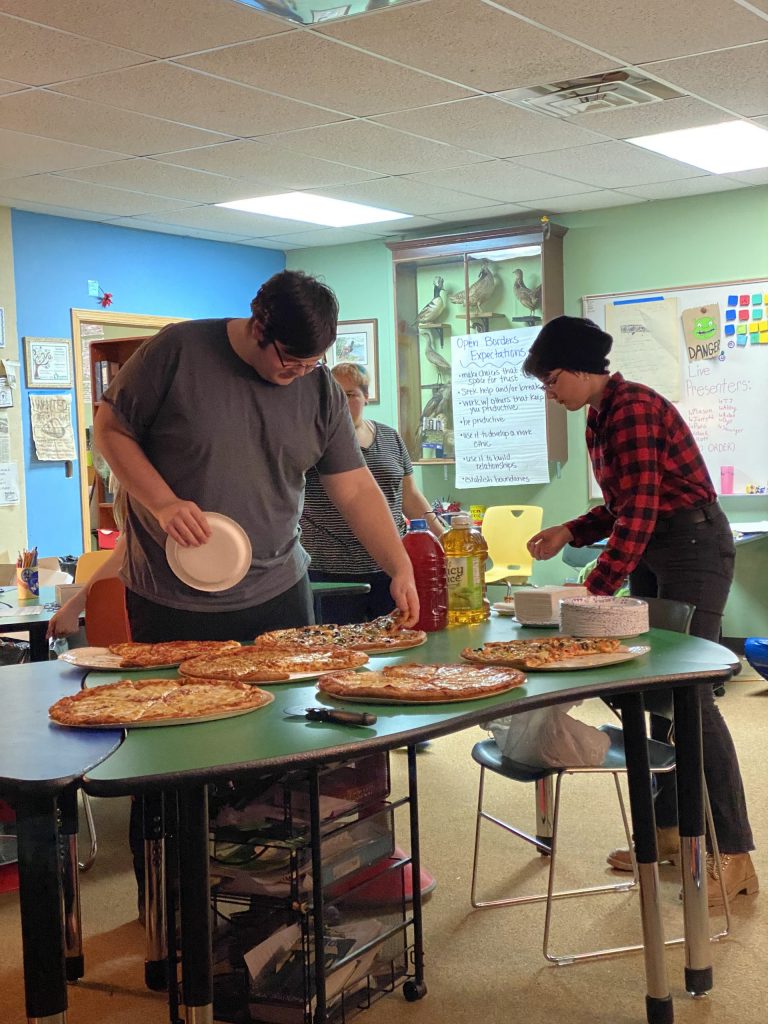 For several years, we collected $5 or so from each student to defray the meal's cost. The equity problem here is probably obvious, though I'm sorry to admit that it wasn't to me at first. By charging even a small amount, we were inadvertently excluding the students most in need of a good meal before a strenuous evening. Now, food is provided on a pay-what-you-can basis, even if what they can pay is $0. No student is turned away. We are able to make this happen thanks to our 501(c)(3), which we fundraise for throughout the year.
Fulfilling Needs
It's evident that by providing a meal for students, our families are helping to meet their physiological needs. Though teenagers may argue the point, it's a lot harder to think deeply and process information—two important skills when presenting one's research—on an empty stomach, or one that's been filled with processed food and energy drinks. What may be less obvious, and arose as an unanticipated benefit of these meals, is their benefit for community building, among the students and between families and the school.
Safety and belonging are often included alongside food and shelter as fundamental human needs. Events like our Presentation Nights are only possible because of the supportive community we have intentionally crafted in the weeks, months, and years leading up to each event. As the date approaches, students help one another with last minute tweaks to presentations and feedback on materials. During Presentation Night, students attend each other's presentations to provide moral support. The day of the event can be an especially stressful time for some, and tempers may flare. A shared meal helps defuse any lingering tension, provides a clear transition between the school day and the event, and gives everyone a booster shot of communal feelings as they finish up.
Involving Parents
During meal set-up and preparation, I and the other school staff are generally out of the classroom for district-led professional development. We would have neither the time nor the capacity to pull together a meal for our students, no matter how much we might want to. Therefore, the involvement of parents and other family members is essential. Parents and family members are also available during the event, bringing in snacks for attendees, helping with set-up and tear-down, and providing an authentic audience for students. By engaging parents with specific, concrete tasks, we are able to strengthen ties and ensure that they are comfortable visiting the school.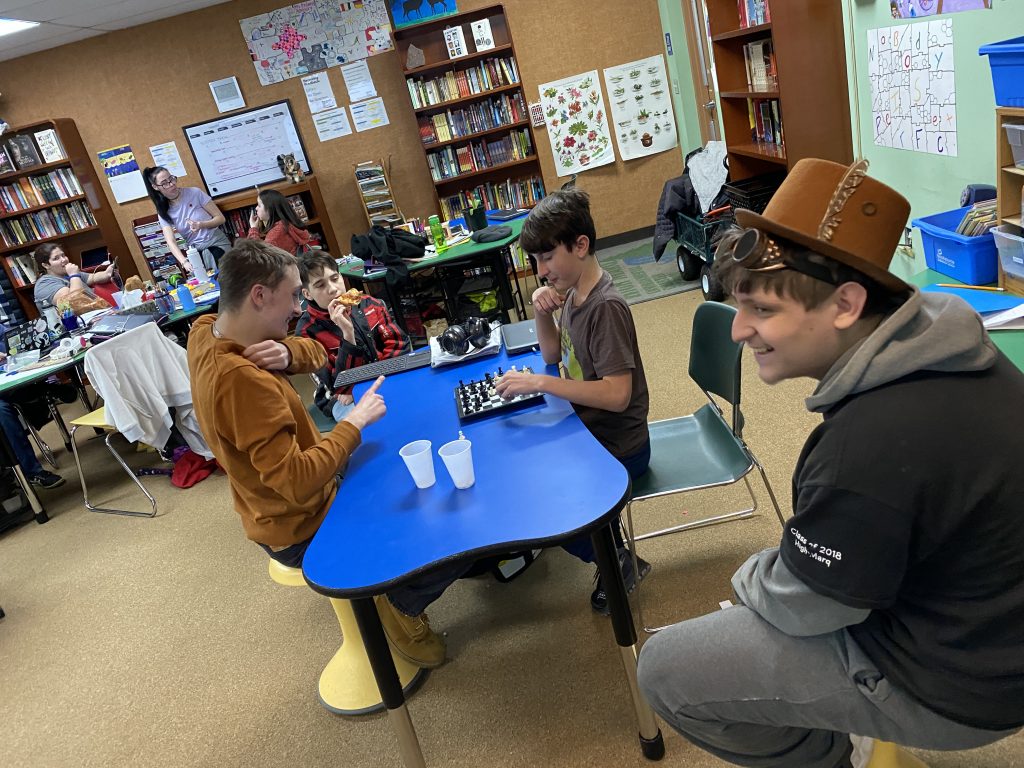 The model of small schools based around deep relationships between students and staff is something I believe in wholeheartedly, but we would be lost without the help of our students' families. We would not be able to pull off our Presentation Nights and other annual events without them, and the school culture itself would not be sustainable without their support and input. Conversely, I believe that new staff could step in tomorrow and continue to build on our success, thanks to the sustainable culture built by our students and their families.
For people who work every day with dozens of people, it's remarkably easy for teachers to feel like we have to do everything on our own. The simple truth is we can't, and we shouldn't try. Reach out to your school's families. Ask them for help. They're waiting to hear from you.
Author Bio
Skylar L. Primm has only taught in project-based schools. Since 2011, he has served as co-lead teacher at High Marq Environmental Charter School in Montello, Wisconsin, where students in grades 7-12 co-create their curriculum through project-based learning, weekly environmental field experiences, and student democracy. Skylar also works with the Greater Madison Writing Project, and in 2017 he was honored with an Herb Kohl Educational Foundation Fellowship. He also serves on the board of the Wisconsin Association for Environmental Education and the Human Restoration Project. An erstwhile geologist, he much prefers teaching. He writes at https://medium.com/@skylarp.