By Judi Lawson Wallace, Safe Routes to School Coordinator for the Winston-Salem, North Carolina Urban Area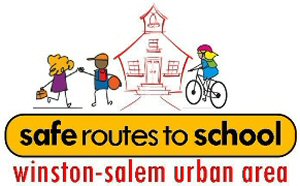 Like other school systems across the country, the Winston-Salem/Forsyth County School System (WSFCS) in North Carolina saw increasing numbers of obese students in 2008. In fact, North Carolina still ranks 12th in the country for its high rate of childhood obesity. In addition, more parents are driving their children to school, often creating massive backups on campuses and surrounding streets and worsening air pollution.
Safe Routes to School (SRTS), a national program, helps address these issues by making it safer for more students to walk or bike to school and encouraging them to do so. SRTS's goals include preventing or decreasing childhood obesity, reducing motor vehicle traffic around schools, and improving air quality.
Walking or biking to school benefits not only air quality and students' health, but also students' academic achievement. More and more research shows that students are ready to learn and are better able to focus after they engage in 20 minutes of physical activity before school starts. Now that is a winning goal for all of us.
Our SRTS Beginnings – Targeting Approaches
When our local SRTS Program started in 2008, we focused on schools in neighborhoods that were already walkable with good sidewalk connections. The first step was organizing special events like Walk to School Day in October to show students the fun of walking to school with their friends. Four years ago we added Bike to School Day in May.
Two of our schools with the most established programs provide an interesting contrast in approaches: Sherwood Forest Elementary sits in a suburban neighborhood of professionals. Kimberley Park Elementary School, on the other hand, is located in the inner city in what was once a crime-ridden neighborhood, but with a good sidewalk network. Both schools have successful SRTS programs because the programs are tailored to the needs at each school.
At Sherwood Forest, a parent from the school attended a Safe Routes to School workshop and became an immediate "champion" for the program. The parent helped create a PTA committee and organized a Walk to School Day. Students met at a nearby church and walked in a large group to the school. The off-campus meeting place also allowed car riders to participate, which reduced traffic around the school. About 100 students participated with many of their parents turning it into a fun social activity.
Since this program at Sherwood Forest started in 2008, the number of students regularly walking has quadrupled, although there is still room for improvement. In 2013, the school started a Bike to School Day in May that brings out students of all ages along with some parents. Kindergarten children on small bikes with training wheels ride at the back of the group so older students with their larger bikes can ride faster.
At Kimberley Park, a majority of the students live within walking distance of the school. The school does not really have a PTA, so we pulled together representatives of the school, key city departments, law enforcement, and Habitat for Humanity. Habitat was undertaking a major building project in the neighborhood that was likely to attract young families. This committee planned and staffed the first Walk to School Day in October 2008, which brought out 150 students and parents/guardians. The school continues to hold walk events regularly every year. Since the SRTS Program started there in 2008, work by Habitat and the city has transformed the community and made it much safer.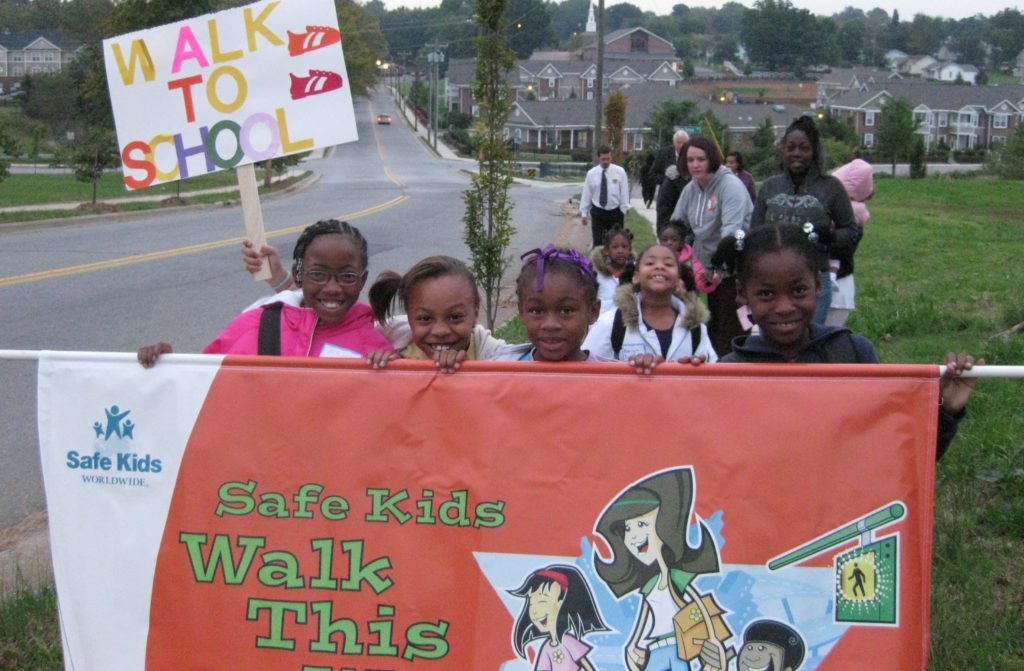 Expanding the Program
Implementing SRTS requires coordination of individual schools' unique resources, on-going education of both children and parents, and persistence.
We realized that many parents had grown up driving everywhere, so they did not know how to teach their children how to walk or bike safely. That is one reason that education is a key component of SRTS. Bicycling was something that children used to naturally learn as they were growing up, and some still do. But a surprising number of WSFCS fourth grade students do not have bikes and have never learned to ride.
Fortunately, our school district's Physical Education & Health Coordinator was very interested in SRTS and willing to help develop an education program as part of physical education classes in elementary and middle school. A review of the curriculum requirements indicated that four class sessions could be devoted to bike skills training for 4th, 5th, and 6th graders, while allowing teachers to cover the other necessary course of study topics.
Although excellent educational curricula are available at no charge on the Internet, those lessons required more than four class sessions; so we created bike safety lesson plans called "Bike Smarts," customized for WSFCS.
Thanks to a $50,000 Safe Routes to School grant from the North Carolina SRTS Program, we were able to purchase a seven-by-fourteen-foot trailer, 26 bikes, and 215 helmets plus pumps, a first aid kit, a few tools, and a cart with cones. The equipment in the mobile bike trailer enables us to provide hands-on practice for students.
The combination of classroom to buy ambien discussion and hands-on bicycling gives us an engaging way to reinforce safety concepts for students. Our Bike Smarts program includes these lessons:
Lesson 1 in the classroom: Students take a written pre-test, watch a free explanatory video "Ride Safe, Ride Smart" from the National Highway Traffic Safety Administration, see an "egg drop" demo that shows the importance of helmets, and learn important elements about rules of the road.
Lesson 2 with the bikes: Students work together to learn to fit a helmet properly, how to do the ABC Quick Check on the bike, how to fit the bike to the person, and how to do "power start" to start moving more quickly. They practice power starting and stopping safely. If time remains, the students do a slow race, with the winner being the last one still riding.
Lesson 3 on the bikes: Using a single lane (delineated by cones, tape, or chalk), students practice riding in a straight line without swerving or wobbling, maintaining control while giving hand signals, and looking over their left shoulder for traffic. To emphasize the importance of stopping at the end of driveways—where many children are hit—a driveway can be simulated where students must stop and look before riding.
Lesson 4 on the bikes: Students put these different skills together on a short, simulated "road" course with turns and traffic signs. At the end of the session they again complete the written test to show what they have learned compared to the pre-test.
Through this Bike Smarts course students have gained confidence on the bike. One fourth grader told the physical education teacher after the class, "This is the best day of my life!"
Since the bike trailer and Bike Smarts Program were first used in 2010, nearly 6,000 students have gone through the program, which, as a bonus, should help them when they start driving.
Coordinating the location of the bike trailer requires some planning throughout the year. Although the first in-class lesson for Bike Smarts can be taught ahead of time, the elementary schools only have physical education once a week.  As a result, a school needs to keep the bike trailer for 2-3 weeks to cover the on-bike lessons, limiting the number of schools that can use the trailer during the school year.
More Opportunities
For teaching walking skills, North Carolina recently developed a Let's Go NC! curriculum with five walking skills lessons for Grades K-5 that we are encouraging both classroom and physical education teachers to include as time permits. This free, online curriculum includes lesson plans, cross-curricular activities, and parent information sheets. As with Bike Smarts, the emphasis is on actually doing the activity rather than just talking about it.
To further encourage walking to school on a regular basis, we are starting a Walking School Bus Program every school day for four to six consecutive weeks in the fall of 2016 with three pilot schools. A Walking School Bus consists of two or more trained adult volunteers who walk with a group of students to school each day. The walk leaders can either pick up students along the route or meet a group of students at a central location so they can all walk together. As an intermediate step, one inner city school sponsored Walking Wednesdays for six weeks in the spring that brought out about 18 percent of students. We hope the Walking School Bus Program will encourage even more students to participate.
A safe remote drop-off location provides another way to reduce traffic around the school while encouraging more students to walk. We are encouraging schools to identify a safe location off-campus where parents can drop students off. This safe spot can be a park, church, or public building with enough room for cars to circle through. School staff or adult volunteers welcome the students and walk with them in groups to school. We plan to monitor air quality around these schools before the remote drop-off program begins and after it starts to track air quality improvement.
We have made progress in our SRTS efforts thanks to a coordinated effort of school and community members. Our numbers of children walking and biking safely to school have increased. We know the students are more alert and ready to work after they have walked to school. We will continue to educate the community about the benefits of SRTS and provide the tools to help schools develop their unique SRTS programs.
About the Author
Judi Lawson Wallace, Safe Routes to School Coordinator for the Winston-Salem Urban Area, has 20+ years of experience with bicycling and pedestrian issues as a consultant to state and local governments. She started the SRTS Program in Winston-Salem in 2007. A strong advocate of Safe Routes to School, she walked and biked with her daughter to the neighborhood elementary school in the 1980s where they drew lots of attention with their yellow Schwinn tandem. She would like more parents and children to enjoy this wonderful experience.
Images courtesy of Judi Lawson Wallace