By. Hillary Wackman
How can you care about what you don't know? This is a fundamental question for K-12 educators who hope to foster stewardship of the natural world in an already packed curriculum. At the School of Environmental Studies (SES), we operate with the belief that connections with nature are powerful and encourage responsible choices and actions.
SES is a magnet high school for 400 juniors and seniors in Apple Valley, Minnesota. The school sits on a 10-acre wooded campus next to a regional park—so resources for going outdoors are close at hand. But even with these nearby natural places, it's sometimes hard to find the time and motivation to get students outside.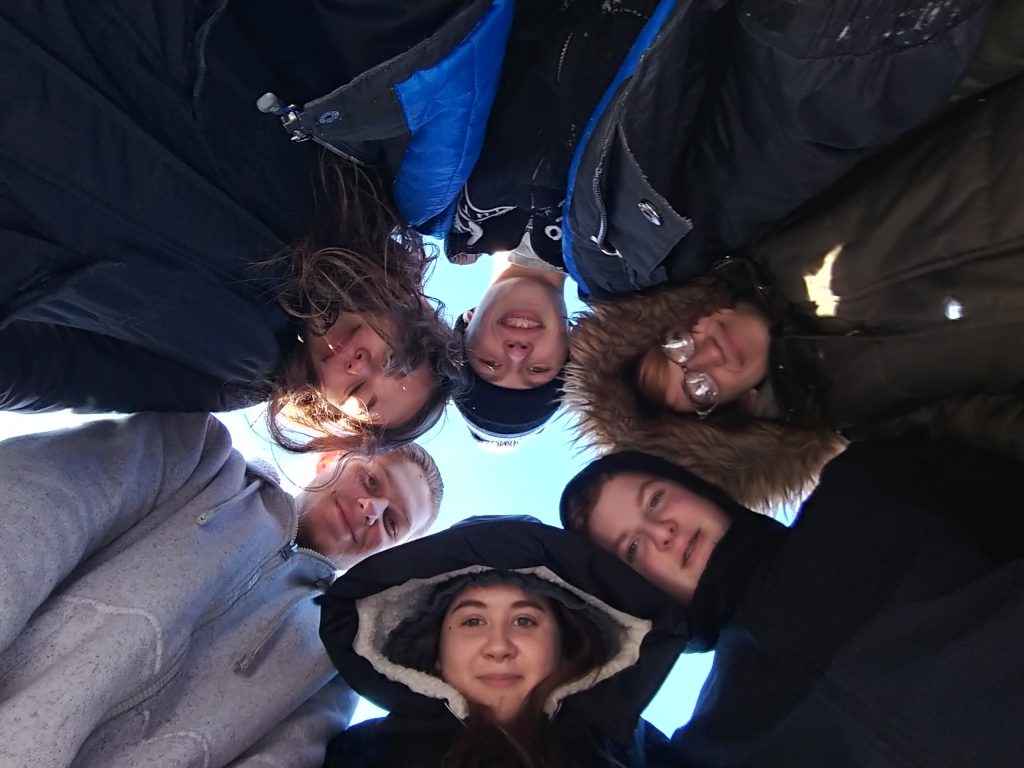 Now more than ever, it's important that we find opportunities to engage students in outdoor learning. In our increasingly indoor society, organizations like the Children and Nature Network are raising awareness of our need to reconnect with the natural world. Environmental psychologist Louise Chawla, who has studied the formative influences of active environmentalists, has found that the single most powerful influence on their interest in the environment—and subsequent career—was "time spent outdoors as a child and adolescent" (Chawla, 1999).
Finding curricular connections to the natural world is critical in establishing an outdoor practice at your school. Too often the outdoors is just a place for gym—and our stripped-down school grounds reflect this. But the natural world is more than just a place for sports or science. The outdoors offers rich writing opportunities for language arts teachers and both the natural and built environments around our schools can be examined with a social studies lens. Local environments connect us to Indigenous and immigrant history. City and park planning showcase a host of social and economic topics made real by seeing them first-hand. If we want to get our students outside, the responsibility for outdoor education rests in teachers of all disciplines.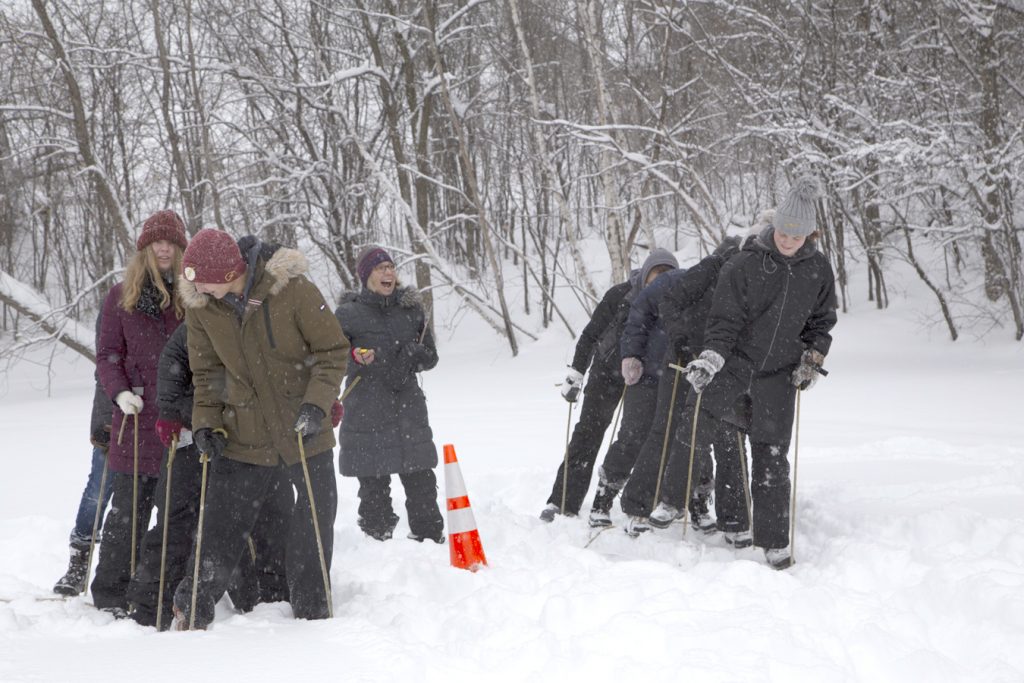 To that end, every January all 400 SES students participate in a "Winter Unit" that integrates environmental science, language arts, and social studies. This unit is inserted between rigorous academic studies and serves as a break from these, but also as a curricular unit in itself. Since our juniors have just finished a unit on evolution, the focus of their Winter Unit is on adaptations to winter—both animal and human. The senior Winter Unit focuses on human survival and how the human body endures harsh conditions. This unit precedes a unit on human health and toxicology.
For our juniors, the Winter Unit begins with the assumption that students won't be prepared mentally or physically to be outside in winter. Though we request they "find boots" and "bring in a hat and gloves," on that first day we stay close to the school and keep the total time outside to about 15 minutes. Many students will stand outside without anything on their head or hands—some even forget their jackets! But then the average Minnesota high school student no longer goes outside during the school day. The impact of this seasonal disconnect can be seen in our juniors—the cold is something to be avoided in a quick dash indoors—but this disconnect also shapes our students' attitudes about winter and the natural world.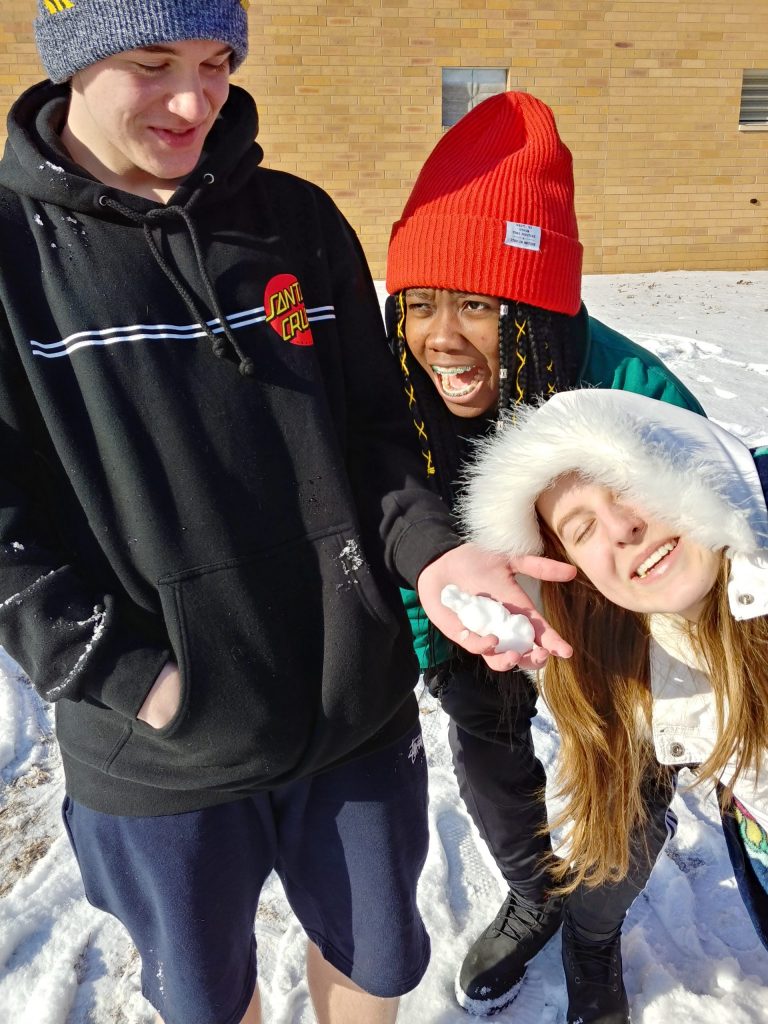 To combat a negative attitude about the winter world, we start day one by playing outside. We see who can throw a snowball highest against the school. We build snow "people" and make snow angels on our backs in the snow (an optional exercise that the under-dressed watch from the sidelines). We end with students in groups making a "human sculpture" that represents winter. These activities are short and meant to be fun with the primary goal of re-setting the students' attitudes about winter. After our 15 minutes outside, we sit in the school vestibule and reflect. We write about playing outside and winter memories from childhood. We also write about our "cold fear." These paragraphs will serve as inspiration for poetry that is the language arts focus of this unit. And we end with this: "When you go outside tomorrow, for twice as long as today, what gear will you want to have at school?" So, this 45-minute lesson has a second goal: to encourage students to "gear up" for the outdoors with proper clothing.
SES has a collection of coats and boots assembled from the lost and found and donations. Any student may borrow these items as needed on the honor system. Other barriers to outdoor education include health and culture. Some students have immigrated from warmer climates and never heard about polypropylene or other cold-weather synthetics or how to layer for warmth. We discuss this openly with students and offer affordable solutions—my favorite is to use an old pair of your mom's frayed nylons under your pants as long-johns. We encourage students to keep a duffle bag with clothing at school and talk to them about drying their gear. "Make no assumptions" holds true for outdoor education, too.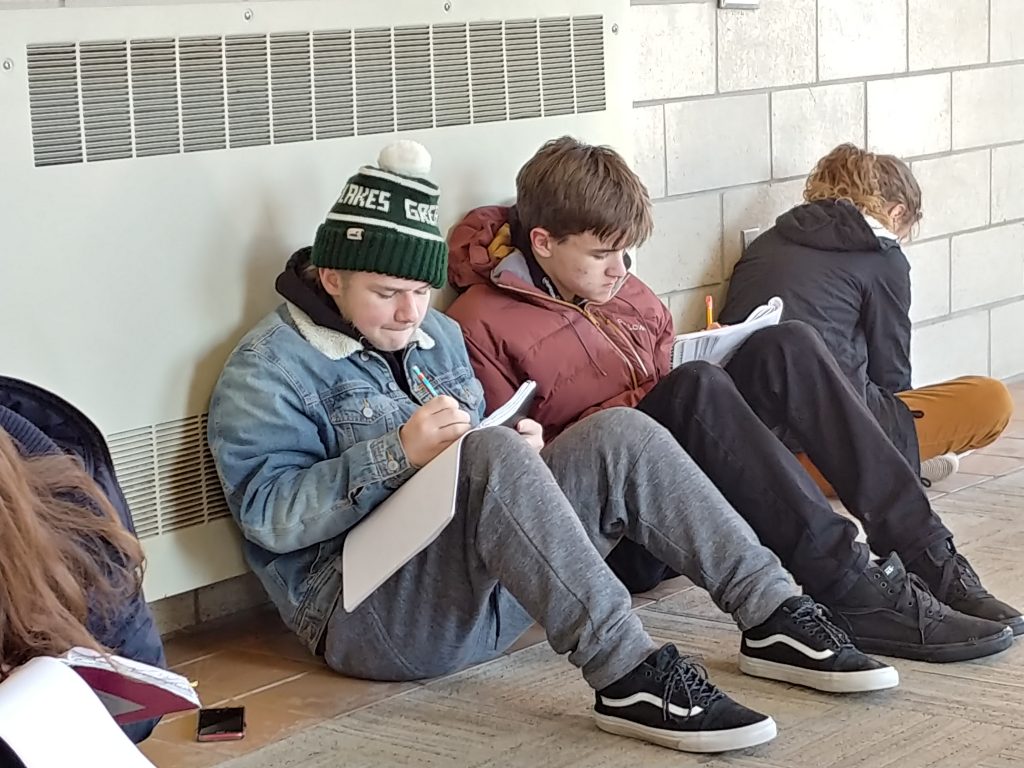 So how do we investigate winter for two whole weeks? Our goal is to go outside every day. But the time spent outside varies from day-to-day. Seniors kick off their Winter Unit with an on-campus outdoor "Interdependence Olympics" to build community and fun. The unit culminates in a three-hour "final" expedition in a neighboring park where students orienteer to park locations and complete winter skills challenges. Some days students go out briefly to work on skills like fire-building or shelter-making right outside our front doors.
Juniors go outside to find animal signs and practice Nordic pole-walking—using poles to exercise the whole body and walk more safely on icy surfaces. And they learn to sit outside and observe—a practice we call the "solo sit." The goal of the solo sit is a total-sense observation of the natural world. It's a powerful tool to build students' relationship with the natural world. As with all skills, we build their "solo sit" ability over time starting with five-minute, quiet, tech-free sits. This takes practice, patience, and encouragement. To that end, we start solo sits in the fall. By the end of the Winter Unit, students can sit quietly alone for more than 20 minutes in the snow.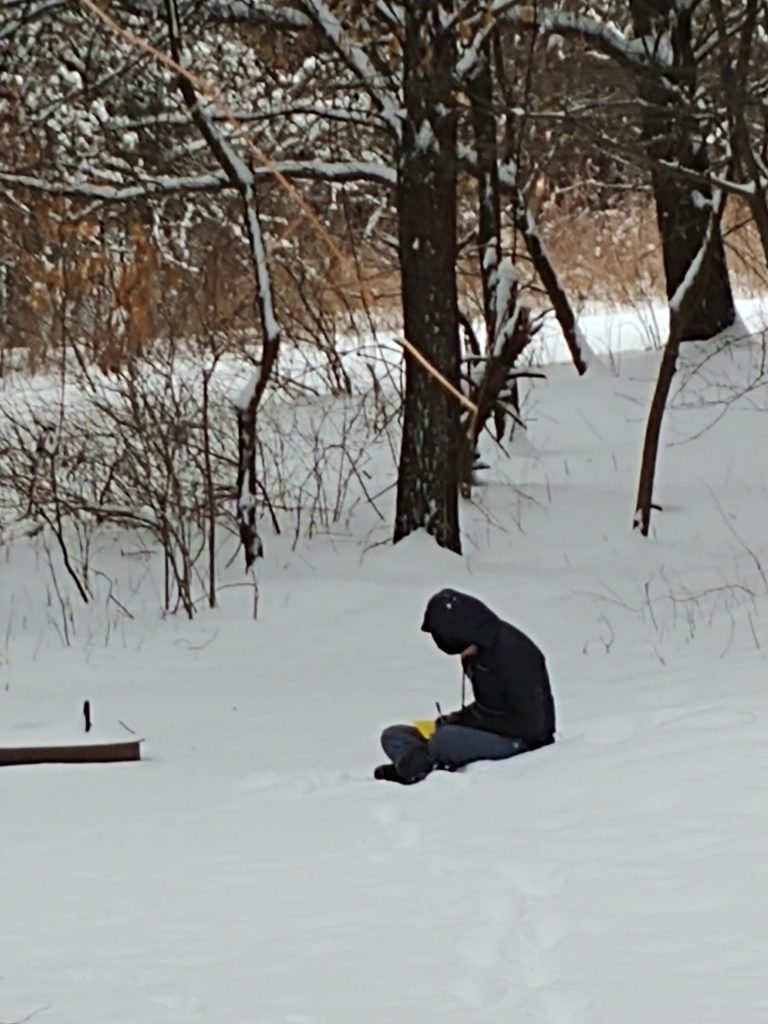 The rest of the Winter Unit, for juniors and seniors alike, takes place inside. We read from texts, articles, and classic stories like "To Build a Fire." We write poems and essays and letters. We investigate the Inuit and our local Dakota and Ojibwe people's expertise in winter. Last year, a district cultural liaison of Ojibwe heritage presented on Ojibwe winter culture and values. Her description of the "Snow Snake Game" inspired our students to build a snow ramp outside and try their hand at the game.
The big activities in the Winter Unit—which includes an outside overnight for seniors in shelters they build themselves on campus—require coordination and staff. Our principal, nurse, and counselor assist in the field and help to problem-solve around students with health conditions who require limited time in the cold. To succeed, these big events are a team effort, which leads to another value of outdoor experiences: time outside together builds relationships and community across many levels at SES. Tramping through the snow with your students puts you in a different relationship with them—and they with one another other.
The junior Winter Unit concludes with an overnight experience at a wilderness facility with cabins, an hour from the school. To accommodate us, 50 students go each night with two staff. It's fun—and funny—to return to school the next morning with matted hair and windburned cheeks. This overnight remains a turning point in the year and a unique opportunity for all juniors. We are a different—and closer—community when we return.
Research shows that time outside positively impacts ADD, mental health, independence, resilience, and community—not to mention a knowledge of and relationship with the natural world. Solutions to climate change, habitat loss, chemical pollution, and other issues of our burdened planet begin with an understanding that we are in a relationship with our natural world at all times—and that means getting to know our outside environments. When teachers of all disciplines organize to share in bringing students outside, when administrators decide to fund trees and grasses to re-create natural environments on their stripped campuses, and when school districts partner with local parks and wilderness facilities to get students into natural environments—even once a year—then we will all be working to foster that most critical foundation of environmental stewardship: "time spent outdoors as a child and adolescent."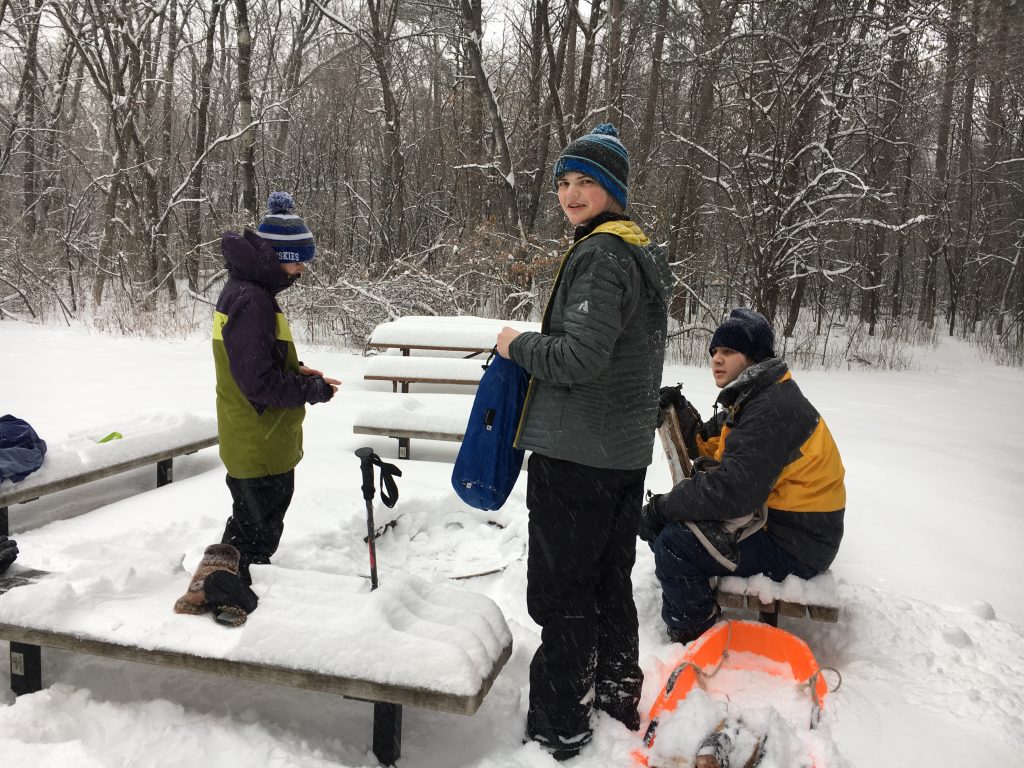 Works Cited
Chawla, L. (1999). Life paths into effective environmental action. The Journal of Environmental Education, 31(1), 15-26. doi: 10.1080/00958969909598628
Author Bio
Hillary Wackman is an English and Environmental Studies teacher at the School of Environmental Studies, a public high school in Minnesota. She has led student trips to the Boundary Waters and Superior Hiking Trail and remains committed to getting students outside in ways large and small. A presenter at the Green Schools Conference and Expo in 2019, she has been an instructional coach and co-author on two editions of Northern Lights, a middle school Minnesota history textbook used throughout the state. Her passions include educational equity and the rights of Indigenous people—and time outside.