By Mitch Hedlund, Founder and Executive Director of Recycle Across America
"Recycling is the most important thing we can do as a society.  It's a home grown job growth program, an environmental program, an energy conservation program, a water conservation program, all in one."
– Lisa Jackson, former Administrator of the U.S. EPA
Recycling can be one of the most important things we do for the environment and the economy, for sustainable manufacturing, and for preventing waste from going into the oceans – but it only works when society recycles right!
Sadly, recycling has not been working very well in the United States.  Currently, national recycling levels are at 21.4% and falling (Yale University and U.S. EPA study released 10/2015).   And recently, the largest recycling haulers in the United States have declared recycling unprofitable and in crisis, announcing the closing of many of their processing plants.
The Problem
Recycling is a public action — the recycling industry and manufacturers who want to use recycled content in their manufacturing rely on you, me, and 300 million other people in this country to recycle properly.    Unfortunately, hundreds of thousands of different looking labels can be found on recycling bins throughout society, causing public confusion, apathy, and skepticism about recycling.  Combine the confusion at the bin with confusion about what materials are recyclable, and what we have is chaos and an under-utilized opportunity to dramatically improve the world we live in.
Here's a look at what recycling currently looks like for the public: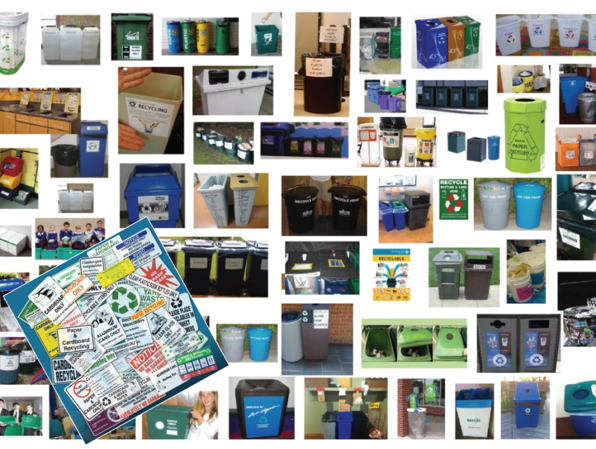 Take a moment to look in any trash bin and recycling bin at the airport, your work, at your children's school, or anywhere in public.  What you'll see is that the contents inside the trash bin and the contents inside the recycling bin often look identical.  Every day, there are literally millions of tons of garbage being thrown in recycling bins, which cripples the economics of recycling and often makes the recycled commodities unusable for manufacturers.
The Solution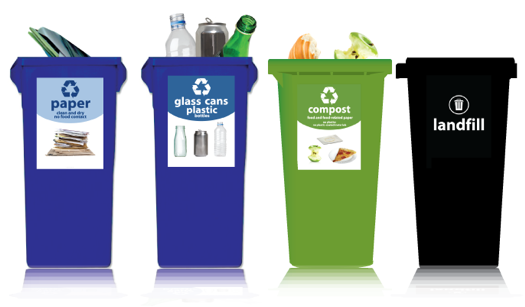 Standardized labels for recycling bins (http://www.RecycleAcrossAmerica.org) are the #1 solution to help society recycle right.  The standardized labels often help improve recycling by 50-100%, can dramatically improve the profitability of recycling, and increase the demand of recycled commodities by manufacturers.
Who is Using the Standardized Labels?  Some of the most notable brands in the world are starting to use the standardized labels on their recycling bins (i.e., Disney, Bank of America, NBC Universal, Sony, Hallmark, Kohler, and Whole Foods) as well as 3,500 schools and universities.   Currently, nearly one million standardized labels are being used … and they are working!
Corporate Heroes
To date, Recycle Across America has been able to donate 350,000 standardized labels to K-12 public schools throughout the United States, thanks to great corporate donors such as Kiehl's, Bank of America, Whole Foods, and Sony.
The standardized labels are not only making recycling easier at these schools, but are saving them money in the process.   For instance, San Diego Unified School District saved approximately $200,000 in landfill hauling fees (net savings) in their first year of using the standardized labels, resulting from significant increases in their recycling levels and the quality of the recyclables collected in their bins.  This improvement in their recycling program allowed them to decrease the frequency of their trash hauling and trash-related fees.
"Let's Recycle Right!" Campaign
Recycle Across America is launching the celebrity led Let's recycle right! campaign to help society understand the importance of recycling right, and introduce the simple solution of using standardized labels to help them recycle right wherever they might be.

A Recycling Toolkit for Schools and Businesses:   Use the Recycling Toolkit (included in this newsletter) as a guide to help your school or business create a successful recycling program.    When you implement simple solutions for your students and employees to recycle right (such as proper bin placement and standardized labels on the bins), remember to also engage them in fun awareness and educational activities such as the Trash on Your Back® Challenge (see related article in this newsletter).
What's Next:  In addition to displaying the standardized labels on recycling bins at your school or workplace, please join thousands of others in this petition to ask U.S. Mayors to start using the standardized labels on their recycling bins to make it easier for society to recycle right, wherever they might be. Please sign and share the U.S. Mayors Petition:  http://bit.ly/1NnUbXD
Contact Recycle Across America, if you would like your school or school district to receive free standardized labels for your recycling bins.   Email: info@recycleacrossamerica.org for more information.
---
About Michelle "Mitch" Hedlund:
Prior to founding the nonprofit standardized label initiative and Recycle Across America® in 2010, Mitch had over 20 years experience in marketing, communications and branding, serving Fortune 500 companies, as well as small to midsized companies.  She relied heavily on those communications and branding disciplines when developing the society-wide standardized labeling system for recycling bins.
The mission of Recycle Across America is to improve the viability and economics of recycling and closed loop manufacturing to subsequently expedite environmental progress.  Ms. Hedlund and Recycle Across America have created the first and only society-wide standardized labeling system for recycling bins to help achieve that goal.
The standardized label solution has been deemed "a simple yet systemic world changing solution," which led to Ms. Hedlund winning an Ashoka Global Fellowship.  Additionally, the standardized label solution has been referred to by the NY Times as "one of the most important environmental fixes taking root today."
Ms. Hedlund is a frequent contributor to articles on the subject of recycling and the environment, including Forbes, NY Times, USA Today, and industry publications.  She is a national and international speaker and recently provided the keynote presentation at the European Union's Environmental Summit in Brussels.  In addition, Ms. Hedlund has chaired and been the keynote speakers at the American Packaging Summit and the U.S. Zero Waste Conference.