By. Alex Tyink and Gil Shaw, Fork Farms
When your school district serves over one million meals per year, your food service program impacts thousands of lives daily. So, when change happens, students, staff, parents, school board members, and your community must all see the benefits of that change. In Menasha, Wisconsin's Menasha Joint School District, the food service program delivered not just change, but paradigm shifting innovation.
The Origins of Cupola Crops
Sue Malesa has been a public school Food Service Director for over 25 years. She currently serves as Food Service Director for the Menasha Joint School District, under its contract with Chartwells. Sue started implementing farm to school initiatives long before they became popular and understands what it takes to incrementally improve a program. In January 2018, Sue's Business Services Manager, Brian Adesso, came to her with an "outside-of-the-box" idea – what if the district grew all its own fresh lettuce and herbs? Not an easy task, especially in the dark Wisconsin winters. Buying produce from a local farmer or picking a few tomatoes out of the school garden was one thing. Developing and operating a program to make the district self-sufficient in leafy greens production was quite another. But Brian had a plan. For several years, Brian had been researching how to provide the freshest produce possible to students and staff. School gardens and locally grown produce were a start; however, both were subject to weather, seasonality, and forces often beyond the district's control. Brian concluded that an indoor hydroponic farm was the best and most reliable solution. But hydroponics for the sake of hydroponics wasn't the right path. The solution had to fit the district in terms of capital outlay, return on investment, space requirements, and overall efficiency. After exploring options offered all over the country, the solution turned out to be just a few miles down the road.
Eric Glad, a science teacher at Menasha High School, unaware of Brian's aspirations, saw a Facebook post about Fork Farms and thought the Flex Farm might be a good teaching tool for his classroom. He scheduled a tour with the Fork Farms team at their indoor farm facility, located only a few miles from Menasha High School. His enthusiasm about the upcoming tour began to intrigue others in the district office and the attendee number swelled to over a dozen education professionals – including Brian Adesso. It was clear to Brian and his team that they found what they were looking for. Cost, size, efficiency, ease of use, production capacity, and scalability – the Flex Farm checked all their boxes. But first he had to convince Sue Malesa. Sue and her food service team scheduled their own tour of the indoor farm facility. She arrived skeptical but left convinced it was a good idea and, more importantly, capable of being implemented. However, there was one final partner that needed to be brought on board.
Chartwells has over 500 K-12 facilities under management across the U.S. and is the food service contractor at Menasha Joint School District. After several months of collaborative effort, including exhaustive review of food safety concerns, Chartwells became a quick convert to the project's mission. Chartwells' staff would run the Flex Farm and the district would benefit from the farm-fresh, healthy greens being served. A location was found for the first four Flex Farms inside of a cupola (a dome-like structure) at the top of Menasha High School that housed an empty classroom. It could easily accommodate these four systems with plenty of room for expansion. Like any real farm, this one needed a name. In March 2018, Cupola Crops was born.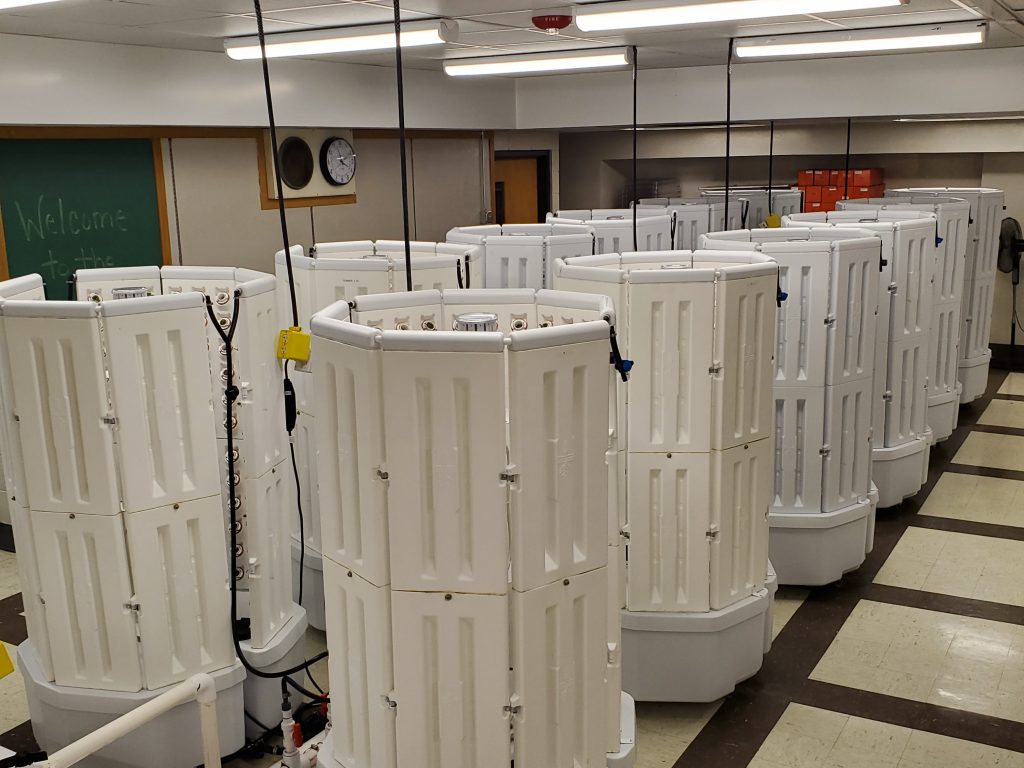 Why Hydroponics?
In the U.S., leaf lettuce is highly susceptible to food safety, weather, and transportation disruptions. California and Arizona grow up to 99% of our lettuce, with production concentrated in just a few select regions. Over the last five years, unseasonably cold weather, drought, flooding, and pathogen outbreaks have caused nationwide recalls of lettuce products. Not only do emerging "new normal" environmental factors pose challenges to leafy green production, even the very act of transporting the product can reduce its nutritional value. On top of that, the overall carbon footprints of large-scale agriculture and food distribution have enormous impacts that go unmeasured or unaccounted for in the true cost of the produce we feed our children. Local, indoor hydroponic food production provides a cost-effective solution to these issues.
Application of hydroponics is simple. pH balanced water, combined with the right amount of nutrients and the correct amount and type of light, results in consistent yields of highly nutritious leafy greens and other produce such as tomatoes, cucumbers, and peppers. The design of any hydroponic system must meet one's space requirements, budgetary considerations, and labor availability. Controlled Environment Agriculture is, simply put, growing food in space capable of being heated and cooled. It's up to 95% more water efficient than growing in soil. Placing a hydroponic system close to the ultimate consumer eliminates large-scale transportation, loss of nutrient value, and can ultimately empower people and communities to become self-sufficient in food production. Further, it connects us to where our food comes from, builds engagement, and establishes healthy habits. The Flex Farm takes this approach one step further by optimizing energy and labor efficiency, making it one of the easiest and most cost-effective systems to operate on the planet.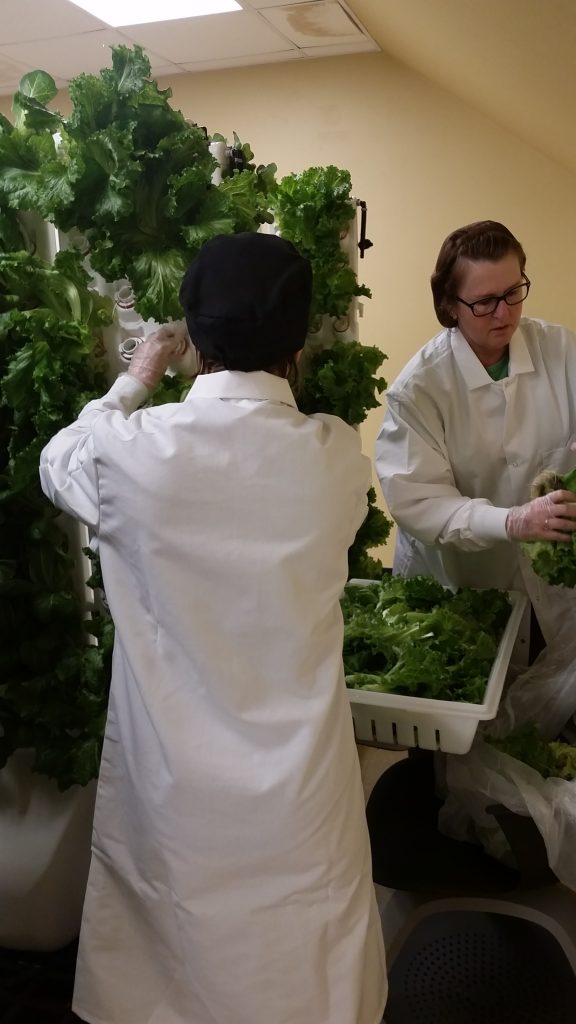 Scaling Up Cupola Crops
Set against this backdrop, Cupola Crops began operating and as luck would have it, a national recall of romaine and other lettuce coincided with Cupola Crops' first harvest. Once students found out that "their lettuce" from the upstairs farm was on the lunch menu, it began to quickly disappear from the cafeteria. Harvests continued through the end of the school year into early June.
Cupola Crops lettuce was served at the annual back-to-school staff picnic over the summer and autumn 2018 saw continued consistent harvests from the four systems. However, these systems only met about 25% of the total leafy greens needed for district consumption. The decision was made to go all-in on a large-scale farm consisting of 13 Flex Farms plus three classroom systems. Fork Farms designed and installed the production farm, which included a unified-tank reservoir system. This allows all the systems to be run off one large supply reservoir, further simplifying production and minimizing labor. As of August 15, 2019, plants are growing and, coupled with the three classroom systems, the Menasha Joint School District is on its way to becoming self-sufficient with its own leafy green production. District teachers using the classroom systems have started incorporating the Flex Farm's multidisciplinary, K-12 and state standard-aligned curriculum, prepared by FIRST Educational Resources, into their lessons.
The impact of the Menasha Model is no longer just local. The project has caught the attention of school districts across the country. National food service companies, such as Taher and Aviands, are partnering for placement in food service settings. Chartwells continues to support Cupola Crops and anticipates rolling out additional placement of Flex Farms in many of the schools that they serve.
The Fork Farms mission is to grow Happier, Healthier People and with partners like Menasha Joint School District they are doing just that. The Menasha Model provides an easy to follow blueprint for districts on a micro and macro scale. The Flex Farm provides a scalable solution that creates budget-saving efficiencies in space, cost, and labor while serving as a valuable teaching tool. As implementation continues at Menasha, Brian Adesso is pleased with what he has seen. "Fork Farms has given the district the ability to meet our goal to have higher quality products that are fresher and grown locally, all without increasing costs," he says.
Engagement of students, staff, and the community guarantees success for any food project. Paying attention to details and the larger vision are critical to ensuring the right fit, the right product, and the ultimate goal of feeding healthy, good food to our children. The Menasha Model has paved the way for others to fulfill the promise of growing happier, healthier people and with minimal impact to our planet.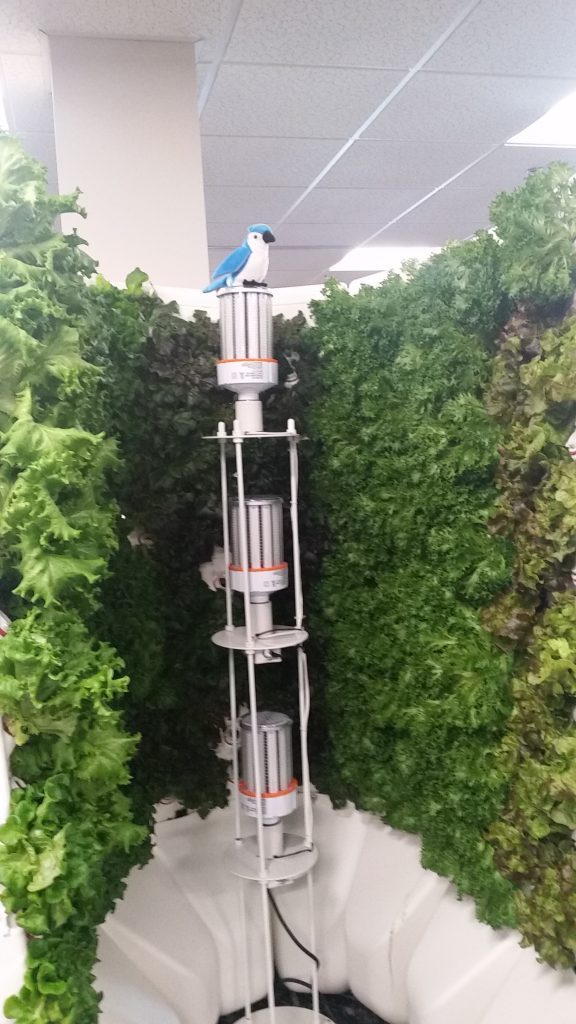 Author Bios
Gil Shaw is a self-proclaimed recovering attorney with over three decades of management, partnership development, and hydroponics experience. Gil farmed in the Arizona Highlands for over 30 years, primarily to keep his sanity while practicing law. In 2014, Gil retired and moved to Wisconsin to do something completely different. He managed a large hydroponic production operation in Appleton, Wisconsin, working with veterans in a job training program. Joining Fork Farms in 2017, he first managed the commercial farm side of the business until he moved to a full-time partnership development role. Gil lives in Appleton with his two retired ranch dogs.
Alex Tyink is co-founder of Fork Farms and inventor of its farming technology and methods. He is a former opera singer with 10 years of leadership experience in the social service sector and works to inspire vast food systems change across communities. Alex has served as program director at Goodwill Industries of North Central Wisconsin and as director of innovation and programs for Feeding America Eastern Wisconsin. In 2018, he was a Fox Cities Future 15 winner and featured as Fox Cities Magazine's 'Big Idea.' Alex currently lives in Appleton, Wisconsin with his wife, son, and their dog Maya.