By. Naomi Asimow, TTriss Williams Renard, and Katie Rogers
Youth around the world are asking big questions about how to make the world a better place. At the Marin School of Environmental Leadership (MarinSEL) in California, juniors in the Sustainable Enterprises class are challenging the way we do business and creating innovative solutions to transform our economy. Every fall, students in this class write a sustainable business plan, which they pitch to a panel of mock investors. The most promising businesses are selected for implementation in the spring. Amidst COVID-19, this year's Sustainable Enterprise students are challenged to be more entrepreneurial than ever.
Sustainable Enterprise is not a typical high school class. MarinSEL utilizes the year-long, project-based course designed by Strategic Energy Innovations as an entrepreneurship pathway. The course highlights the concept of sustainable enterprise and how to create a business that addresses the triple bottom line of sustainability, or "the three P's" – people, profit, and planet. Students start by identifying a professional purpose that motivates them, then develop a business idea and craft a business plan for a new business of their choice. At the culmination of the fall semester, students deliver business pitches to a panel of mock investors (business leaders from the local community). Only the most innovative and well-thought-out businesses are selected for implementation in the spring.
The spring semester is dedicated to implementing the selected business plans in groups, practicing project management skills, and developing a work plan that equips students with the structure and resources they need to execute their business plan. The student founder of each business assigns roles to the other students in their group: CEO, Head of Marketing, Head of Operations, Customer Relations, and Chief Financial Officer. In their business groups, students embrace the task of creating and selling their products in a race to have the most successful business by the end of the semester. Students contact farmers markets and local shops for opportunities to make sales in-person and develop an online shop and social media presence to sell their products online. Last year, Swirl – rings made from reclaimed copper wire – won the "Best Overall Sustainable Enterprise" award for its positive environmental impact and impressive sales.
This year, along with businesses worldwide, MarinSEL students are experiencing major disruptions in production and distribution as we face the deep and many impacts of the novel coronavirus pandemic. During this challenging time, students are learning that adaptability is an indispensable element to a successful business model. One student's product was produced in the school's woodshop, which is now closed. Instead of feeling defeated, he partnered with another student business to aid in their production, which continued off-campus. "It just really struck me, he was really thinking like an entrepreneur," said Cyane Dandridge, founder and executive director of the School of Environmental Leadership. "We're focused on how students cannot just accept what is and what's there but go beyond that."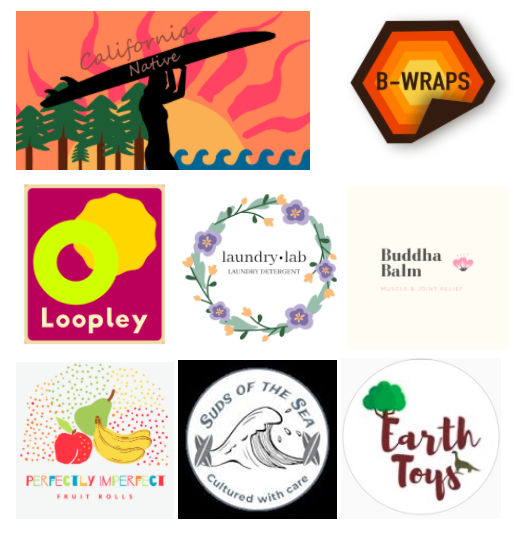 This year's sustainable enterprises include:
Buddha Balm – Embodying you, me, and we
Buddha Balm is an all-natural muscle rub with the benefits of aromatherapy. Made with only a handful of simple ingredients, this product is safer and more eco-friendly than synthetic alternatives. Each purchase gives back to the community, leaving your mind and body at ease.
Perfectly Imperfect Fruit Rolls – Delicious dehydrated fruit rolls
Perfectly Imperfect Fruit Rolls are made from fruit that would normally be thrown away at grocery stores, in an effort to eliminate food waste.
B-Wraps – Eco-friendly food wrap company
B-Wraps use locally sourced beeswax and second-hand fabric to create reusable, washable, and biodegradable wraps that keep food fresh, replacing the need for single-use plastic food bags and plastic wrap.
Earth Toys – Wooden children's toys made from recycled materials
Earth Toys help to decrease deforestation while reducing children's exposure to toxic chemicals.
Loopley – Colorful lanyards and wristlets made from recycled materials
Loopley uses recycled fabrics to create lanyards and wristlets.
Suds of the Sea – Cultured with care
Suds of the Sea are fresh, organic, plant-based soaps made with live cultures, for the maximum benefit of the user and the planet that we all depend on.
Laundrylab – We've got the clothes on your back!
Laundrylab is a chemical-free laundry detergent tablet made from a mix of toxin-free laundry ingredients. This company strives to make water cleaner and spread education about clean water globally.
California Native – Good for the Earth, good for you
California Native sells eco-friendly car fresheners made from local wool and essential oils to promote a more zen, balanced, and blissful world for us to inhabit while supporting our Mother Earth.
These businesses will be celebrated at the annual Green Business Leaders event, a gathering that brings together student entrepreneurs and green business leaders from the community. Here, students exhibit their products, practice their pitches, and make sales. Selected students also speak to an audience of about 100, reflecting on how this experience has helped them to grow as leaders, innovators, and problem-solvers. This year's event took place on April 30 and was held virtually, in light of COVID-19.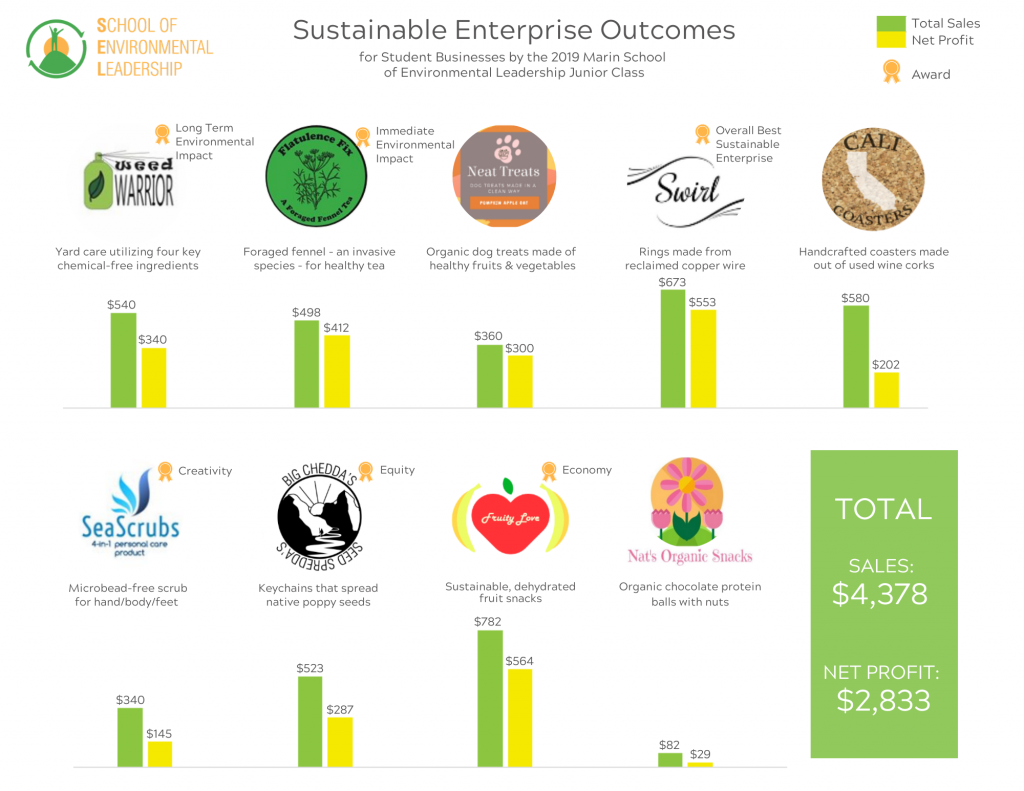 MarinSEL senior Natalie Darren, a member of last year's Sustainable Enterprise class and CEO of Nat's Organic Snacks, reflects on her experience and how it has impacted her future goals: "Before launching my enterprise, I never even considered working in the field of business. I was stuck on the idea that I wouldn't like it and that I just wouldn't ever have a business mindset. After launching my own enterprise, my thoughts on a career in business completely changed. I discovered that I actually enjoy working within marketing and communications and especially with an environmental focus. I am definitely considering starting up a new sustainable enterprise sometime in the future, and if I don't start my own then I would love to work for one."
The Sustainable Enterprise curriculum is available as a gift to GreenNotes readers. Please email energizeschools@seiinc.org to request a copy.
Author Bios
Naomi Asimow supports K-12 education programs at Strategic Energy Innovations (SEI), focusing on the Marin School of Environmental Leadership. Naomi recently finished her Bachelor of Arts at Harvard, where she studied Chemical and Physical Biology with a secondary field in Energy and Environment. While completing her undergraduate degree, Naomi worked for three years for the Harvard Office for Sustainability, captaining the undergraduate Resource Efficiency Program. She also worked as a course assistant for Harvard's math department, teaching first-year calculus. Naomi is thrilled to be involved in both the education and sustainability fields as a member of the SEI team.
TTriss Williams Renard advances Strategic Energy Innovations' (SEI) academic programs – namely, Energize Schools – through curriculum development, grant writing, and instructional support. TTriss came to SEI after six years in Paris, where she worked at the historic COP21 and developed a project-based curriculum as a Profession Libérale, designing and leading workshops in sustainability education for young English language learners. TTriss holds an MBA from San Francisco State University with a focus on Sustainability and Decision Sciences and a Bachelor's in Mathematics and French from Scripps College.
Katie Rogers leads communications and marketing efforts for Strategic Energy Innovations (SEI), a nonprofit organization that builds leaders to drive climate solutions through environmental education and green workforce development. Katie supports SEI's program teams, working on a variety of environmental education and sustainability capacity-building projects. Prior to joining SEI, Katie worked in marketing and advertising in California, New York City, and Seattle. Katie holds a Masters of the Environment degree in Sustainability Planning and Management from the University of Colorado, Boulder and a Bachelor of Arts in Communications and Anthropology from the University of California, Santa Barbara.