Andra Yeghoian and Amy Frame
The climate crisis is well underway and humans need to act fast to adapt to existing threats and mitigate the crisis before it spirals into global chaos (Intergovernmental Panel on Climate Change (IPCC) AR6 Reports, 2018 – 2022). The need to take urgent action makes climate change a teachable moment that every K-12 educator can participate in.lthough climate change can often feel overwhelming or too big of a topic to know where to start, there are easy entry points for every grade level and subject area.
Considerations for Integrating Climate Literacy into Existing Curriculum
Integration of climate literacy takes place across a continuum. Teachers who are new to climate literacy may start by integrating climate change in a supplemental way, whereas teachers who are more familiar with strategies and content may be ready to integrate climate change more holistically throughout the year, or as part of a knowledge-to-action, solutionary project-based learning unit.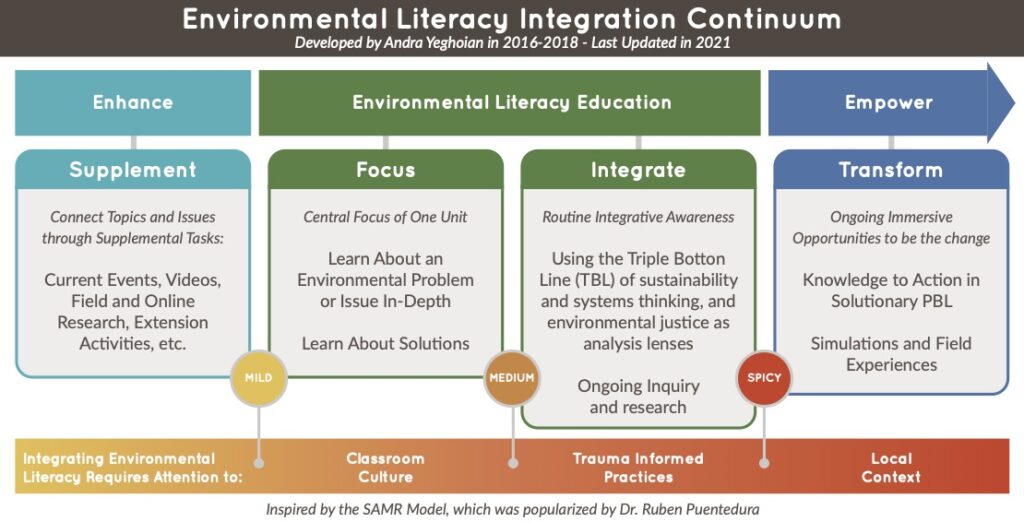 Climate change is interdisciplinary. No subject area holds sole responsibility for teaching about climate change. STEM, humanities, visual and performing arts, and even world languages and physical education can address this topic.
Start with the basics. Unfortunately, there is a significant amount of misinformation, misconceptions, and deliberate obfuscation around the seriousness of this crisis and the role that humans play in causing the problems and developing and implementing solutions. Therefore, it's important that teachers build a shared understanding of the basics of global warming and climate change (check out example resources under Introduction to Global Warming and Climate Change). For teachers who work in regions where a fair amount of students, parents, and/or community members dismiss or deny climate change, it's recommended to let students explore highly credible, well-curated resources at their own pace. This can be done through an activity like a Climate Change WebQuest (or for younger learners, a video quest). This type of student-centered activity lets students build their own understanding without feeling like they need to push back against a specific teacher or person delivering the information.
Adopt trauma-informed practices. There has been an increase in eco-anxiety and climate despair in young people. Therefore, it's critical for teachers to adopt environmental and climate-aligned trauma-informed practices such as sharing emotions and processing feelings, connecting with nature, learning about solutions, and developing and implementing solutionary actions to mitigate climate change. For educators looking to pair these efforts with increased literacy, check out these solutionary and environmental book examples. And for educators interested in connecting climate change with project-based learning, there are resources for you too.
Climate disasters must be addressed. Climate change is real, and we are already experiencing the impacts. One thing for educators to note is that many climate disasters are predictable by seasons. Therefore, it's recommended that teachers consider how to plan a curriculum that addresses seasonal disasters such as wildfires, high heat, drought, extreme freeze, and storm-based flooding. Other chronic and long-term issues such as sea level rise can be addressed whenever most appropriate.
Resources and Strategies for Integrating Climate Literacy Across Core Subject Areas
Climate literacy is too often relegated to the science classroom. However, many other core subject areas can and should teach about climate change. This section shares resources and strategies for English Language Arts, social studies, and math.
English Language Arts: The movement to graduate climate-literate students cannot be successful without involving English teachers. English teachers often have lots of flexibility regarding content, so long as they are helping students unpack complex texts. They also have stories and can tap the full range of human struggles and triumphs from a personal perspective, including helping students refine their messages and amplify their voices.
Social Studies: Addressing climate change is not just a scientific issue, it's a social issue. Social studies classes are already positioned to teach systems thinking by integrating geography, economics, politics, and culture and engaging students in discussions of complex, controversial issues. Students are often deeply moved by issues of justice, so featuring environmental racism and environmental justice as subjects of inquiry into local histories can bring important stories to light.
Math: Our ability to make sound policy choices about climate change rests on our understanding of data. Math teachers have a crucial role to play in developing basic climate literacy in students.
A simple entry point for young students to understand climate change is to calculate their carbon footprint. This footprint calculator can open up a discussion on what variables impact carbon emissions, which choices are in our control, and which aspects of climate policy we need to advocate for at the societal level.
A natural entry point for math teachers to discuss climate change is by analyzing data on natural phenomena. From weather patterns to changes in local biodiversity to sophisticated modeling software, there are appropriate data sets for every age group. Classroom-Ready Data Sets in Environmental Math offers shorter and longer problem sets and this Connecting Data to Storytelling lesson helps students connect brief audio stories to specific data from maps.
With the EnRoads Climate Solutions Simulator and guided assignment, students manipulate a series of variables to create a scenario that can mitigate global warming to the internationally agreed target of below 2°C by 2100. With its focus on policy-level solutions, students can internalize the scope of change that is possible and will be required of their generation.
This Earth Month, we recommend all teachers do their part to help students understand climate change. To get started, visit Andra's Climate Literacy webpage. And for those looking to do some professional learning this spring and summer, check out the following two programs: Presidio Graduate School's free professional learning modules or Climate Generation's Summer Institute for Climate Education. Novice or seasoned pro, the time is now to bring climate literacy into your classroom.