El Camino Real Charter High School (ECRCHS) is embarking on a sustainability initiative that aims to integrate the school's infrastructure with the curriculum. As part of this initiative, ECRCHS plans to offer place- and project-based learning that centers on content relevant to students and their lives and inspires them to discover the value of sustainability. In a recent blog post on KQED, Will Richardson argues for assigning students "work that matters." This premise is an important one. Students are not only our charges, but also huge reservoirs of largely untapped potential in terms of creativity, energy, and curiosity. Corralling these attributes and putting them to work in the realm of sustainability can lay the foundation for a future that is equitable, environmentally conscious, and economically stable.
As ECRCHS evolves into a more sustainable organization, the decisions we make administratively on the facilities and operations side of the school have an immense potential to impact the daily lessons taking place in the classroom. In fact, many of the changes and updates to the physical plant offer the opportunity to get students out of the classroom, to use their skills of observation, and to think analytically about the way people consume energy. This place-based, active approach to education enables students to make connections between the content and their actions.
Engaging the student body in the discussion of what and how to proceed represents an important lesson in and of itself. High school civics lessons become more visceral when students participate in the process of decision making. Moving toward a more open system where constituents–families, faculty, staff, students, and community members–have a say in the process is the ultimate goal. Getting there may take considerable time, especially given that the educational system lends itself to self-perpetuation.
In the meantime, using new and existing examples of energy and water efficiency that can be tied to experiential, real-world education, as well as Common Core State Standards, has a twofold impact. Providing students with hands-on learning opportunities in line with ECRCHS's commitment to sustainability and project-based learning also furthers the school's commitment to a curricular approach that engages both the students and the surrounding community in initiatives that promote a better world.
Join us on Twitter and let us know what you're doing and how you integrate the school grounds (buildings, open space, parking lot, athletic fields, landscaping, etc) into the curriculum. Find us at twitter.com/ecrchs.
El Camino Real Charter High School (ECRCHS) is a public secondary school located in Woodland Hills, California. Founded in 1969, ECRCHS became a charter school in 2011. ECRCHS has been recognized as a California Distinguished School since 2009.For more information, please visit www.ecrchs.net.
Eric Wilson, PhD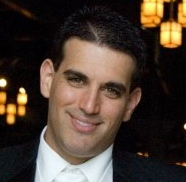 Eric Wilson is a sustainability consultant working with El Camino Real Charter High School and the co-founder of 2nd Green Revolution, LLC. He recently defended his dissertation, "Facilities as Teaching Tools: A Transformative Participatory Professional Development Experience," at the University of Colorado, Denver.