This year's NYC Green School Conference brought together a growing community of schools and universities that are ready to accept "accountability to the future." Last week's conference was an opportunity for attendees to come together and work to transform conventional learning spaces into healthy, thriving, and sustainable spaces that contribute to positive social, economic, and environmental benefits.
This year, Green Mentors announced the Planet for Her Award to honor the work and contributions of inspiring women who have accepted the social responsibility of confronting the challenges of climate change, equity, and sustainability. Green Schools National Network's (GSNN) Executive Director Jennifer Seydel was selected to receive this year's award.
Jennifer brings more than 40 years of experience in preparing youth for success in an ever-changing world to her role at GSNN. Since its founding in 2007, GSNN has used a holistic approach in its work with schools, districts, organizations, and individual educators to transform schools from good to green. The principals, superintendents, and teachers who founded GSNN envisioned an organization that would connect passionate educators, individuals, and organizations around a common goal of ensuring current and future generations can thrive on a living planet. Jennifer embodies that vision in everything she does, and we are thrilled that she is being acknowledged for her amazing contributions to the green schools movement.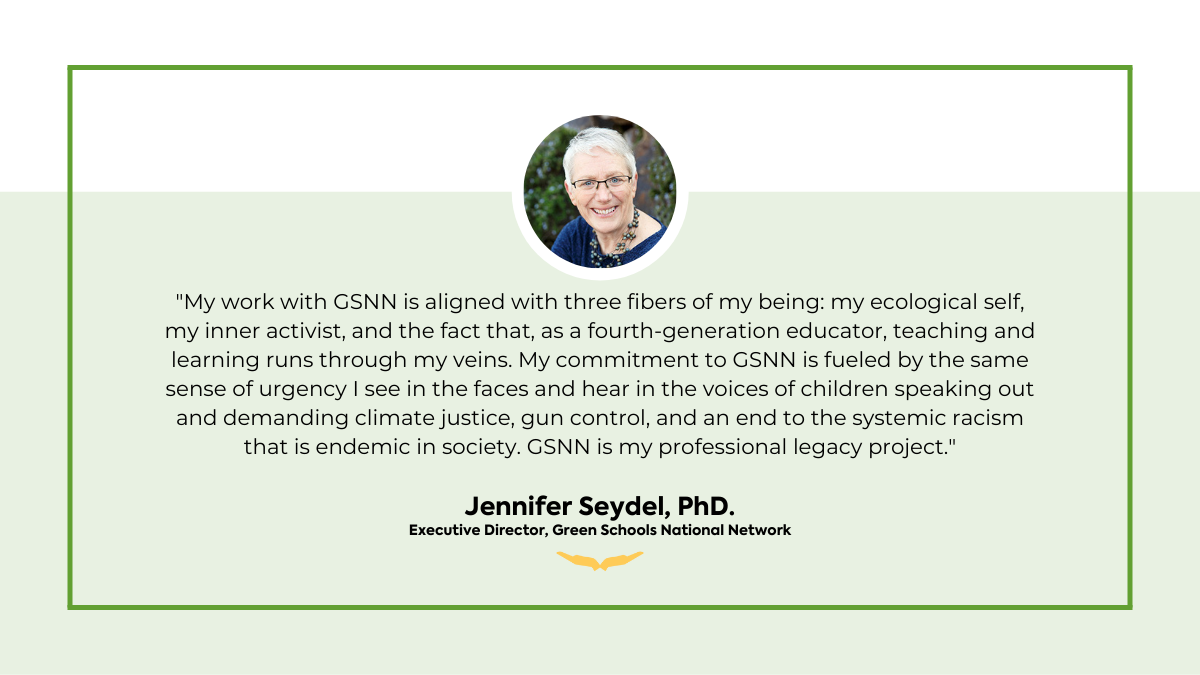 We are extremely proud of our Executive Director and the work she does for and through this organization. Women are among the most vulnerable to climate change and environmental impacts, and equity is important in our work to create healthy, sustainable schools. Thank you to NYC Green School Conference and Green Mentors for acknowledging women in this space who are leading the charge in tackling the climate crisis and addressing environmental and social injustices.
Join us in our mission to make schools, communities, and the planet more healthy, equitable, and sustainable places to learn, live, and grow.