By. Carrie Pillsbury, Director of Communications for Fund for Teachers
Students are inundated with "reduce, reuse, recycle" to the point that environmental education is beginning to sound like Charlie Brown's teacher. What that teacher (and her classroom) needs is inquiry, risk-taking, innovation. She could learn a lot from Fund for Teachers Fellows.
Fund for Teachers (FFT) Fellows pursue knowledge and skills they deem relevant to student engagement and achievement. Since 2001, FFT has invested more than $25 million in the self-designed odysseys of approximately 7,000 preK-12 teachers, and an increasing number those fellowships focus on environmentalism.
For instance, this summer FFT Fellows are researching climate change in Iceland, surveying preservation efforts in America's National Parks, collecting bicycle use data in the Netherlands, and documenting how China's industrialization impacts health in urban centers. A teaching team from Lafayette, New York, is helping Earthwatch researchers collect wildlife data in Malawi to incorporate real world biology into the study of endangered species, ecosystems, and the scientific method. A little closer to home, two Houston teachers are interviewing guides, parks and wildlife staff, and Trout Unlimited members from Texas to Montana to model authentic research methods for students' cross-curricular projects. This is the kind of teaching that resonates with students.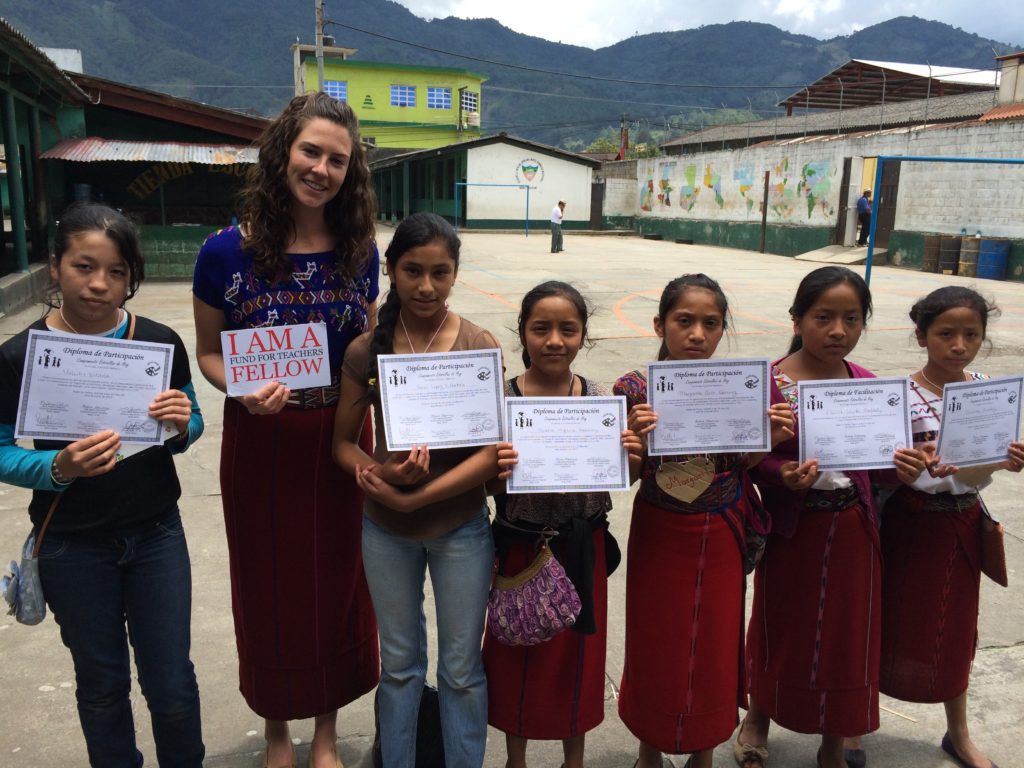 Teachers' fellowship learning directly impacts student learning. With her FFT grant, Megan DeRitter, teacher at Monarch Academy Charter School, in Glen Burnie, Maryland, researched waste management in Nebaj, Guatemala. Students were already engaged in the topic after conversations with peers there through a pen pal program. Capitalizing on student interest, Megan spent two weeks in Guatemala interviewing government officials, visiting landfills, and staying with local families. During a school visit, she saw an eco-brick fence made of plastic bottles stuffed with inorganic material. This inspired a school-wide initiative to build a similar fence around the butterfly garden using plastic bags and bottles discarded in the school cafeteria. Members of the Environmental Club designed posters and made presentations to encourage plastic trash collection, and every student and teacher helped make a total of 1,000 eco-bricks to build the new wall.
Ray Ahmed's school sits 50 miles away from the nuclear power plant deemed most at risk from an earthquake in the United States. On his FFT fellowship this summer, he will document radiation levels in Fukushima, Japan and create case studies that engage students in chemistry. He will also volunteer with a relief organization in Fukushima, observe the city's decontamination efforts, and measure radiation levels with a dosimeter – the same dosimeter his students will then use to record levels around the neighborhood of Expeditionary Learning School for Community Leaders in the Bronx. Broadening the scope of scientific inquiry, students will also compose a written argument on the pros and cons of the nearby Indian Point Power Plant.
"It is important for me to grow as a teacher and a scientist. And being a good scientist requires me to be engaged in understanding the process of experimental design and scientific inquiry before teaching it," said Ray. "I believe that combining science-in-action with human impact will diminish the abstract nature of chemistry and inspire students as mathematicians, scientists, and globally-aware citizens."
Teachers interested in designing their own Fund for Teachers fellowship may begin applying on October 1, 2016. To see what this year's 500 FFT Fellows are learning around the world this summer, click here.
Carrie Pillsbury is the director of communications for Fund for Teachers. Fellows' quests and their impact inspire her daily as she shares their stories. Outside of work, Carrie is a parent of two teenagers, takes graduate school courses in art history and English, and walks labyrinths.