By. Natalia de los Ríos
Hot, cheesy pizza sliding into the trash can – that's how my journey into food waste and food insecurity began. During my ordinary pre-COVID-19 high school life, I often arrived at the supermarket after a sports practice or a game just in time to witness this pizza travesty. Why was perfectly edible food being unnecessarily discarded when it could provide a meal to people in need? I went online and Googled what businesses typically do with their excess food at the end of the day. This simple search served as my first introduction to America's food crisis. My curiosity eventually lead me to a group called Food Rescue US, whose main purpose is saving food from landfills by directly delivering it to those facing food insecurity in communities around the nation.
Motivated by the prospect of tangibly breaking the cycle of food waste in my own town, I set out to start a Food Rescue US club at my high school, knowing that my friends would be eager to help and excited to log some driving hours rescuing food. When I realized there wasn't a Food Rescue US chapter in the entire state of Virginia, I reached out to the organization's leadership; long story short, I ended up founding Virginia's first chapter in my hometown, Virginia Beach.
Then COVID-19 hit.
Schools closed. Restaurants closed. Any pantries or kitchens that were still open didn't want outside volunteers. Everything seemed to have come to a screeching halt – except for food insecurity, which grew at an alarming rate due to the rapidly increasing number of unemployed, isolated, and homeless populations.
Now more than ever, it made sense to dedicate our long, empty days to something that had meaning.
The call from Food Rescue US about the opportunity to receive tons – as in literally 17 tons a week – of fresh produce from the U.S. Department of Agriculture encouraged me to think on a larger scale than I had ever imagined possible for a 15-year-old high school student.
After years of sustainability-focused learning in Virginia Beach City Public Schools (VBCPS) – everything from designing oyster castles to developing scratch-cooked recipes for our cafeteria – I knew that partnering with the school division, which was already distributing free meals to students during the pandemic, would be a perfect fit. On a whim, I emailed the VBCPS Superintendent and the Director of Food Services who, within the hour, responded and connected me to District Chef, Kip Poole and quickly thereafter to Sustainability Officer, Tim Cole. From there, the ball started rolling and hasn't stopped.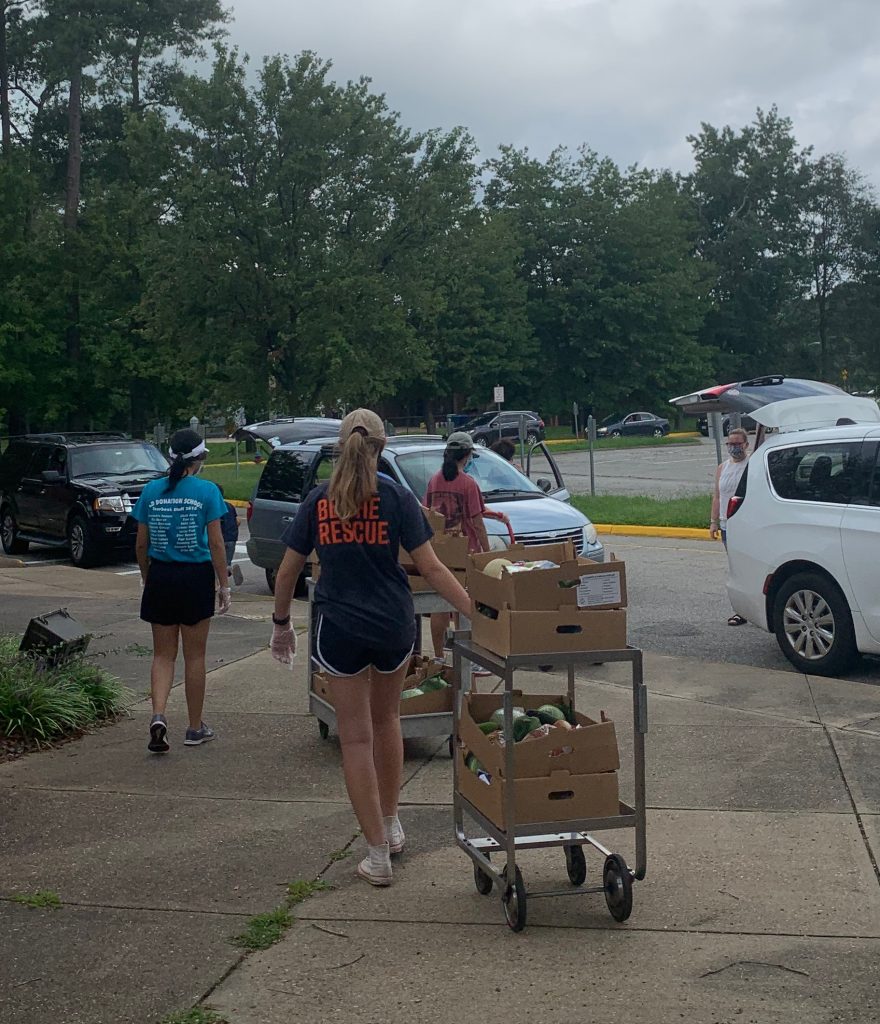 Receiving a semi-truck full of produce is no easy task. School really doesn't prepare you with the soft skills needed to organize and hold meetings, answer phone calls, and send emails. I had to quickly learn how to effectively communicate with administrators and other influential people without being intimidated. Working with the flexible and supportive distribution team, we arranged for the school division distribution center to receive the truck at their loading dock and reload the produce boxes into smaller trucks for delivery to three school sites spread across the city. To make sure that we didn't contribute to the 30-40% of the U.S. food supply already in landfills nationwide (U.S. Department of Agriculture, n.d.), I ensured that we had a network of community churches and nonprofit organizations ready to take any remaining boxes for further distribution into the community, extending our reach into the most vulnerable parts of our region.
To be truthful, it took a lot of coercing to convince my friends to participate in the first distribution, but word quickly spread and soon I had more than enough students interested in helping out. I believe that what made volunteers so enthusiastic about returning each week was the fact that the produce box distribution was completely student-run. In our experience as students, there are very few times when we are completely empowered to problem-solve and make decisions entirely on our own. Each team of student volunteers used their own judgment and creativity to develop a unique system for distribution based on their site's particular characteristics. The few adults working at each school went about their tasks and were always very supportive, but never attempted to "take over" or "be in charge." This furthered the sense of accomplishment that students felt at being able to independently address an essential community need during this difficult time.
So how did this all turn out?
By the time we finished our fourth and final produce distribution in late August, our group of around 20 volunteers – almost all high schoolers – had given out approximately 131,000 pounds of fresh produce to the community. It's not just about the numbers though. It's about the relationships we forged that will help us better understand our region's issues and open our eyes to new communities in need. Having the opportunity to work closely with VBCPS's sustainability pioneers, Kip Poole and Tim Cole, offered me valuable guidance and connections to other community leaders and innovators. For example, through the school division's contacts, we were able to supplement our produce boxes with approximately 15,000 face masks provided by YELLOW, an education-based nonprofit established by Virginia Beach native, Pharrell Williams. Connections were also made in the course of loading produce boxes into cars. I met a woman who feeds the elderly, a community activist who fights for social justice, and several military members picking up produce for military families. Already, one of these contacts has helped us deliver watermelons, tomatoes, and squash from a local organic farm to a home for vulnerable retired individuals.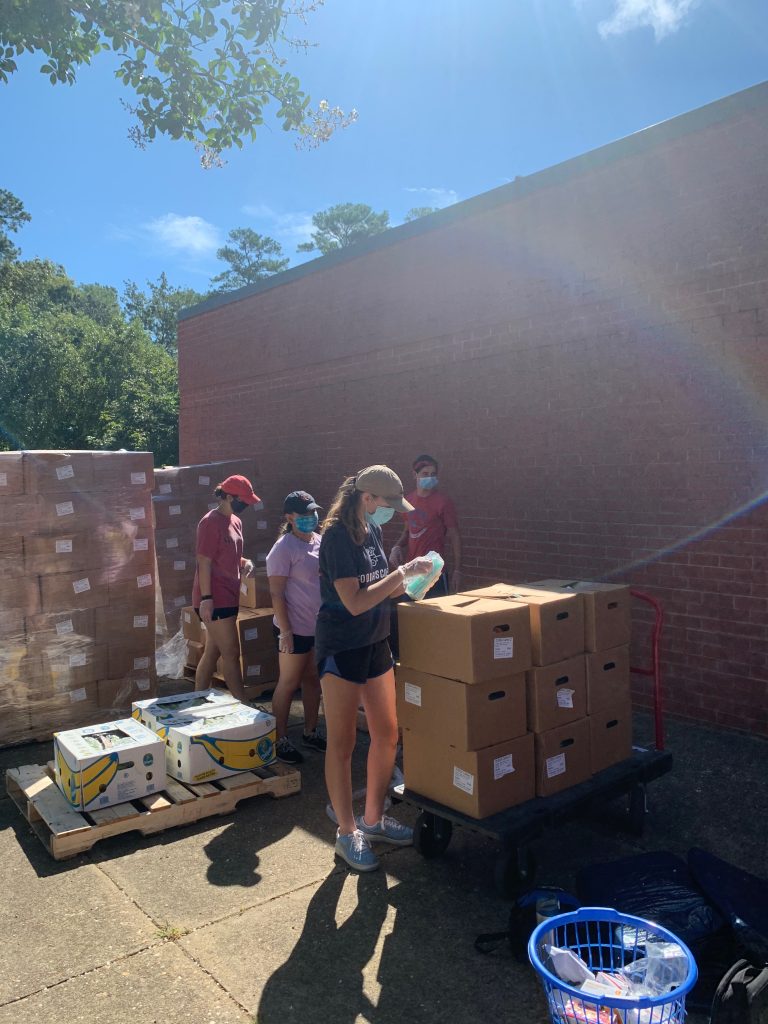 To my fellow students I say, never be afraid to pitch a solution when you see an issue in the community or environment. One of the most surprising things I experienced during this process was the respect I received from adults and the encouragement they gave to me to carry out this project to its fullest potential, instead of minimizing the project's scope to make it easier to accomplish. More often than not, I found that people with experience in your field of interest will point you in the right direction even if they cannot help you themselves.
Like most teenagers, I am an idealist and believe that Virginia Beach can become a zero-waste city by creating a comprehensive food network that partners producers with recipients at all levels. Imagine if every single restaurant or supermarket had a direct connection with a community partner who could receive and distribute their excess food daily to people rather than landfills. Scaling this concept globally could mean eliminating 33% of wasted food (UN Environment, n.d.) and feeding the 27% of people who don't have enough to eat (Smith and Meade, 2019). This is just the tip of the iceberg. Reducing food waste directly impacts how we use our renewable and nonrenewable resources. Twenty-four percent of the water used for agriculture is wasted on producing food that's never eaten (Barclay, 2013). Furthermore, just think of all the trucks, tractors, and other vehicles reliant on fossil fuels that are producing greenhouse gases for food that will end up rotting in a landfill.
My journey with food waste and food insecurity began in the simplest of ways – an observation and a realization that something was profoundly wrong with good food becoming trash. I wonder how many such moments of insight we have on any given day that we fail to act upon. I know that my generation is passionate about sustainability, service, and action. When our ideas are validated and our solutions to the environmental and social issues around us are facilitated by mentors and community leaders, we will undoubtedly meet the challenge and grow into leaders ourselves.
References
Barclay, E. (2013). When you waste food, you're wasting tons of water, too. NPR. Retrieved from: https://www.npr.org/sections/thesalt/2013/06/06/189192870/when-you-waste-food-youre-wasting-tons-of-water-too
Smith, M. and Meade, B. (2019). Who are the world's food insecure? Identifying the risk factors of food insecurity around the world. Amber Waves. Retrieved from: https://www.ers.usda.gov/amber-waves/2019/june/who-are-the-world-s-food-insecure-identifying-the-risk-factors-of-food-insecurity-around-the-world/
UN Environment. (n.d.). Worldwide food waste. Retrieved from: https://www.unenvironment.org/thinkeatsave/get-informed/worldwide-food-waste
U.S. Department of Agriculture. (n.d.). Why should we care about food waste? Retrieved from: https://www.usda.gov/foodlossandwaste/why
Author Bio
Natalia de los Ríos is a fifteen-year-old rising sophomore in the International Baccalaureate program at Princess Anne High School in Virginia Beach, Virginia. She is co-founder and director of Food Rescue US – Virginia Beach and, in non-pandemic times, participates in many school clubs and sports, as well as Girl Scouts. She lives with her parents, brother, and two rescue dogs and enjoys traveling, especially to visit relatives in Spain and other regions of the U.S. She and her family have volunteered with coastal environmental organizations for many years. Natalia hopes to become an orthopedic surgeon in the future.